Neighborhoods: San Juan
Is San Juan the new Chinatown? SPOT.ph guides you through some of the city's little-known specialties.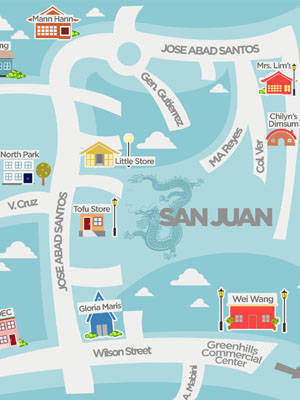 Click to view larger version of map
San Juan is Metro Manila's smallest city in terms of land area and yet despite its size, it's booming when it comes to food establishments, relaxation spots and entertainment centers. Since the city is located right at the heart of Metro Manila, making it very accessible to Quezon City, Makati and even Manila, people don't mind making the trip to San Juan just to experience what it has to offer.
San Juan City has a rich and strong oriental culture. Take a leisurely stroll around Greenhills Commercial Center in the morning and you'd be likely to witness a group of Filipino-Chinese practicing Tai Chi. Not surprisingly, the city has a number of establishments offering Chinese food and products, apart from the commercial center's bargain bazaars and chain eateries.
Dining Out
Start your morning right with a hearty warm breakfast at Gloria Maris Restaurant inside the Greenhills Commerical Center, where you can take your pick from the steaming towers of bamboo dimsum steamers piled high on wooden carts. Make sure to try their hakaw (shrimp dumpling), beancurd roll, and of course, the shark's fin dumpling, which is delicious even without the dipping sauce. Gloria Maris is known to be the preferred venue for lauriat dinners, wedding receptions and family celebrations. If you prefer to go for dinner rather than dimsum, cross over to the other side of the restaurant and be ready to feast on the best suckling pig, fried pigeon, fresh and plump abalone on hot pot, and Peking duck cooked three ways.
ADVERTISEMENT - CONTINUE READING BELOW
If you want something cozier where the entire family can enjoy Fookien-style dishes, take a short drive to the biggest and only stand-alone branch of Mann Hann located along J. Abad Santos street. A favorite of San Juan residents, expect this restaurant to be filled with guests during the evenings and on Sundays. Popular choices include the Okiam chicken, Yang Chow fried rice and the fried squid. Of course, save some space for the buko sherbet as well as the cold taho for dessert. The serving size is enough for a family of four and each dish is reasonably priced, making Mann Hann ideal for group lunches.
CONTINUE READING BELOW
Recommended Videos
Along the same street as Mann Hann is King Crab, a favorite among crab lovers for its delicious crab dishes at very reasonable prices. The place is simple and no-frills, with big tables for family-style eating, but its no-fail crab cooking is what keeps people coming back.
Just around the corner from J. Abad Santos is a new addition to the neighborhood named Wu Xiang House of Chicken. This small eatery actually originated and became famous in Binondo, Manila under the name Sincerity Restaurant. Wu Xiang, just like Sincerity, boasts of the juiciest and tastiest fried chicken in town. Other menu picks include the Oyster Cake, Duck Misua and the Sincerity Fried Rice.
Gloria Maris Restaurant is located in the Greenhills Commercial Center beside Unimart and along Wilson street corner J. Abad Santos. Tel. 722-5508
Mann Hann is at 103 J. Abad Santos St., San Juan City. Tel. 723-2917
King Crab is at 327 P. Guevarra Street, San Juan City. Tel. 723-8821, 723-8821
Wu Xiang House of Chicken is on 213-A Ibanez St. corner J. Abad Santos, Little Baguio, San Juan. Tel. 722-5438

ADVERTISEMENT - CONTINUE READING BELOW
Convenient Stops
Planning to prepare a Chinese feast at home? Be sure to drop by Wei Wang, a longstanding convenience store along Wilson Street, to buy the essential ingredients. They have everything from frozen products to noodles, to Chinese canned goods.
Having a tofu dish tonight? Visit The Tofu Store and get mesmerized with all the different types and forms of tofu available. If you get overwhelmed, they'll walk you through the different tofu products to help you make your choice. A must try: tofu chips and bread sticks that actually taste so good, you won't believe they're healthy.
If you have no time to prepare and would rather grab some cooked dishes on your way home, visit The Little Store on a Hill also known as Xiao Tian as they can easily whip up a batch of fresh lumpia for you. Aside from their vegetarian fare, you can also try their Maki Soup and Crab Rice.
Wei Wang Convenience Store is at 223-B Wilson Street, Greenhills, San Juan. Tel. 726-1208
Little Store on a Hill is at No. 2 J. Abad Santos, Little Baguio, San Juan. Tel. 721-9174
The Tofu Store is at Unit 5 Citiplace Bldg. 8001 J. Abad Santos, Little Baguio, San Juan. Tel. 727-7548

Home-Based Treasures
Just when you thought you've found all the mouthwatering hidden gems of San Juan, wait till you take a drive around the residential neighborhood. You'll see a couple of tarpaulin streamers displayed on some gates: Beginning at Colonel Ver street (in between J. Abad Santos and General V. Lim), ChiLyn's Dimsum is rapidly gaining popularity among dimsum lovers. Drop by or give them a ring to order a pack of frozen siomai, pork spareribs and chicken feet. We love their siomai simply because it doesn't have any extenders, making every bite truly enjoyable and satisfying.
ADVERTISEMENT - CONTINUE READING BELOW
A veteran in keeping a home-based food business in San Juan, Mrs. Lim also has the best radish cake, stuffed chicken and birthday misua which are sure crowd-pleasers in potluck dinners. Best to place your order in advance as most of her dishes take time to prepare.
Chilyn's Dimsum is at 125 Colonel Ver Street, Little Baguio, San Juan. Tel. 724-2885, mobile (0923) 638-2496
Mrs. Lim is at 604 Gen. de Jesus Street, Little Baguio, San Juan. Tel. 725-8851, 725-2059

Photos by Frances Haw, www.frannywanny.com

Share this story with your friends!
---
Help us make Spot.ph better!
Take the short survey
Load More Stories