Preview to Cinemalaya 2009: Ang Panggagahasa Kay Fe
Alvin Yapan's strange, well-written drama is a good taste of what's to come at this year's "big, small film festival"
MOVIE REVIEW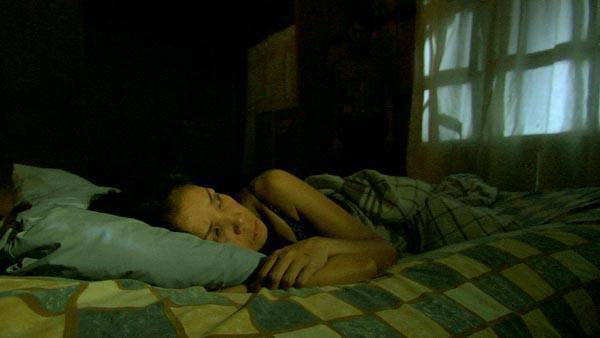 Fe's mysterious suitor makes an appearance in her room
Overseas Filipino worker Fe (Irma Adlawan in the lead role) returns home to her rural town to find that her husband Dante (Nonie Buencamino) has become hostile towards her. His unpredictable fits of anger often lead to physical violence, but Fe turns the other cheek. Her resilience, however, is only rewarded with more blows and punches. But before Ang Panggagahasa Kay Fe turns into a full-blown drama about a battered wife, the real plot unfurls in a mystifying, subtle fashion.
Although Ang Panggagagahasa Kay Fe (The Rapture of Fe) is technically Alvin Yapan's debut full-length feature, he is no stranger to film production. He has been involved in critically acclaimed films like Huling Pasada, Cinemalaya 2008 finalist (as assistant director); Rolyo, Best Short Film in Cinemalaya 2007 (as writer/director); and Tambolista, Cinema One Originals 2007 finalist (as supervising producer). Now on his own, he concocts a tale that tackles domestic abuse and romanticizes Philippine mythology. An odd combination, but gripping nevertheless.
ADVERTISEMENT - CONTINUE READING BELOW
"Panggagahasa" in the title does not only refer to the sexual kind, but encompasses all other acts that strip a woman of her dignity, making her consider quick fixes no matter how implausible they may seem. In this film, Fe struggles to break away from a bad relationship. Dante's abusive actions, coupled with his infidelity drive her to seek another man who will save her from her miseries, in this case a former suitor, Arturo (TJ Trinidad). But due to his obligations to his family and their livelihood, eloping with Fe is neither possible nor practical. When the men in real life cannot stand up for her, she turns to a mysterious suitor who offers the fantasy of an escape.
CONTINUE READING BELOW
Recommended Videos
The centerpiece of this film is Fe. With Yapan's dexterity with scriptwriting (he has won several Palanca awards for short fiction), the protagonist transcends the digital medium and becomes a real person. The depth and nuances of her character are made apparent with the impeccable writing. Aside from Fe, the development of the roles of Dante, Arturo, and even Arturo's ailing father are supported by underlying stories and consistent characterization. We sympathize with the plights of these characters as if we know them on a personal level.
Yapan also mans the camera with artistry manifested in every frame and angle. His shots linger, but not to the point of static cinematography. His close-ups suggest a subdued intimacy with his subjects, whether living or inanimate. His camera glides through the scenes, revealing just enough without giving away too much.
ADVERTISEMENT - CONTINUE READING BELOW
The film's strongest tool in its arsenal is the screenplay. The story is well-researched. Although deeply rooted in social realism, it is able to marry reality with local lore. Much of its appeal banks on the mystery surrounding Fe's secret admirer who may or may not exist after all. To illustrate this, the filmmaker used repeated scenes and overlapping sequences and lent them a trance-like quality in order to confuse viewers as to which is imagined and which is real. The latter part of the film is puzzling and may require a second viewing, while the ending is open to various interpretations.
The film is rich in cultural authenticity and faithful to present-day circumstances. If Ang Panggagahasa Kay Fe is any indication of the quality of films in this year's serving of indie gems at Cinemalaya, then things are looking up for the "big, small film festival." Catch Cinemalaya Cinco at the Cultural Center of the Philippines (CCP) from July 17 to 26.
Share this story with your friends!
---
Help us make Spot.ph better!
Take the short survey
Load More Stories