Villa Estrella: Worth a Watch
Really. About Rico Ilarde's latest scary movie, SPOT.ph blogger Ria Limjap says hurrah for the Pinoy horror film that is well-shot and fast-paced.
Let me tell you about my life: it's pretty boring. For instance, right now I am drinking blueberry tea in my striped pajamas and listening to Bowie (Alladin Sane) thinking of how boring my life is. Things like experimental theater (tonight at the CCP) and rare sightings of white humpback whales (www.migaloowhale.org) excite me. Let me tell you I really enjoy this low octane existence but once in a while, when I want to get my pulse racing and my heart pounding, I watch a horror film.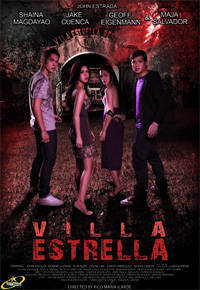 So what about Rico Ilarde's Villa Estrella, Star Cinema's 16th anniversary offering? It's got the doe-eyed and nubile Shaina Magdayao as Ana, who is perfectly cast as the damsel in distress. Poor girl, she's 19 and plagued by bad dreams about a drowning woman (a horror device I've always liked, it's very Tragic Chinese Heroine, don't you think?) Plus she has to deal with a bunch of assholes: her alcoholic and abusive father (John Estrada), her father's creepy and controlling business partner (John Arcilla), and the partner's son who is Ana's ex-boyfriend (Jake Cuenca). Because she's a pawn in the very macho power struggle going on with the guys, Ana is dragged by her ex to an old resort in Batangas named Villa Estrella, which is properly creepy complete with an old slightly crazy caretaker (Ronnie Lazaro, j'adore) and a very ominous old swimming pool. She's marooned on a decrepit resort and she's fighting with her ex, but Ana makes friends with Villa Estrella's household, among them a young girl called Giselle (Maja Salvador). There are stories of dead children and disappeared daughters, and Ana's seeing things. From here, you know the drill, right? Just don't go near the pool…
ADVERTISEMENT - CONTINUE READING BELOW
Honestly, I sat there and ate my curry peanuts to keep the fear at bay. (It's called eating your emotions.) I jumped in my seat when I had to–chubby-cheeked little girl ghosts always get me–and appreciated the fact that musical score (yay Malek Lopez!) and sound design were effective. And the scares are generous, employing everything from the shadow-in-the-window trick to a full-on prosthetic nightmare. I say hurrah for the Pinoy horror film that is well-shot and fast-paced.
Oh, the young actors in this film are goodlooking and talented: Shaina looks great in white short shorts, Maja's got cleavage in her purple dress, Jake Cuenca's pretty hot when he's shirtless (fully dressed he just reminds me of a young Louie Heredia), and Geoff Eigenmann is too damn cute.
CONTINUE READING BELOW
Recommended Videos
All in all, Villa Estrella is a perfectly formulated horror movie of vengeful ghosts and hapless humans. But I'm always kind of rooting for the ghosts, because weren't they the wronged party to begin with?
Share this story with your friends!
---
Help us make Spot.ph better!
Take the short survey
Load More Stories