All Aboard the Cinemalaya Cruise
Everyone needs a little shipwreck (sort of) with the filmeratti once in a while.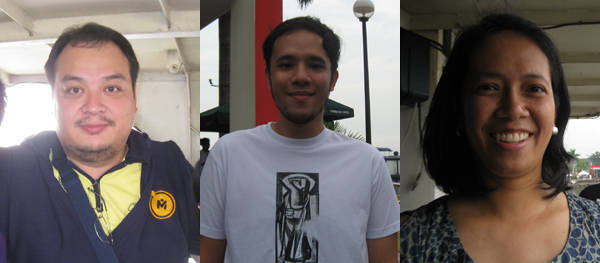 Mike Sandejas of Dinig Sana Kita, Pepe Diokno of Engkwentro and Gay Ace Domingo of Sanglaan
Spot.ph sipped champagne (buko juice actually) on a yacht with Pinoy indie film buffs and directors in semi-cooperating weather.
The Cinemalaya Festival sent its competing directors and crew this year along with delegates from foreign film organizations such as the Network for the Promotion of Asian Cinema (NETPAC), Jogja-NETPAC Asian Film Festival (JAFF) and iFilm Connections: Asia & Pacific on a cruise around Manila Bay yesterday.
"I think we're going to make this a tradition in Cinemalaya every year so that our guests get to see another view of Manila," said CCP President and Cinemalaya Festival director (and former Ballet Philippines premier danseur) Nes Jardin. Good thing there was only a slight drizzle or the yacht wouldn't have sailed like in last year's storm, he recounted.
The casual and enlightening cruise had conversations ranging from seasickness and Manila Bay trash to the Cinemalaya films and revolutionizing the film distribution system.
"All the film festival directors are here so you get to meet everybody and it's a great atmosphere. I love the idea that there's a whole big festival of only Filipino films," said NETPAC President Aruna Vasudev.
Foreign delegates to the festival had good things to say about the films they had seen. "Last Supper is a very audience-friendly film. I really like the lead actor, [Joey Paras]. In my opinion, Philippine films can compete with Hollywood comedies. Much better than Hollywood comedy," said Budi Irawanto, JAFF festival director. "Independencia was the kind of film where I really wished there was an after-film discussion. I longed for that. I longed to speak to the filmmaker," said Asia Pacific Films President Jeanette Hereniko.
ADVERTISEMENT - CONTINUE READING BELOW
"Where's your new Lino Brocka? Show me, show me!" said Hereniko, friend to film bigwigs Nick de Ocampo and the late Lino Brocka and Ishmael Bernal.
Piolo Pascual tries to finish his speech before the Cinemalaya premiere of Manila
amidst shrieks from fans. Click here for photos from the premiere.
The Cinemalaya Festival also launches the NETPAC award this year. NETPAC is an international, non-profit organization that promotes Asian films through festivals, awards and more; Filipinos who've won the NETPAC award include Tara Illenberger for Brutus and Brillante Mendoza for Kaleldo and Tirador.
Cinemalaya competition director Laurice Guillen is "unsure whether or not the said award will come with a cash prize but she points out that being chosen by NETPAC will definitely enhance the image of the film, making it more attractive to distributors worldwide," PEP reports.
CONTINUE READING BELOW
Recommended Videos
The competing films for the NETPAC award are Aurora, Prince of Cockfighting, Baseco Bakal Boys, Bayaw, Handumanan, Karera, Latak, Boy and Walang Hanggang Paalam.
Ashley Ratnavibhushana, one of the NETPAC jury, has seen Bakal Boys. "I liked it. It's a very interesting film."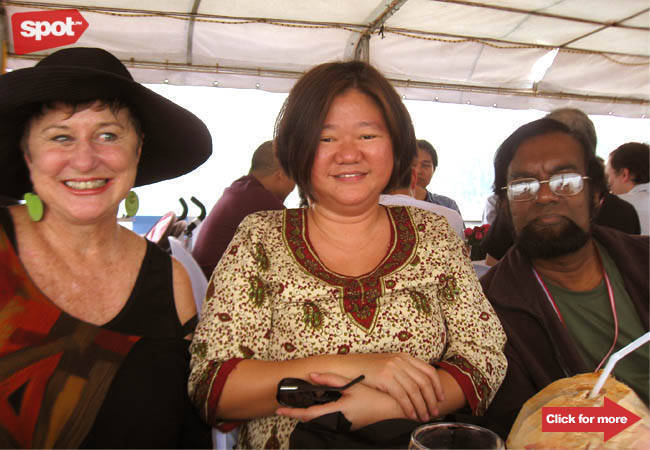 ADVERTISEMENT - CONTINUE READING BELOW
Asia Pacific Films President Jeanette Hereniko, iFilm Connections: Asia & Pacific Film Manager
TEO Swee Leng and NETPAC General Manager Ashley Ratnavibhushana
***SEE MORE PHOTOS! Click on the photo above.***
We also got to chat with the filmmakers. Mike Sandejas, director of Tulad ng Dati which won Cinemalaya Best Film in 2006 is back this year with Dinig Sana Kita, "a love story between a deaf boy who loves to dance and a troubled rocker girl who abuses her hearing." He says, "I think mas malakas ang response [sa Dinig Sana Kita]. Nakakataba ng puso." One of the best compliments he has ever gotten for the film is that he made the audience cry. "Sabi ko, 'kala ko macho ako. Iyakan pala ang kaya ko," he jokes.
On his lead character, Zoe Sandejas, who also happens to be his daughter, he says, "I think we're much closer now than ever before… Bata pa 'yan, ang dami na niyang kayang gawin. Sabi niya, it's not something she wants to do as her bread and butter. Sabi ko, then let's just do it every so often. I'm just here to guide [her]."
His other lead character is played by deaf actor and dancer, Romelito Mallari. Sandejas also worked with other deaf actors for this movie. "It's no different than being with somebody who speaks a different language. They're very nice people. Minsan nga mas gusto ko silang kasama kesa sa mga nakakarinig eh."
Another competing film is Engkwentro, which is about vigilante killings in the country. "As expected, there are some people who really loved it and some people who were challenged by it. It's not a feel-good movie, it's about something that not all Filipinos are ready to talk about yet," director Pepe Diokno says.
ADVERTISEMENT - CONTINUE READING BELOW
He adds, "We had a really good screening last night. I was only expecting the theater to be half-full because of our subject matter but when we got there, the theater was packed."
Expect Engkwentro to make the school rounds. Diokno says, "I think we're already sold out in UP… It's not the kind of film that I personally would put in a mall. But, hopefully somebody likes it enough to invite it for a commercial screening."
Gay Ace Domingo, co-writer and co-producer of competing film Sanglaan, says, "In keeping with the [pawnshop concept], may scenes talaga kaming mahahaba. 'Yung iba nahabaan. 'Yung scoring sana iba daw. Better 'yung crowd last night kasi naiyak sila, nagustuhan nila 'yung story, 'yung artista. It's all a balance."
She recounts creepy and funny incidents during the shoot of Sanglaan. Once, when they were shooting in their pawnshop set in Tondo, people carrying guns were chasing each other nearby. At another time, their pawnshop set looked so real that they had people coming over and inquiring about pawning.
Catch the film fest this week at the Cultural Center of the Philippines and next week at the UP Cine Adarna.
Cruise photos by Dyan Zarzuela, premiere photos by Nerisa Almo and video by Trixie Zabal.
Share this story with your friends!
---
Help us make Spot.ph better!
Take the short survey
Load More Stories