Manila Goes GaGa
What sort of hijinks did the Lady get up to? Get an eyewitness account of Lady GaGa's Manila concert right here, right now.
The second Lady GaGa's face flashed on the various screens inside the Araneta Coliseum, the crowd's random shrieks of excitement turned into one steady, pulsating scream. By the time the stylish performer stepped onstage to open the set with her latest hit, "Paparazzi," it felt like her concert was transformed into a full-blown house party where everyone was sweaty, but still fabulously, fashionably hot.
She awed the crowd by dressing up in (what else but) outlandish outfits (my favorite being the bubble dress she wore on the cover of Rolling Stone) and pulling off one splashy entrance after another with her toys and backup boys (take note: no female dancers in sight!). The real gem, however, was hearing her powerful, unwavering vocals on the ballad "Brown Eyes" and the acoustic version of "Poker Face," both played on her glass piano. As an added bonus, the piano virtuoso proved how flexible she was by lifting up her legs over the keys as she played her tunes!
In between songs, Lady GaGa shared a couple of tales about growing up penniless (but pretending to be rich and famous) in New York with her Pinoy best friend, as well as shooting down a reporter who asked if she was a hermaphrodite. Her witty "Yes I do and it's much bigger than yours" will no doubt end all rumors that she has a "disco stick."
Lady Gaga's acoustic rendition of poker face last night included her humping the piano.
The crowd went wild when the band turned up the tempo to play Lady GaGa's more danceable tracks. "Love Game," "Beautiful Dirty Rich," "Just Dance," and "Boys Boys Boys," from her debut album The Fame, generated wave after wave of unstoppable, goose bump-inducing energy. It was no surprise Lady GaGa felt the love and confessed she had cried six times throughout the show. She even tweeted post-performance: "Just headlined my first arena ALONE, after opening for years. Thank you Manila, never forget u. Luv my fans so much, u r the reason I'm here."
ADVERTISEMENT - CONTINUE READING BELOW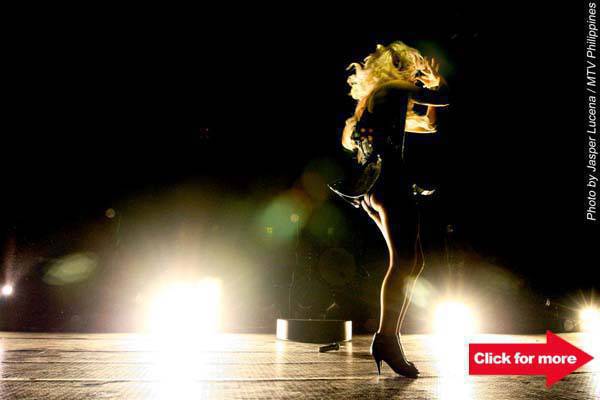 Lady Gaga performed to an SRO crowd at the Araneta.
CONTINUE READING BELOW
Recommended Videos
Her sold-out, one-hour concert ended too soon, and we're hoping it was just an appetizer for her next visit. Don't make us wait too long, GaGa!–Mimi Tiu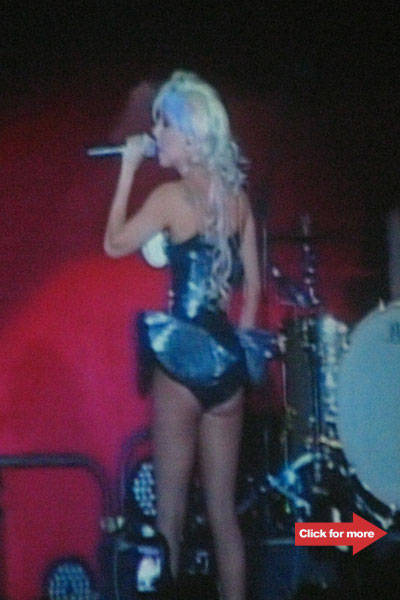 Lady GaGa kicks off the show with a skimpy winged maillot and "Paparazzi"
ADVERTISEMENT - CONTINUE READING BELOW
Lady Gaga, with her synth-based dance tracks and her outlandish outfits or the lack thereof, may seem a bit of a loon. From her May 2009 Rolling Stone magazine cover 'wearing' only plastic bubbles to her numerous MTV Award nominations and her upcoming collaboration with Kanye West, Stefani Joanne Angelina Germanotta in real life, is undoubtedly making headlines around the world.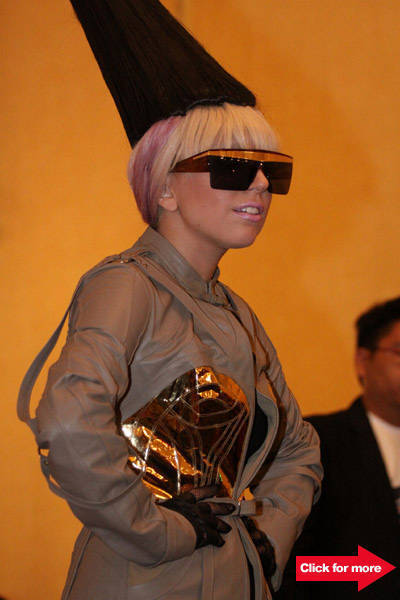 Lady Gaga met the media before her concert at the Araneta Coliseum.
Five hours before her concert at the Araneta Coliseum and with media waiting for her at the press conference at the EDSA Shangri-la Hotel, she had time to make a quick tweet about winning the 2009 MTV Teen Choice Awards: "Thank u so much for my 1st TEEN CHOICE AWARD!! I'm so honored!!   My fans kick ass, I live for u! Congrats to my dear kanye for his award too!'
ADVERTISEMENT - CONTINUE READING BELOW
When she finally walked into a ballroom full of media people waiting for her, she came into the room in confident strides, clad in a leather khaki trench coat and a gold-plated corset.
The men from 'Boys Night Out',   Sam YG, Slick Rick and Tony Toni, hosts for the press conference gamely asked her, "Are you single and ready to mingle?"  She returned the question with a meek "yes" which still drew cheers from the crowd.
When asked about what it would take to compete with her, Lady Gaga who is fascinated with '50s B-movies and counts poet Rainer Maria Rilke as her favorite philosopher, answers with quiet confidence. "I don't think anyone can compete with me, I don't think I can compete with anyone else.   I'm myself and I'm a very passionate and devoted artist and I'm just excited that everyone loves my album."   MCA Universal earlier awarded Lady Gaga a gold record award for her album, The Fame, and its stellar record sales in the Philippines .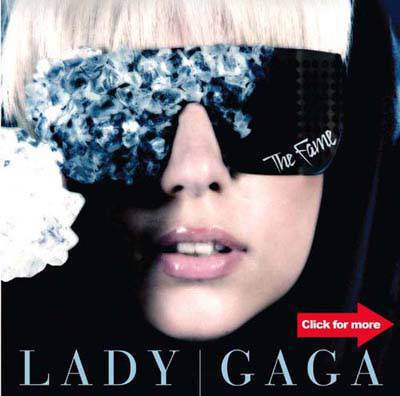 Cover photo for Lady Gaga's album, The Fame.
Known for her flair for theatrics and tongue-in-cheek performances, she also designs and makes most of her stage outfits.   But she declares, "I'm not hiding anything. And I'm certainly not branding myself.   I believe in the glamorous life, and I live a glamorous life. My album, The Fame, this is about intrinsic fame, it's penniless and has no agenda.   I want everyone in the world to feel just like my friends and I in New York feel, we're famous without anyone telling us we are."
ADVERTISEMENT - CONTINUE READING BELOW
Filipinos seem to think she is worth seeing, with tickets to the concert almost sold out, according to Ticketnet. Only a handful of tickets to general admission were available on the concert date, proof that Lady Gaga is a sensation in Manila.
Asked if she thinks she is 'overplayed, she says matter-of-factly, "There's no such thing as too popular."–Trixie Zabal

To see the video of her Manila press conference, click here.
Scenes from the making of The Fame.
Lady Gaga sings an acoustic version of "Poker Face" on a Japanese TV show. Er, is that an elephant on her head?
Presscon images by Noel Orsal of pep.ph.

Album cover and images from MCA Universal.
Concert photos by Macy Alcaraz and Jasper Lucena (MTV Philippines).

Share this story with your friends!
---
Help us make Spot.ph better!
Take the short survey
Load More Stories