'Up' Soars to New Heights
MOVIE REVIEW: Does Disney and Pixar's latest live up to expectations? Here's what to expect. (Spoiler alert!)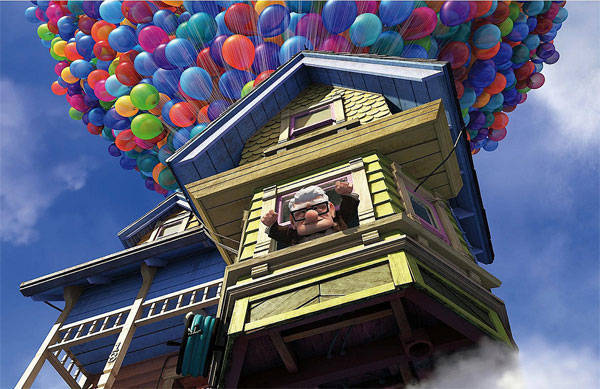 MOVIE REVIEW
Here's the thing–Pixar movies have such a tried-and-tested formula that you know exactly what to expect from it even before watching it. You know that the animation's going to be good, you know there's going to be that oddball character you'll end up getting emotionally invested in, and you know there's going to be that little something about the movie that is so special, it will stick with you for a really long time. Up packs in all that, with a few extra punches to spare.
The movie starts off when a young boy named Carl Fredricksen meets Ellie, a kooky chatterbox whose personality is the polar opposite of shy and timid Carl. But the two young'uns bond over their shared pursuit for adventure and a pact to visit Paradise Falls. What follows next is a montage of scenes showing the two of them growing up, getting married, and growing old together, all while holding on to their promise of going on that one big escapade. But Ellie passes away without ever fulfilling this dream, leaving Carl alone, lonely, and with only his house and Ellie's memories to keep him company.
When Carl is forced to move to a retirement home and sell his house, he comes up with a make-or-break decision to move on with his life: with the help of 20,622 balloons, he sets off for Paradise Falls to live his and Ellie's dream. But there's a tiny glitch in his plan: Russell, an overly eager eight year-old boy who's been tailing Carl so he can earn his "Assisting the Elderly" badge, accidentally tags along for the ride. And so this little mishap sets the platform for the (mis)adventures of the unlikely pair as they make their way to South America, encountering talking dogs, exotic birds, and a fallen explorer along the way.
ADVERTISEMENT - CONTINUE READING BELOW
Since CGI animation is no longer something new, it's easy to overlook and take for granted the technicalities of the movie. Unsurprisingly, Pixar delivered yet another visually stunning piece, paying meticulous attention even to the smallest detail. And if you think the idea of a house being slowly hoisted up to the air by thousands and thousands of candy-colored balloons is already too fantastic, wait until you actually see it on screen–it's just pure magic.
But what makes Up float above the rest is the fact that the animation or fancy effects doesn't pull the attention away from the heart of the movie. And boy, what a big heart this one has. In true Disney fashion, the story is peppered with a lot of charm, quirks, and tug-at-your-heartstring moments–the latter often delivered by Russell with such wide-eyed innocence and subtlety, making him even more endearing.
CONTINUE READING BELOW
Recommended Videos
There's a part in the flick where Russell goes "It might sound boring…but I think the boring stuff is the stuff I remember the most." While Up is far from being boring, there are plenty of things about it that you'll remember and will lift your spirits tenfold. Cross our hearts.
RATING: 4.5 out of 5 Spots ••••.
To see where this movie is showing, click here.
Images courtesy of Walt Disney Pictures/Pixar Animation Studios
Share this story with your friends!
---
Help us make Spot.ph better!
Take the short survey
Load More Stories