LOL: Not!
SPOT.ph Blogger Ria Limjap watched this movie and realized everyone in the audience was laughing–except herself.
Ever so slightly hung over from a couple of gin and tonics from Oarhouse the night before, I went to see Love On Line, the new Vic Sotto romantic comedy directed by longtime collaborator Tony Reyes. Predictably, it was absurdly awful and that's not just the slight hangover talking.
It's the classic Vic Sotto set-up: pretty younger leading lady, ugly sidekick, silly plot. Vic plays Samson, son of Delilah (Gina Pareño, scarily perky in Pucci-inspired tops and tight jeans), an enterprising widow who runs a laundry/b-b-q hut/internet café. Tot (Wally Bayola, who fulfills the ugly side kick role quite well) is Delilah's all around helper but spends most days trawling BookFace (haha) to meet hot girls. But because he's so panget, he puts Samson's picture to attract the ladies. One such lady is Bunny (Manilyn Reynes who I secretly think is cool), a total fat and unattractive cliché with thick brows, braces, very bad curly wig. Presumably because she's also panget she loads the photo of her smoking-hot cousin Paula (Paula Taylor who smiles and simpers gamely throughout the whole movie). It's a case of mistaken identity Samson and Paula eye ball, it's a case of mistaken identity. Samson falls for the lovely Paula, Paula falls for the handsome Samson and the two side kicks are left to bicker and provide the funny stuff around the romantic leads. Beware the fantastical twist that was anything but fantastic. I was counting minutes before this movie would end, and when it did–the bloopers were the most fun to watch.
ADVERTISEMENT - CONTINUE READING BELOW
I guess Vic Sotto is like the James Bond of Filipino leading men. With his vintage mojo, he's embroiled in these crazy adventures and always has some lovely young thing (remember Dina Bonnevie, Alice Dixon, Tweetie de Leon, Donita Rose, Kristine Hermosa?) hanging on his arm. Instead of cool gadgets he does slapstick, instead of slick suits he wears striped golf shirts.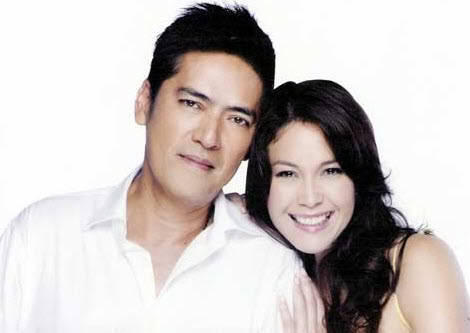 CONTINUE READING BELOW
Recommended Videos
So is it kind of gross that there's a thirty-year age gap between Vic Sotto and Paula Taylor? She's like the new Amanda Griffin. (Quick, edgy men's magazines: put her on the cover now!) Thank goodness they never actually really kiss on screen. The lovely young Paula is dewy-eyed glossy-haired perfection clad in her cute Plains and Prints day dresses–alas, a pretty face isn't enough to save this romantic comedy like the eye bags under Vic Sotto's eyes.
But I realized that everyone else in the audience was laughing at the gags and chortling at the jokes–so go ahead and call me a crabby bitch if you want.
ADVERTISEMENT - CONTINUE READING BELOW
And since there's nothing like sheer nostalgia to cheer up this girl, I scored some Parmesan Popcorn from Chef Tony's and spent all morning watching classic Iskul Bukol. I'm rediscovering Miss Tapia chic with her oversized sun glasses, bold prints, and chunky gold accessories.
Here's the one with Sharon Cuneta playing herself. Watch Vic explaining plagiarism with Tito, Joey, and the rest of the gang to Sharon. Is all this kalokohan improvised genius or sheer stupidity?
Share this story with your friends!
---
Help us make Spot.ph better!
Take the short survey
Load More Stories