The G-Force doesn't quite have the force
G-Force: Guinea pigs gone wild!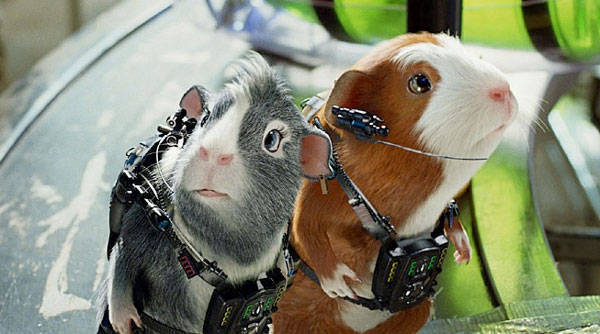 It's "guinea pigs gone wild," as Hurley the guinea pig might say.
In G-Force, the first 3D film of producer Jerry Bruckheimer (Pirates of the Caribbean, Pearl Harbor, Black Hawk Down), guinea pigs talk, fight crime and have Facebook accounts.
Three enhanced guinea pigs and a mole, along with two human agents, fight to avoid getting their special unit shut down by the feds. They try to prove themselves by investigating business mogul, Leonard Saber, whom they suspect of hatching a plan for global extermination. But when they present the downloaded extermination plans to the FBI, a coffeemaker design shows up instead. Can they stop Saber with the FBI on their tail?
One of the first words that come to mind when describing G-Force is "cute," a given when guinea pigs are the lead stars. Director and Academy Award-winning visual effects artist Hoyt Yeatman backs the cuteness with his flair for special effects–watch for the sequence where the G-Force defeats three cars full of feds using enhanced hamster ball prototypes (which they just happened to master in two seconds).
There's also a touch of Transformers when the appliances transform into fighting cappuccino machines and microwaves that annihilate everything in their way. Although the effects are good, they seemed a little "been there, done better."
Like most other kid movies, the plot is your basic good-versus-bad story with a twist. Far from the adult comedy of kid-friendly films Shrek and Up, G-Force thrives on slapstick jokes about fart and the like, though there are a few witty lines thrown here and there.
ADVERTISEMENT - CONTINUE READING BELOW
Penelope Cruz (Vicky Cristina Barcelona, Vanilla Sky, Woman on Top) shines as Juarez, the only female guinea pig in the G-Force. When the girl who bought her as a pet dresses her up in frilly pink clothes, Cruz nails her lines: "This has to be against the Geneva Convention," and "Oh my gosh, I look like Paris Hilton's chihuahua." Her Facebook status: "Men are like government bonds, they take way too long to mature."
Nicolas Cage (National Treasure, Knowing, Next) plays Speckles, the computer genius mole, which is a nice change from his prophetic and treasure hunting movies. Instead of his trademark deep voice, he adapts a nasally voice to suit his character.
CONTINUE READING BELOW
Recommended Videos
Be ready to give your inner animal rights activist a rest. Kids in the movie have no problem tossing a guinea pig into a snake habitat or putting nail polish on a guinea pig's nails, something that seems safe, but actually stings, as the guinea pig says. When a kid uses G-Force's Blaster as an unwilling stuntman with his toy cars, Blaster says, "I'm pretty sure this is animal cruelty but I love it!"
And don't think that just because they're rodents, they don't suffer from superiority complex. Darwin, the leader of the G-Force, pits his genetically engineered team against common pet shop rodents. His world shatters when human agent Ben (Zack Galifianakis, The Hangover) tells them there's nothing engineered about them, but Darwin bounces back pretty quickly. Maybe that's just the way superspy rodents roll.
So is G-Force worth your money? The effects are great and you can even bring kids with you, but if you've got 150 bucks and one and a half hours, might as well donate both to Ondoy and Pepeng victims and wait for G-Force on a movie channel.
ADVERTISEMENT - CONTINUE READING BELOW
Click here to see where the movie is showing.
Share this story with your friends!
---
Help us make Spot.ph better!
Take the short survey
Load More Stories