Ria Limjap on Anacbanua: Gozum brings us to Pangasinan
SPOT.ph blogger Ria Limjap watched Anacbanua, the 2009 Lino Brocka Grand prize awardee for Digital Lokal and discovered a gem among this year's Cinemanila films.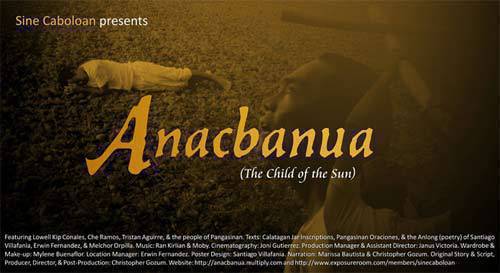 Out of the 80 films at Cinemanila 2009, I only saw Anacbanua (Children of the Sun) and I was extremely glad I caught it.
It is a dark time for The Poet (Lowell Kip Conales)–the words do not flow while he is in the Middle East, as if in exile. He returns home to his native Pangasinan or Caboloan where he encounters The Muse (Che Ramos) and immerses himself in the pure language and old traditions of the province. Written, produced, edited, and directed by Christopher Gozum, Anacbanua is the first film out of Pangasinan. Shot digitally in black and white by talented director of photography Joni Gutierrez, Anacbanua uses traditional Pangasinan poetry set to stark and stunning visual images and ambient music. (Side note: some of the music is credited to Moby–as in, "Why does my heart feel so bad" Moby? Must confirm.) This is not a plot-driven, classic three act movie about a wanderer who journeys home to rediscover his roots. Like the free form poetry that is used as a narration device, the film is non-linear and dreamy, surreal and metaphorical. (And at two hours long, it is not for those with short attention spans.)
ADVERTISEMENT - CONTINUE READING BELOW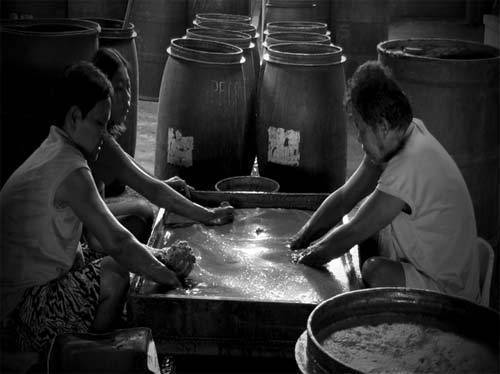 CONTINUE READING BELOW
Recommended Videos
A scene from the film, Anacbanua.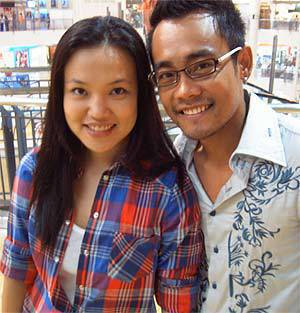 Actors Che Ramos and Lowell Kip Conales of "Anacbanua".
Christopher Gozum, whose background is in theater, shot his first feature length film on location around Pangasinan in five days with a skeleton crew, hardly any lights, and a tiny cast. Borne out of his advocacy to keep the Pangasinan language alive, Gozum's film encourages the youth to remember where they come from and speak their native tongue. There are echoes of Rizal, certainly, but Gozum's medium is much more evocative and accessible for today's audience. Gozum uses ancient names for places (like Binalatongan, renamed San Carlos by the Spanish) and shows traditional industries (like brick making and bagoong production) in a deeply poetic way. Anacbanua has apparently generated good reviews, but the thirty year old director has his priorities straight. Currently working as a videographer for a pharmaceutical company in the Middle East, Gozum wants to show his movie on buses that travel to and from Pangasinan, so that commuters can watch it on the bus.
ADVERTISEMENT - CONTINUE READING BELOW
This is the face of Filipino cinema I have been longing to see. It's not about the slums. It's not about poverty, violence, or desperation. It's not a schmaltzy love story or yet another melodrama. It isn't like anything out there. Gozum fuses the digital format with vernacular poetry, telling a story that is personal and communal. The Anacbanua, the dark skinned children of the sun, honor Pangasinan's proud heritage with the blood of the "red breasted" noblewoman Urduja flowing through their veins and the eternal words of the poets.
Movie still from anacbanua.multiply.com.
Share this story with your friends!
---
Help us make Spot.ph better!
Take the short survey
Load More Stories