MOVIE REVIEW: Jennifer's Body
Is there more to Jennifer's Body than Megan Fox's, well, body? Find out why Andrew Paredes gave it 2 out of 5 Spots.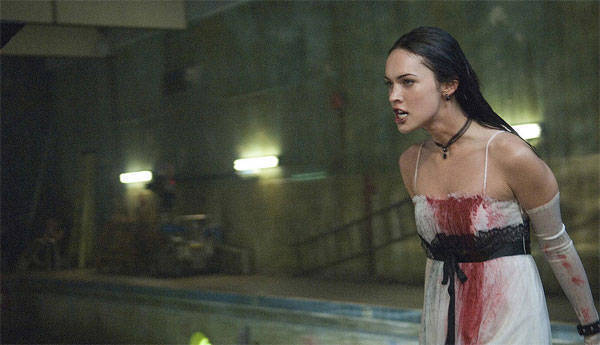 MOVIE REVIEW
First, a disclaimer: Nothing I have to say will make a difference to you hordes of salivating mouth-breathers (read: any red-blooded male with enough money to buy a movie ticket) who will be trooping to the theaters this weekend to watch Jennifer's Body.
So this review is addressed to those of you who braved Transformers 2's opening weekend at Greenbelt 3 and came away thinking it was a migraine-inducing narrative mess.
Which is not to say that Megan Fox's first movie without shiny robots is the same, exactly. After all, Jennifer's Body is written by Diablo Cody, the ex-stripper who put clever yet still rose-colored glasses on the issue of teen pregnancy in Juno and won an Oscar for her efforts. Cody's sophomore effort as a screenwriter is marketed as a horror-comedy hybrid. If so, it's a hybrid that doesn't quite jell.
Fox plays Jennifer Check, the stereotypical foxy cheerleader who is the fantasy of every guy in her high school. She also maintains an improbable friendship with Anita "Needy" Lesnicki (Mamma Mia's Amanda Seyfried), the stereotypical nerdy girl who wears chunky glasses and overalls. One night, Jennifer and Needy attend a rock show featuring an upcoming emo band named Low Shoulder (fronted by The OC's Adam Brody, playing against type). A freak chain of circumstances–hinting at supernatural forces at work–lead to the bar burning to the ground. After escaping through a ladies' room window, Jennifer ditches Needy to hang with the band, and comes back from her groupie's night-out a little…changed. She appears at Needy's house bloody, puking a spiky and seemingly sentient black goo, and with a taste for male flesh…including that of Needy's earnest boyfriend, Chip (Johnny Simmons).
ADVERTISEMENT - CONTINUE READING BELOW
Jennifer's Body isn't the first movie to explore the perils of adolescence or burgeoning female sexuality through the lens of horror. It is, however, the first one to feature Cody's snarky, catchphrase-baiting dialogue. Because if red-blooded males think the star of Jennifer's Body is Megan Fox, true blue film geeks know the real headliner is Diablo Cody. If Juno inaugurated such phrases as "homeskillet" and "honest to blog" in the canon of American colloquialism, here we get "You give me such a wettie" and "salty" (the new adjective for handsome, sexy, or "hot").
But other than Cody's clever turn of phrase, the tone of Jennifer's Body surprisingly does not coalesce into something coherent, the way Kevin Williamson's equally self-reflexive script did for the first Scream. At the aforementioned bar blaze, for example, Fox and Seyfried argue over the cheerleader driving off with the band while a burning patron screams and flails in the background; you don't know exactly what you're supposed to feel. Fox then climbs into the back of the band's van, a dazed, vulnerable expression on her face–but it's an image that's hard to sell considering that her character (and Fox's public persona) has been established as a metaphorical maneater.
CONTINUE READING BELOW
Recommended Videos
From there, the movie is neither here nor there. Director Karyn Kusama (Aeon Flux) serves up too few atmospherics–some expected jump scares are about it–to make this a hardcore horror movie. But there aren't enough outlandish plot twists or imagery (like the falling anvil in Sam Raimi's Drag Me to Hell) to turn this into a horror hoot, either. The movie wants to be a dark, satirical take on the high school experience, but it kowtows to its teenage demographic too. It wants to poke fun at the pretentiousness of indie rock bands, but its soundtrack is peppered with them. It wants to be a cautionary tale against objectifying women, but it throws in a gratuitous lesbian kissing scene between Fox and Seyfried that isn't really explained.
ADVERTISEMENT - CONTINUE READING BELOW
Truth be told, the best thing about the movie is Seyfried's earnest performance as Needy. She anchors the story in something recognizable and accessible. (And the infernally ugly prom dress she wears during one of the movie's set pieces is the one certifiable hoot.)
But of course, guys will not be lining up to ogle Seyfried's talent. Hell, the movie's title should make that pretty obvious.
Rating: 2 out of 5 spots ••
Photos courtesy of 20th Century Fox
Click here to see where this movie is showing.
Share this story with your friends!
---
Help us make Spot.ph better!
Take the short survey
Load More Stories