Kris Aquino and sisters are cover girls in magazine casting coup
Behind-the-scenes insider info about the first-ever magazine cover shoot of the publicity-shy Ballsy, Viel, and Pinky Aquino and their more camera-ready sister Kris.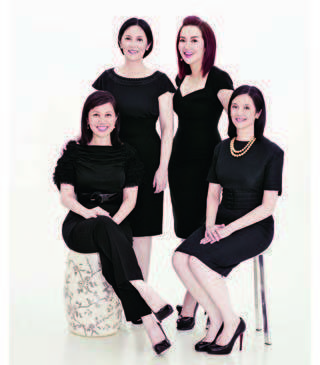 L-R: Pinky, Ballsy, Kris and Viel Aquino sit pretty for photographer Mark Nicdao
This month the late President Cory Aquino's daughters step into the limelight in a coup of a different kind–a casting coup for what seemed to be an impossible dream magazine cover. Publicity-shy daughters Ballsy, Pinky and Viel were reluctant when first asked to pose for the cover of  Town & Country's November issue. But they later relented, even if they were nervous about facing the daunting (to vanity-free women like them at least) challenge of getting glamorized and "exposed" in a manner unfamiliar to them.
"We can't even remember when we last had our hair and makeup done," Pinky said at the cover shoot. Throughout the time the entire nation's eyes were on them as they mourned their mothers' death, Ballsy, Pinky and Viel showed grace under pressure devoid of the trappings of makeup, jewelry or designer clothes. They were paragons of simplicity, in contrast to their more fashion- and beauty-conscious Showbiz sister and "baby" Kris. In fact, so media-wary are her three older sisters that despite the fact that they were the country's First Daughters for six years, not much is known or has been written about Ballsy, Pinky and Viel.
ADVERTISEMENT - CONTINUE READING BELOW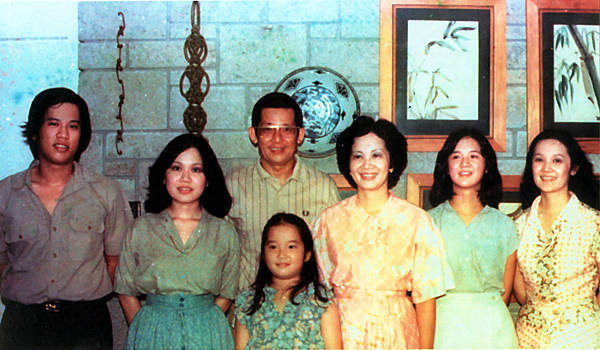 L-R: Noynoy, Ballsy, Ninoy, Kris, Cory, Viel and Pinky Aquino in the 80s. Photo from www.philstar.com
CONTINUE READING BELOW
Recommended Videos
They stayed true to character at the shoot. Says Monique Villonco, Town & Country editor-in-chief, Viel, who was first to arrive, pleaded, "No, no. No makeup, please. I'll be wearing my own clothes. My hair? Just blow-dried." Writes Villonco in her editor's note, "I felt very guilty having to put her through this.
"Cheery and wide-eyed Pinky examined and observed every detail of what went on around her with wonder and excitement, like a child in a doll's house. She marveled at the shoes and dresses that had been prepared for them to wear, and took full advantage of the rare celebrity treatment, being all giggly and self-deprecating at the same time.
"Ballsy just wanted to make it easy for everyone. She is sweet, strong, smart and bold. I don't know what was in her mind. She had committed to do this and she was going to enjoy the ride.
ADVERTISEMENT - CONTINUE READING BELOW
"Kris had informed us ahead of time that she could get to the shoot only at 7 o'clock, two hours later than the requested call time. She arrived, on the dot, followed by her personal assistant and a slew of 'bellhops' carrying suitcases and plastic bins filled with her own designer shoes and clothes. I thought she might be a bit of a problem, being a big star and all, but to our surprise she turned out to be an enthusiastic collaborator! She adores posing for the camera. She entertained and amused everyone on the set with her chatty nature. She doted on her sisters, but with a critical eye, making sure they looked picture-perfect. With that iconic sing-song voice, I can still hear her say, 'Ates, I'm so proud of you! You don't believe me, but look, now everyone can see your small waistlines!' Ballsy may be the head of this family, but we all knew who the boss was on this set."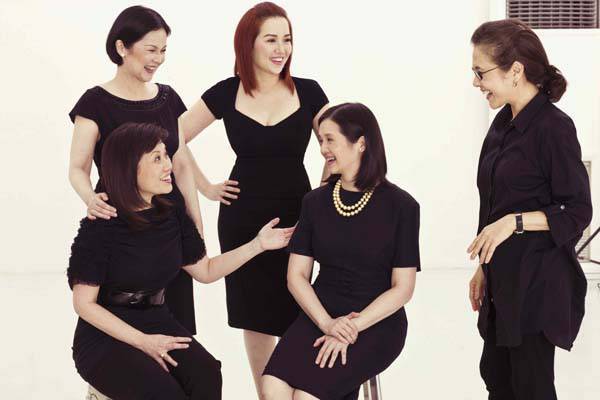 The Aquino sisters share a light moment with Town &Country editor-in-chief Monique Villonco (far right) between takes.
More behind-the-scenes insider tidbits: Ballsy, Pinky and Viel, who are all slim, don't like wearing form-fitting clothes, and so the dress sizes they specified were two sizes larger than their actual sizes–the clothes that fashion editor Rorie Carlos sourced for the shoot had to be pinned at the back. (Except for Viel, who, as she wished, wore her own dress). Also, as they were being made up by Juan Sarte III and Patrick Rosas in the dressing room, the three were praying the rosary! And why not? It was, after all, September 8, birthday of the Virgin Mary. But also, unbeknownst to all, it turns out that the next day was when their brother Noynoy would announce whether or not he had decided if he would run for President. The sisters say they did not know what his decision would be at the time.
ADVERTISEMENT - CONTINUE READING BELOW
Read more about the Aquino sisters in Town & Country's November issue, now available at all major magazine stands and bookstores.
Photos by Mark Nicdao.
Share this story with your friends!
---
Help us make Spot.ph better!
Take the short survey
Load More Stories