MOVIE REVIEW: Disney's A Christmas Carol
Will Robert Zemeckis' adaptation of this beloved Christmas tale capture Charles Dickens' literary genius? Andrew Paredes finds out.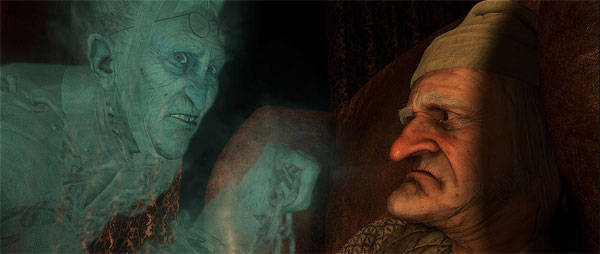 Let me get this out of the way fast: I love Charles Dickens' A Christmas Carol. It's one of those marvelous literary creations that are so many things at once–an adult tale (dealing with themes of loss, regret, loneliness) masquerading as a children's yarn (its milieu makes it inherently childlike); a ghost story with upbeat, redemptive value (with no nightmarish aftertaste); and one of those deceptively simple premises that inhabit a specific time and place but somehow manages to speak to those of us across the yawning gap of centuries, forcing us to re-examine our own priorities.
So when I started seeing trailers for writer-director Robert Zemeckis' adaptation of this beloved Christmas staple– Charles Dickens staked out territory that was inhabited by Frank Capra's A Wonderful Life and A Charlie Brown Christmas only decades later–using the same motion-capture, photo-realist technology that produced The Polar Express, I was skeptical. How deeply could this new version get into the profundities of Dickens' tale when Zemeckis' earlier movie could never scratch past its own shiny, plastic surface? How could it do justice to a character as complicated as Ebenezer Scrooge, when The Polar Express reduced Tom Hanks to a dead-eyed train conductor playing Pied Piper to a bunch of rubber-faced children?
As it turned out, I had nothing to worry about. Disney's A Christmas Carol is a touching, delectable gift of a movie, a toy whose nifty mechanisms serve to amplify its source material's themes. And what's so wondrous about it is that, while it is undoubtedly a creation of the 21st century, it harkens back to the spirit of the Victorian age in which it was written–when the guttering candlelight only made the shadows darker, and the biting cold made the Christmas spirit even warmer.
ADVERTISEMENT - CONTINUE READING BELOW
From the opening shot, in which the camera swoops into every nook and cranny of London in one long cut, it's obvious that the technology has improved by leaps and bounds. The camera pauses to take in little vignettes of human activity happening in the Yuletide streets of the capital, and the faces have become expressive, almost supple enough to touch (which is what you'll feel like doing if you watch this baby in 3-D IMAX). That bodes well for Jim Carrey's Scrooge, with eyes that are cruel yet fearful, whose exterior is all sharp angles but whose interior is all sad melancholia.
CONTINUE READING BELOW
Recommended Videos
The great thing about the level of technology in this current adaptation is that allows Scrooge's journey to unfold with all the spangly visual zip that Dickens could only have yearned for. Scrooge's deceased partner Jacob Marley is now a creature of real ghastly horror, and at one point, something happens to his face that will make you want to laugh and cringe at the same time.
From there, the three ghosts of Christmas take Scrooge on his psychoanalytic, hallucinatory journey of the soul, and the specters are as spookily majestic as you can wish them to be: the Ghost of Christmas Past is a disembodied candle with a flame for a head, and the Ghost of Christmas Present–also played by Carrey, who does multiple duty as Scrooge at different ages–is a boisterous, screen-filling Father Christmas figure. Zemeckis stages the episodes with brisk familiarity, and one notable set piece has Scrooge traveling in his house with a floor that has become a kind of transparent hovercraft, allowing him to peep in at his nephew's (Colin Firth) and put-upon clerk Bob Cratchit's (Gary Oldman, also playing multiple roles) Yuletide celebrations. It's a generous dose of showbiz pizzazz…and yet somehow it doesn't take us out of the story. As we look with Scrooge through that glassy floor, we are sharing in the visions of a man who is dreaming with his eyes terrifyingly wide open, witnessing the internal and exterior forces that have molded him into the person in dire need of redemption that he is.
ADVERTISEMENT - CONTINUE READING BELOW
I'm still uncertain about that long action sequence Zemeckis dropped into the episode of the Ghost of Christmas Yet to Come–somehow all that skating-on-icicles, zipping-through-pipes, falling-into-a-sack-of-chestnuts razzmatazz feels like something upper management mandated for the sake of a snazzy trailer. But one thing I am certain about is that you will need a hanky when you see that heartfelt flashback of a young Scrooge stuck in a schoolhouse all alone on Christmas. It's one of many scenes in Disney's A Christmas Carol that dares you to say "Bah! Humbug!"
SPOT.ph Rating: 4 out of 5 Spots ▏▏▏▏
Images courtesy of Walt Disney Pictures.
A Christmas Carol will be shown in Digital 3D cinemas and in IMAX 3D in SM Mall of Asia and SM North EDSA.
Click here to see where the movie is showing.
Share this story with your friends!
---
Help us make Spot.ph better!
Take the short survey
Load More Stories