DRAB & DREARY
By Jansen Musico
At the risk of sounding like a complete dunce, I admit that the very first time I heard of Amelia Earhart was through a popular New Radicals song in the late '90s. I dug up every bit of info about her life and mysterious disappearance from the ever-reliable World Wide Web. From what I've gathered, Amelia was a pioneer, an icon of girl-power, and the central figure in one of the world's most baffling mysteries to date.
The film kicks off with a freckled-faced Earhart, played by two-time Academy Award winner Hilary Swank, setting off on a historic voyage to circumnavigate the world by plane. From there, we're transported by flashbacks, giving us glimpses of Earhart's life narrated like well-written passages from private correspondence. All throughout the film, director Mira Nair intertwines dialogue with very dreary montages of breathtaking panoramic shots, reminiscent of default Windows wallpapers. Yes, Windows wallpapers.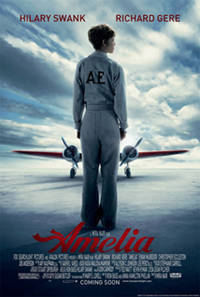 What remedies the drab pacing of this aesthetic clip show are the several aerial sequences that are strategically placed in between dull portions of the film. Although technically superior to most green-screen movies, it takes a bit of childhood imagination to really believe that Swank can actually fly a plane across the Atlantic, not to mention pull off a decent Southern accent. She's more effective on land though, able to deliver her lines with enough drama and conviction to pull us in. With her wavy hair and iconic salute, we get to see a strong-willed Earhart paving the way for women in a man's world… not.
ADVERTISEMENT - CONTINUE READING BELOW
Hollywood downplays Earhart a bit, reducing this bold female character with a zest for freedom into a dazed dreamer chained to her husband's funds and her role as a wife. Every attempt of this movie to spark hope in the hearts of feminists around the world is automatically dashed when Richard Gere walks onscreen. I have no clue why Gere was cast as Amelia's calculated hubby, George Putnam, since the two have zero chemistry. Perhaps his dazzling song and dance numbers in Chicago mesmerized the casting director? The supporting characters did a better job, overshadowing his lackluster performance. Ewan McGregor and Christopher Eccleston, who play Gene Vidal and Fred Noonan respectively, make Amelia's story richer even though they're only onscreen for a few minutes.
There is always a danger with biopics: studios can either stay true to the facts and risk ending up with a lengthy snoozefest, or they can opt to exaggerate and suffer the scrutiny of historians. In this case, they chose the former. The only redeeming value of this movie would be the final minutes of Amelia's legendary final trip where everyone in the movie house holds on to their seats, waiting in anticipation for that answer to the question in their minds: "Whatever happened to Amelia Earhart?"
Although the movie might be praised by a few sentimental American critics who've been hinting at its chances for Oscar gold, to the Filipino audience, Amelia might just be one of those movies that should've stayed lost forever.
Jansen's Rating: 2 out of 5 Spots ▏▏
CONTINUE READING BELOW
Recommended Videos
Next page: Andrew Paredes' review.
FUDDY-DUDDY FUSTY

By Andrew Paredes

In a movie age populated by such biopics as Ray, Walk the Line, Notorious, and Milk, the new biographical film Amelia seems like a quaint gewgaw, a Betty Grable postcard hung beside Lady GaGa posters. In a time when stars can't drink coffee without their movements being monitored by an information-hungry press, today's audiences demand the deepest dirt from their celebrity biopics. It's a fact not lost on Judd Apatow and his band of merry pranksters, who sent up the genre with the parody Walk Hard: The Dewey Cox Story (2007), in which John C. Reilly played a fictional musician who played every genre from gospel to rock to country, and committed every sin ever invented by any D-lister who trashed a hotel room.

Amelia is an old-school biopic unwilling to trust the audience's ability to make its own assessment about its subject's accomplishments versus her frailties. The female aviatrix may seem a remote, distant figure now, but consider this: Even today, when female pilots are still a rarity, Amelia Earhart (Hilary Swank) set records as the first woman to fly across the Atlantic in 1928 (true, she was a passenger, but the film portrays her as the gutsy commander who figured out how to get the overweight plane off the ground) and as the first woman to fly across the same ocean solo in 1932. In 1935, she became the first pilot–male or female–to fly solo from Hawaii to California. Long before P. Diddy and 50 Cent made money off their own names, Earhart chartered new territories in merchandising by launching her own brand-name fashion line. The press was so enamored by her that they dubbed her Lady Lindy, christening her as the female counterpart of the pioneering pilot Charles Lindbergh. Most famously, she disappeared over the middle of the Pacific Ocean with her navigator Fred Noonan (Elizabeth's Christopher Eccleston) during an around-the-world flight in 1937; her plane was never found, and she was declared legally dead in 1939.

Amelia Earhart was a rock star…so why is the biopic named after her so fusty and old-fashioned? The script by Ron Bass and Anna Hamilton Phelan, using two separate biographies by Susan Butler and Mary S. Lovell, feels too expository, slavishly laying out for us its subject's feminist cred. Given Amelia's agenda, the aviatrix's personal life seems almost like a footnote: Along the way of her storied career, Earhart wed publisher and personal promoter George Putnam (Richard Gere, playing the silver-haired male equivalent of the leading lady who gazes worriedly into the middle distance, waiting for his love to come home), but not before explaining to him her unorthodox ideas on marriage and commitment. She carried on an affair with aeronautics pioneer Gene Vidal (Ewan McGregor), now more famous as the father of writer Gore Vidal. But neither of these men could contain Amelia's spirit…which Yearned To Fly!

Every line in the script, punctuated with passages from Earhart's journal entries, is written with such Capitalized Significance. Swank, whose androgynous presence would make her a logical fit to bring Earhart to life, is trapped by the overwrought messages that Bass, Phelan, and director Mira Nair (The Namesake) insist on layering into every image of the film. Her hair cut boyishly short and dyed a sun-kissed blonde, speaking in a studied accent that channels Katharine Hepburn in her trouser-wearing golden age, Swank seems to do nothing but speechify about the future of female flying–even when she's sitting at breakfast with her husband. She seems calcified by the movie's agenda, unable to break out of Gabriel Yared's soaring score, or Stuart Dryburgh's expansive cinematography, and really get into the aviatrix's spirit.

ADVERTISEMENT - CONTINUE READING BELOW

Amelia manages to soar during its last ten minutes, in which the film portrays her last doomed flight and indulges the audience's fascination with the fate of one of the planet's most famous missing persons. Those hours of radio-communication breakdown, technological failure, and the dawning realization of impending disaster make for gripping cinema. If only the filmmakers had applied that same sense of grit and suspense to the rest of the movie, instead of sanitizing Amelia Earhart to the point where she seems lifeless long before she dies.

Andrew's Rating: 3 out of 5 Spots ▏▏▏

Images courtesy of movieweb.com

Click here to see when and where the movie is showing.

ADVERTISEMENT - CONTINUE READING BELOW
Share this story with your friends!
---
Help us make Spot.ph better!
Take the short survey
Load More Stories