10 Reasons We'll Miss Dashboard Confessional
Dashboard Confessional's Pinoy fans enjoyed their most-awaited ear candy when the band performed in Manila.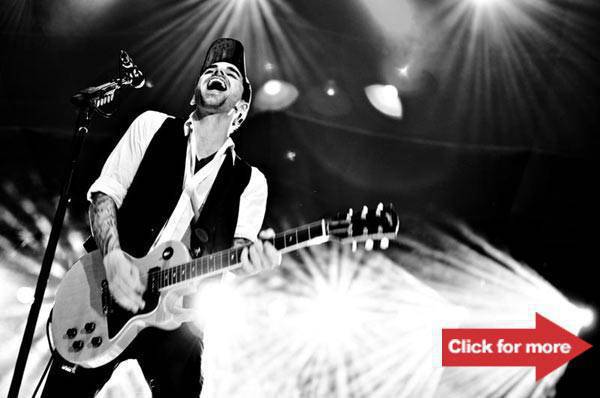 Dashboard Confessional, the band responsible for hits such as "Hands Down," "As Lovers Go," "Screaming Infidelities," "Stolen," and Spider-Man soundtrack "Vindicated," came to Manila last month.   The quartet–Chris Carrabba, John Lefler, Scott Schoenbeck, and Mike Marsh–had a meet-and-greet session with the press and fans on May 26.   The day after that, they performed at Trinoma, singing songs from their new CD, Alter the Ending and past hits that had us mesmerized.   SPOT.ph lists 10 reasons why the band's Pinoy fans will miss them.
ADVERTISEMENT - CONTINUE READING BELOW
Chris Carrabba started out strong.

1.   They interact with their fans.

They showed genuine interest in their fans.   During the photo op, fans would ask if they could wear the accessories of the members and they happily obliged.   A girl got to wear Carrabba's cap and a boy in hoodie wore drummer Marsh's sunglasses.   The band was even more animated at the concert, graciously letting the audience sing the choruses.
Chris Carrabba talks about writing songs.
2. The band's deep bond is not just for show.
You won't get No rock band drama here–this talented quartet shows no anonymity for one another even after their long years together.   Lead guitarist Lefler even said that before shows, they would always put their heads together.   "There was this one show where we didn't do it and we screwed it up," he said.
ADVERTISEMENT - CONTINUE READING BELOW
Dashboard Confessional performs Weezer's "El Scorcho."
3. They are not afraid to like other bands.

Lefler idolizes U2. Marsh digs Scott Gabriel. Carrabba likes Weezer. (Schoenbeck, who had a throat infection during the meet-and-greet could not talk.)   "People expect you to listen to yourself," Carrabba said.   He emphasized, though, that they also appreciate the music of other bands.   True enough, the band acknowledged Franco who opened for them and included Weezer's "El Scorcho" in their set list.   Chris explained that it's their tradition to play one of the songs of the band they have toured with.   If Weezer had been listening, they would have been more than happy with Dashboard Confessional's cover.
Dashboard Confessional performs "Hands Down."
4. They're humble.
Carrabba revealed that when he started out, he played for "anyone who would care to listen."   Despite worldwide success, Carrabba admitted that he still hasn't gotten a 100 when he plays the guitar part of "Hands Down" in Rock Band. "But I'm proud to say I'm a real guitar player," he joked.
ADVERTISEMENT - CONTINUE READING BELOW
Dashboard Confessional performs "Belle of the Boulevard."
5.   Their lyrics are wrought from real life.
"Our inspiration comes from everywhere," said Carrabba, briefly mentioning girls they date as an example. "There are songs that come out during our worst times."   In fact, "Stolen" is based from his experience of dating the daughters of rich tourists who would visit the town where he lived. "I fell deeply in love with one of these girls for a week," he said. "It's great. I highly recommend it."
Dashboard Confessional performs "Stolen."
6.   Their lead singer is a ladies' man.
Carrabba, who did most of the talking during the meet-and-greet and also emceed during their concert, was not shy about professing his love for love.   "You're sure it would last forever, and it does… for a while," he admitted when he was explaining more about the girls in his songs.
ADVERTISEMENT - CONTINUE READING BELOW
The band lets it rip with "The Good Fight."
7.   They're laid-back.
"Better raw than polished," said Carrabba of their composure before recordings and performances. This was evident during the concert when they obviously did not prepare a set list. "We like to keep it loose," he explained.   At one point, he was out of ideas and asked his band members for help. "Ok, Mike, pick a song!" he said and Marsh drummed the opening beats to "As Lovers Go."
They breeze through "Carry This Picture."
8. They're versatile.
"Most of you have heard these songs for the first time and thank you for sharing it to your friends," said Carrabba after they played tracks from their latest album. Indeed, in Alter the Ending, the foursome showcased their musical versatility once again with both acoustic and electronic tunes.
ADVERTISEMENT - CONTINUE READING BELOW
Dashboard Confessional performs "Vindicated."
9. They rock it out with their finale.
Those who attended the concert probably enjoyed the latter part more. The last three songs the band played were "Vindicated," "Stolen," and "Hands Down." Clearly, the band knew which of their tunes are showstoppers.
Dashboard Confessional performs "The Places You Have Come to Fear the Most."
10. Their music ignites passion.
A day before the concert, social network sites and microblogs were filled with status updates and tweets about the concert. Some fans even admitted to be re-memorizing lyrics. Days after the concert, those who went are still tagging their friends videos from the event and even performing string quartet versions of the band's songs. One fan wrote blogged, "I was joking with my friends days before the concert, telling them I'll cry when Chris Carrabba starts singing 'Hands Down,' but I didn't. And now, for some reason, I don't know why I can't stop."
ADVERTISEMENT - CONTINUE READING BELOW
Meet-and-greet session photos and videos by Nicai de Guzman with concert videos from YouTube.

Recommended Videos
Load More Stories