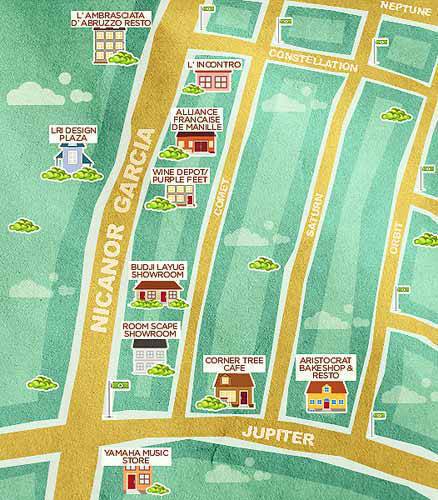 Nicanor Garcia Street, more popularly known as (and formerly named) Reposo, has a history as colorful and mystifying as the murals that border it. In 2008, Cebu Smile featured a detailed history of Reposo. During the early years, Reposo (meaning repose) was a cemetery and a park-"making it literally a place of rest. From a hushed route lined by rice fields and some vintage houses, Reposo evolved into an active stretch with factories and residences that shared the area in the 70's. By the 90's, Reposo started to develop into the arts hub it is today.
The present N. Garcia doesn't sell itself short to the past Reposo. Just outside the Ayala Center business district, the short road provides a serene escape from the loud and dynamic Makati life. Today, the lane is dotted with showrooms, galleries and restaurants that merge to create an aesthetic Reposo experience.
Fine Dining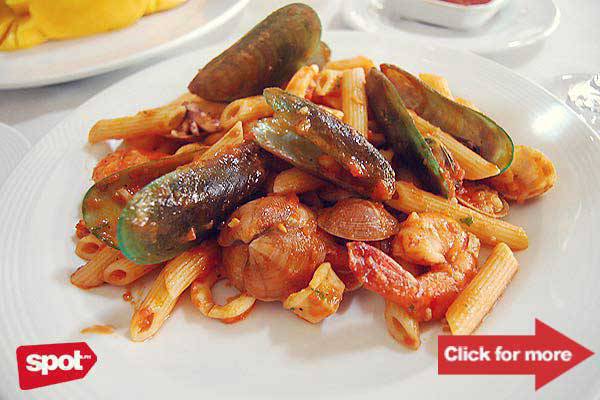 Penne Pescatoro from L' Incontro. Click for more photos.
ADVERTISEMENT - CONTINUE READING BELOW
Italian restaurants are everywhere, but the first-rate ones are hard to find. In Reposo, three authentic Italian restaurants prove to be tough competitors-"L' Incontro, Caffé Caruso and L' Ambasciata d' Abruzzo.
L' Incontro, owned by Italian chef Gino Martinel, has been around for a decade proving its superiority in Italian cuisine. The restaurant has a plump menu filled with Italian favorites like risotti, grilled steaks and fish, pastas, ravioli and pizzas. Among the many must-try dishes are the T-bone Steak (P980) and Pescatora Pasta (P330). Aside from the dishes, the restaurant has an extensive wine list containing white wines, red wines, French wines and sparkling wines.
Another certified Italian, Dario Gardini owns Caffé Caruso. The thick menu contains 98 dishes including an impressive line of house specialties. Among the must-try specialties are the Octopus in Balsamic Vinegar or Lemon and Fresh Salmon with Lemon and Orange Flavor. Red wines, white wines, sparkling wines and champagnes are also available.
The youngest among the three, L' Ambasciata d' Abruzzo, takes pride in its Italian home-style pizza and pasta dishes. A must-try pasta dish is the Linguine Alla Scoglio (P320)-"contains clams, mussels, squids and shrimps in white wine sauce. Among the pizzas, visitors should try the simple yet delectable Quattro Formaggi/Four Cheese Pizza (P340). The menu also has a long list of house wines.
While the Italian restaurants may provide classy dining, other bistros in Reposo offer exciting combinations.
Caffé Ricco-Renzo mixes the culinary and visual arts. Services like framing and painting restoration are offered. There are also numerous artworks to view while enjoying the dishes of Caffé Ricco-Renzo. The menu is packed with dishes for breakfast all the way to late-night snacks. Among the must-try meals are the Filet Mignon (P580) and Moroccan Pasta (P320).
CONTINUE READING BELOW
Recommended Videos
Le Coude Rouge inside Alliance Française de Manille combines learning with dining. This restaurant serves authentic French cuisine with prices ranging from P100 to P550. Diners can enjoy the various French dishes served by the friendly and French-speaking Filipino staff.
The Wine Depot and Purple Feet combo is the perfect spot for wine enthusiasts and foodies. Wine Depot has a top-of-the-line wine collection sorted by variety and region. Inside the wine shop is an open restaurant called Purple Feet where diners can choose their dishes from the blackboard menus. Somewhat hidden (without any outdoor signage whatsoever), this restaurant continues to gain patrons through positive word of mouth. Among the must-try dishes are the Portobello Mushrooms with Stilton Cheese (P550) and Mixed Seafood Spaghetti (P400).
Art and Design Haven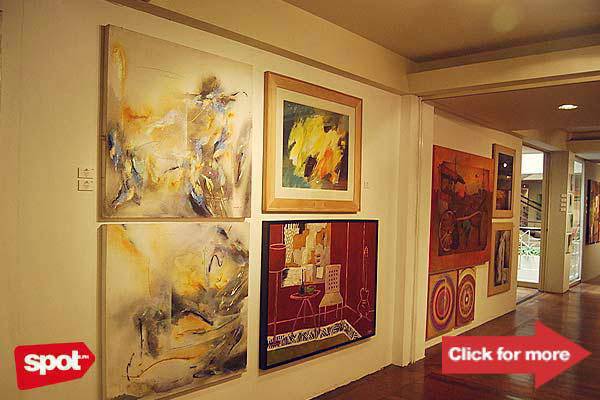 LRI Design Plaza. Click for more photos.
Backed by a dedicated group of designers called "Grupo Reposo," the neighborhood is packaged as an arts and designs haven with countless galleries and showrooms exhibiting local and foreign masterpieces.
ADVERTISEMENT - CONTINUE READING BELOW
Budji Layug is a place of pure Pinoy pride. From the world-renowned Filipino designer Antonio "Budji" Layug, this outlet showcases furnishings and interior designs that are at par with developed countries, yet purely local from concept to material. The signature Budji Layug designs are made of indigenous materials like bamboo, abaca, wood and leather.
Another showroom that provides modern-Asian designs is Roomscape. The large space can actually look small since the whole place is packed with modern furniture and home accessories. Roomscape's furnishings in neutral colors are ideal for starter pads and minimalist set-ups.
The LRI Design Plaza is a famous one-stop shop for all furnishing needs-"a must to visit for some showroom hopping. The whole building contains about 30 showrooms and galleries including some antique shops. Aside from home needs, LRI also offers rare art finds. On the second floor is the Artwalk Gallery featuring paintings, sketches and sculptures of renowned Filipino artists. There are also cafes, spas and photography studios inside LRI.
In Alliance Française de Manille, French lessons aren't the only happenings. Art exhibits run at the Alliance Total Gallery and free French films (with subtitles, of course) are screened at the Alliance Ondeo Auditorium.
Musicians and music lovers can't miss the Yamaha Music Store Main Showroom. The showroom has all types of musical instruments, accessories, music production tools, audio tools and different Yamaha audio/visual products.
Pampering Zone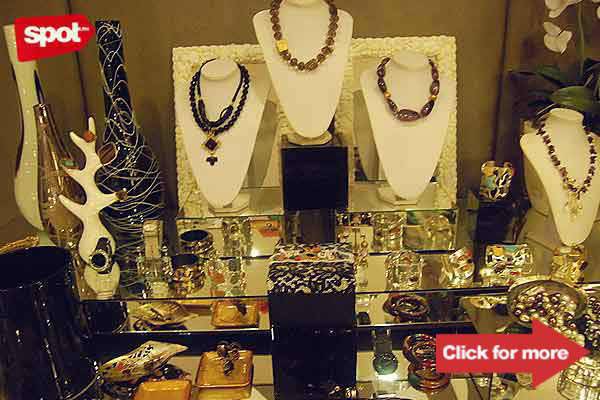 Rain jewelry. Click for more photos.
ADVERTISEMENT - CONTINUE READING BELOW
After treading the showrooms of Reposo, it would be nice to give yourself some well-deserved pampering.

Rain (located inside LRI) by designer Tim Tam Ong is more than just a shop for trendy clothes, shoes and accessories. Inside, various pampering services are also offered like facial treatments (P380-P1, 250), body scrubs and massages (P380-P2, 050), hand and foot care (P150-P1, 680), eye enhancers (P380-P650) and total skin whitening (P1, 500-P2, 500).
Foot Options Sole and Soul Spas, also located inside LRI, offers services like chair massage (P300-P350), whole body massage (P450-P600), body scrub treatments (P1, 500 and up) and spa enhancers (P200 and up).
Corner Stores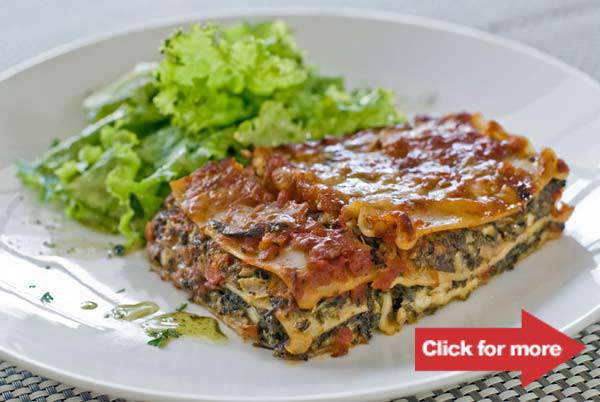 Spinach and Mushroom Lasagna with Three Cheeses from Corner Tree Cafe. Click for more photos.
Upon exiting Reposo, the mood quickly changes-"the roads get busier and louder. One exit motorists can take is Jupiter Street where there are also some interesting finds.
ADVERTISEMENT - CONTINUE READING BELOW
Along Jupiter Street corner Saturn Street is Corner Tree Café. One look and it's easy to figure out the story behind the name. The cafe rests on the corner of the street with a big tree right in front of it. The menu is filled with vegetarian dishes. Among the must-try meals are Koftas in Tomato Sauce (P220), Spinach & Mushroom Lasagna (P380) and Baked Tofu Walnut Burger (P260).
Just across the Corner Tree Café is the tried-and-tested Aristocrat Bakeshop and Restaurant. The bestselling bakeshop products include pastries (puff, filled and tarts), cakes (rum cakes, rolls, mousse, frozen cakes and cheesecakes), breads (ensaimada, cinnamon and sweet dough), cookies and brownies. Must-try for the restaurant menu is the classic Aristocrat Chicken Barbeque.
Artwork by Warren Espejo. Photos by Jean Natividad. Additional photos from Wine Depot's website, Caffé Caruso's website, L' Ambasciata d' Abruzzo's website, Ricco Renzo's website, Foot Options Sole and Soul Spas' Multiply, Corner Tree Cafe's Facebook and Aristocrat's website.
Share this story with your friends!
---
Help us make Spot.ph better!
Take the short survey
Load More Stories