Top 10 Cheesiest Songs Played at Pinoy Weddings
Let them eat wedding cake, with cheese on top! SPOT.ph bets that at the next wedding you attend, you're bound to hear one or all of these most requested songs.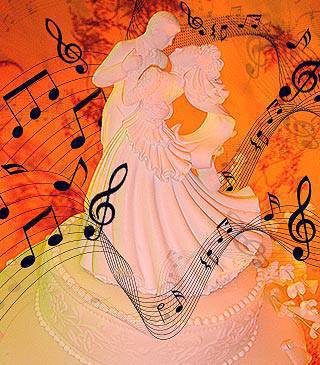 Why do Pinoy weddings tend to sound the same? Is it because most brides (and grooms, if they had a say on the matter) pick the same old wedding songs? Maybe it's not their choice entirely. We suspect they pick tunes people expect to hear. Because, really, how many tradition-crazy Pinoys would appreciate edgy tunes by Portishead or Paramore as wedding theme songs? SPOT.ph pays homage to the 10 cheesiest ditties we're bound to heard over and over again every year, and that, admit it, can be "Awwww"-inspiring even to the most jaded of hearts.
This track has been a wedding favorite since its release in 1970.
1. "We've Only Just Begun" by the Carpenters
Mushiest lyrics: And when the evening comes we smile / So much of life ahead / We'll find a place where there's room to grow
Versions: Over the years, notable male versions of this Carpenters original have been recorded by Paul Williams, Perry Como, Mark Lindsay, Andy Williams, and Johnny Mathis. Female versions are from Dionne Warwick, Barbra Streisand, and Claudine Longet, who murders the song. Karen Carpenter owns this song.
Trivia: The song (in Paul Williams' vocals) was first used for a bank commercial.
Cheese factor: The song has loads of references to beginnings and "roads ahead." But where the heck did this line come from: "We start out walking and learn to run." We get what it's trying to say, but we can't help it if we picture two adults acting like babies.
ADVERTISEMENT - CONTINUE READING BELOW
This tune was first sung to a lady named "Penny."
2. "The Way You Look Tonight" by Fred Astaire
Mushiest lyrics: And that laugh that wrinkles your nose / It touches my foolish heart
Versions: The much-loved wedding track is a 1936 Fred Astaire original. Legendary musicians like Frank Sinatra, Billie Holiday, Tony Bennett, Ella Fitzgerald, Olivia Newton-John, and Rod Stewart have their own versions. Younger artists like Michael Bublé, Joey McIntyre, Maroon 5, and Kris Allen also have their covers. And yes, even our very own Zsa Zsa Padilla has a commendable version. However, Sinatra's version is the most melodious of them all.
CONTINUE READING BELOW
Recommended Videos
Trivia: The song is from a 1936 film titled Swing Time. John "Lucky" Garnett (Astaire) sung this song to Penelope "Penny" Carroll (Ginger Rogers). It is also included in soundtracks of several movies including the quirky wedding flicks My Best Friend's Wedding and Father of the Bride.
Cheese factor: This song is not cheesy per se but the fact that it's played at every single wedding, more so when it's a remake, has made it so. Anyway, has it ever occurred to people that this could be an X-rated song if it's not played at the right time? Playing this song during a daytime wedding only makes everyone think of the wedding night.
3. "The Gift" by Jim Brickman
No wonder he's so good at it, he's been playing the piano since the age of five.
Mushiest Lyrics: All I want is to hold you forever / All I need is you more every day
ADVERTISEMENT - CONTINUE READING BELOW
Versions: This 1997 Jim Brickman composition, in collaboration with Collin Raye and Susan Ashton, was revived by Erik Santos in his 2009 album titled The Jim Brickman Songbook. Thumbs up for Santos' version and thanks a lot for sticking to the simplicity of the tune. The soothing piano and his vocals create a sweet serenade.
Trivia: Aside from making music, Brickman also hosts his own radio show in the US called Your Weekend with Jim Brickman.
Cheese factor: Love is a gift that can't be boxed and wrapped in shiny, glittery paper and yet, it's one hell of a treat. So lovebirds, cherish it.
Not only can she sing, she can act, too.
4. "I Finally Found Someone" by Barbra Streisand and Bryan Adams
Mushiest Lyrics: My favorite line was / "Can I call you sometime?" / It's all you had to say / To take my breath away
Versions: This 1996 Barbra Streisand and Bryan Adams duet was performed by Celine Dion at the Academy Awards. A country version was recorded by Lorrie Morgan and Sammy Kershaw in 2001. The Celine Dion performance was so superb that it sparked the "Tell Him" duet of Streisand and Dion.
Trivia: The song is soundtrack to the film The Mirror Has Two Faces that Streisand produced, directed, and starred in.
Cheese factor: There's a hint of desperation in the song–and it's all because of the word, "finally." It indicates that one has been looking for Mister or Miss Right for ages. Love's great, but, hey, there's more to life than "coupling."
ADVERTISEMENT - CONTINUE READING BELOW
America's genre is a mix called English-American folk rock.
5. "All My Life" by America
Mushiest lyrics: All my life, I will carry you through / All my life, between each hour of the passing days / I will stay with you
Versions: This well-loved classic is an American original, just one of their many hits like Ventura Highway and Daisy Jane. Asia's Songbird Regine Velasquez beautifully sang a cover of this hit during her One Enchanting Songbird Benefit Concert.
Trivia: All three original members (Gerry Beckley, Dewey Bunnel, and Dan Peek) share a common denominator, being half-British and half-American. Their fathers were American military personnel who met their loves while stationed in London.
Cheese Factor: Giving in to love is the sweetest surrender, agree?
You might also want to check out the 1986 film with the same title starring Sharon Cuneta, Dina Bonnevie, and Cherie Gil.
6. "Sana'y Wala Nang Wakas" by Sharon Cuneta
Mushiest lyrics: Kahit na ilang tinik ay kaya kong tapakan / Kung 'yan ang paraan upang landas mo'y masundan
Versions: Regine Velasquez, Jed Madela, and Rachelle Ann go sang covers of this Sharon Cuneta original. This song sounds best when sung by a choir. Otherwise, Megastar owns this one.
Trivia: In total accordance with Philippine teleserye tradition, the song was used as title for a soap starring Jericho Rosales and Kristine Hermosa.
Cheese factor: It's the perfect song for hopeless romantics...as well as masochists.
Ikaw is also the title of Sharon Cuneta and Ariel Rivera's 1993 movie.
ADVERTISEMENT - CONTINUE READING BELOW
7. "Ikaw" by Sharon Cuneta and Ariel Rivera
Mushiest lyrics: Kulang ang magpakailan pa man / Upang bawat sandali ay / Upang muli't muli ay / Ang mahalin ay ikaw
Versions: Top-rated Filipino performers Martin Nievera, Lea Salonga, and Regine Velasquez have their own versions of the song. All three gave justice to the piece but Salonga is a standout.
Trivia: Before becoming a singer and eventually an actor, Ariel Rivera worked as an architect in Dubai.
Cheese factor: Your special someone may seem heaven-sent but like us, he/she is human and has flaws. Just don't go running away when you realize that, okay? True love embraces the good as well as the bad.
This George Canseco composition goes all the way back to 1977.
8. "Ngayon at Kailanman" by Basil Valdez
Mushiest lyrics: Sa bawat araw ang pag-ibig ko sa 'yo liyag / Lalong tumatamis, tumitingkad / Bawat kahapon ay daig nitong bawat ngayon / Na daig ng bawat bukas
Versions: Sharon Cuneta recorded her version of the hit song in 1992 for a film of the same title where she teamed up with Richard Gomez. Marinel Santos also has her rendition from the George Canseco Songbook album released in 2008.
Trivia: Basil Valdez wasn't always a solo artist. He was a member of Circus Band in 1972 which disbanded a few years after.
Cheese factor: The ride along the wedded road need not be as calm as the melody of this song. There are lots of ways to spice up the relationship from a new perfume to some animal-print wallpaper.
ADVERTISEMENT - CONTINUE READING BELOW
Check out this duet by Ogie Alcasid and Manilyn Reynes.
9. "Pangako" by Ogie Alcasid
Mushiest lyrics: Pangako, hindi ka na mag-iisa / Pangakong magmula ngayo'y / Tayong dal'wa ang magkasama
Versions: Regine Velasquez recorded her rendition as theme song for her 2001 flick titled Pangako Ikaw Lang with Aga Muhlach. Since the release of her cover, the song has gained more popularity and has been used as a staple wedding track. There's no denying the powerful voice of the Asia's Songbird.
Trivia: On his first major attempt to enter the music scene in 1989, Ogie Alcasid's self-titled debut album reached gold record status. Talk about raw talent.
Cheese factor: They say promises are meant to be broken, we say those who say that are bitter. Some promises are actually fulfilled all in the name of love.
"Forevermore" is Side A's most popular hit to date.
10. "Forevermore" by Side A
Mushiest lyrics: I just can't believe that you are mine now / You were just a dream that I once knew / I never thought I would be right for you
Versions: Brenan Espartinez (you might remember him as "Agatom" from Sineskwela) recorded a remake of this 1994 Side A original under his self-titled album in 2009. His version is just dreamy. From an acoustic track, the song was transformed into a soul-R&B track that can make every listener fall even more in love with the song.
Trivia: The song reached platinum record status eight times over and bagged the Song of the Year Award in the 1995 Awit Awards.
ADVERTISEMENT - CONTINUE READING BELOW
Cheese Factor: No star is too far to reach especially when love's got your back. Just keep the faith.
Art by Warren Espejo.
Share this story with your friends!
---
Help us make Spot.ph better!
Take the short survey
Load More Stories