MOVIE REVIEW: Paranormal Activity 2
See why SPOT.ph movie reviewer Paul Daza says this sequel surpasses its successful predecessor.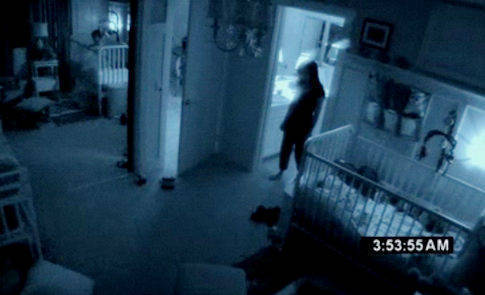 Tod Williams' Paranormal Activity 2
A toddler's toy carousel moves, seemingly by itself. A frying pan falls, defying the hook that's supposed to keep it in place. A brave, protective dog barks at an unseen intruder. These are just some of the normally mundane occurrences that are given a heart-pounding, supernatural spin in Paranormal Activity 2, the chilling sequel to the low-budget, pseudo-reality horror flick that electrified the genre when it was shown last year ago. Simply put, P.A. 2 is a terrifyingly efficient haunted house movie that's perfect viewing for the Halloween season. It's that rare sequel that surpasses its phenomenally successful predecessor in nearly every aspect.
The story of Paranormal Activity 2 makes it both a sequel and a prequel to the first film. It's August 2006 and dad Dan and mom Kristi are enjoying life with their baby boy Hunter and teenaged daughter Ali (Dan's daughter from a previous marriage) in their suburban California abode. One day, however, the family comes home to discover that their house has been ransacked- apparently by burglars- though nothing seems to have been stolen. Dan then has several closed circuit TV cameras (CCTV) installed, which show what's happening in key areas throughout the property, from the swimming pool outside to the second storey nursery where Hunter sleeps. But as days pass and unexplainable occurrences are captured by the 24/7 video cameras, the family realizes that their intruder may be a malevolent, supernatural entity that's out to get something or someone from the house. To protect his family, Dan performs a ritual which seemingly transfers the curse to Katie, his wife Kristi's sister. What happens to Katie and her husband Micah as a result of Dan's unconscionable act is what's chronicled in the first Paranormal Activity. And though Dan, Kristi and their two kids have a few days of peace afterwards, the intruder they thought they had gotten rid of for good returns to their home with a vengeance.
ADVERTISEMENT - CONTINUE READING BELOW
As the above summary indicates, PA2 does presume that viewers have seen the first film,   and only those who have will fully appreciate the intricacies of the sequel's plot and reap all of its goosebump-inducing benefits. The film even begins with a card which tells the audience that the footage they're about to see was discovered after Micah's death. I was one of the countless many who saw Paranormal Activity in November 2009, but it took me a few minutes to remember that "Micah" was the guy who was killed at the end of that movie.
But if you didn't see the first film or don't have time to review it before watching the sequel, don't fret, for there are still lots of spine-tingling scares to be had with your significant other or your barkada in Paranormal Activity 2. I counted three big scares that jolted me out of my seat, and ten other instances when females throughout the theater screamed their lungs out in reaction to what was happening onscreen.
CONTINUE READING BELOW
Recommended Videos
The fact that PA2 is so effective at delivering its bone-chilling payoffs is even more impressive when one realizes that the filmmakers who created the movie didn't (and couldn't)  employ two of the tools which horror movie makers often rely on  to make the audience spill their popcorn: the sudden close-up and the sudden bang in the music score. Because Paranormal Activity 2 consists solely of footage that was purportedly found in  the CCTV cameras and personal camcorder in Dan's home, the use of such cinematic devices as an intimate close-up and a manipulative music score would have destroyed the movie's "reality" aesthetic. And so, for the most part, we're made to watch events unfold from the point of view of a fly on the wall. Only when the footage switches to the handheld, night-vision equipped videocam which Dan and his teen daughter Ali sometimes use do we get more intimate and more detailed views of what's going on in the house. And yet, despite these limitations, the movie is superbly efficient at delivering the scares. Credit the film's director, Tod Williams, for finding simple but effective ways to make those emotionally distancing wide angle shots scare the living daylights out of his hapless viewers, with only a subtle, rumbling sound in lieu of a music score on the soundtrack to heighten the suspense.
ADVERTISEMENT - CONTINUE READING BELOW
I do, however, have one quibble with PA2, and it has to do with the quality of the CCTV  footage that comprises 70% of the film's 90-minute running time: if this is video footage that we're watching, why is it so clear and sharp? Why is it even clearer than the video we see in voyeuristic reality shows like Big Brother and the surveillance footage we see on the cop shows which air on the Crime & Investigation Channel? The charm of the first Paranormal Activity and its cinematic ancestor, The Blair Witch Project, lay in the fact that the "found" footage which the movie was stitched from looked authentic- it had the  grainy, unflattering texture of video and other qualities associated with the work of amateur filmmakers who don't have access to state-of-the-art equipment. In PA2, the high-resolution quality of the CCTV footage makes it harder for the viewer to accept that it's seeing "real" video that was found by policemen in a house that had been visited by tragedy.
Good thing though that the scares in Paranormal Activity 2 are numerous and effective enough to divert the moviegoer's attention from such things. Who has time to think about such things as image resolution when his skin is crawling and his pulse is pounding?
Rating: 4 out of 5 Spots ....
Share this story with your friends!
---
Help us make Spot.ph better!
Take the short survey
Load More Stories