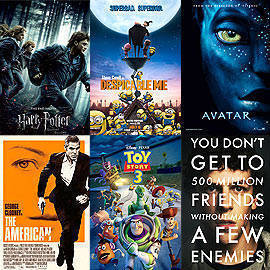 Listed here are my picks for the 10 Best Foreign Movies of 2010.  These are gems which I saw in movie theaters that I wouldn't mind seeing repeatedly. I don't claim to have seen every movie that was released in the last 12 months, but I did try to see all the noteworthy ones. One notable exception was the horror film Let Me In, which friends tell me I would have loved and maybe, included in this list, had I seen it. I also have high hopes for TRON: Legacy, but have not viewed it as of this writing. If it's as good as I'm hoping it will be, it will probably be on my list of the Best Foreign Movies of 2011. For now, however, here are my ten favorites from 2010 in ascending order. 

10. THE AMERICAN
The American

George Clooney is the assassin for hire who wants to retire in a quiet Italian town when he realizes that he's been targeted for execution. Poetic in its simplicity and gutsy in its utilization of long stretches of silence, this is an arresting meditation on the adage that crime doesn't pay. It's also a crime that not more people saw this quiet but terrific opus, which was screened only in a handful of Ayala Malls theaters.   

9. PARANORMAL ACTIVITY 2
Paranormal Activity 2
Who'd have thought that wide angle surveillance footage could be so creepy and compellingly watchable?  This sequel/prequel to last year's phenomenally successful low-budget horror flick showed that scary movies don't need high-tech visual effects, a bloated budget, mangled corpses or maniacal killers to scare the living daylights out of an audience that's hungry for horror. All you need is a good story, a scary (if unseen) villain, and a mostly-silent sound effects track that knows when to spring a loud sound on the unsuspecting viewer.
ADVERTISEMENT - CONTINUE READING BELOW


8. MEGAMIND
Megamind
It took the irreverent folks at Dreamworks Animation to turn the superhero genre upside down and put the spotlight on the world domination obsessed supervillain for a change. The result is a glorious action spectacle that's also gorgeously presented in 3D. Where How To Train Your Dragon took us on an unforgettable flight of fantasy above oceans and forests of centuries past, Megamind planted viewers on the back of a flying superhero as he flew through 21st century skyscrapers and into the stratosphere, all while dishing out quotable quips about sidekicks, romance and friendship. As the titular mega-villain with the big blue head, Will Ferrell was superbly funny.


7. DESPICABLE ME
Despicable Me
This year at the movies, some trends were either resurrected or tried out for the first time, often in pairs. This wasn't by design- aside from showcasing an ingredient that was similar, the two movies often had nothing else in common. The American and Paranormal Activity 2, for instance, both used long stretches of silence to make the sudden use of loud sounds all the more shocking for audiences. Another trend was making bad men the main characters in animated comedies and putting them in stories that brought out the humanity which lay dormant beneath their badness. This trend was obvious in Megamind and Despicable Me, two witty and wonderful animated films that had comedians providing the voices of the morally-challenged lead characters- Will Ferrell in the former, and Steve Carell in the latter. Carell's seasoned vocalization of the "superbad, super dad" Gru in Despicable Me was every bit as entertaining as the gorgeous animation which charted his progress from the heavy who wanted to steal the moon at first,  to the caring dad of three adorable orphan girls at the end. The best line of the film, however, is not uttered by Carell, but by Julie Andrews in a rare turn as a despicable, unsympathetic mother. In a flashback, we see the young Gru telling his mom that he'll go to the moon one day. Quick as a flash, she replies in her distinct Maria Von Trapp/Mary Poppins voice, "I'm afraid you're too late, son. NASA isn't sending the monkeys any more."
CONTINUE READING BELOW
Recommended Videos


6. AVATAR: SPECIAL EDITION
Avatar: Special Edition
Earlier this year, I attended a writer's workshop where the instructor complained that one major flaw of James Cameron's script for Avatar was that Cameron didn't use the tendril-powered neural bond between the Na'vi and their direhorses more often. Specifically, the writer wondered why these tendrils weren't used by the Na'vi when they made love to one another. This director's cut of Avatar, which added nine minutes of previously unseen footage to the history-making, industry-changing film, shows that Cameron had in fact intended to use the neural tendrils in lovemaking among the Na'vi after all. In one scene in the special edition, Jake and Neytiri make their neural tendrils bond before they make love one magical night in Pandora. Scenes like this enriched Avatar and made what was already a terrific 3D movie even better.    

5. TOY STORY 3
Toy Story 3
Is there any other movie franchise whose threequel was made and released nearly 15 years after the first movie was launched? Woody, Buzz, and most of their plastic pals returned triumphantly in the miraculous second sequel, risking their lives and detachable limbs in a desperate search for new children who could play with them when their owner outgrew them. What's miraculous about Toy Story 3 is that it not only entertained the toddlers and teens of today, it also moved the adults who were toddlers themselves when the first Toy Story came out in 1995. Thank you, Pixar, for doing right by these beloved characters, and giving them the sweet and satisfying send-off they deserved.
ADVERTISEMENT - CONTINUE READING BELOW


4. HARRY POTTER AND THE DEATHLY HALLOWS PART 1
Harry Potter and the Deathly Hallows
The pure awesomeness of the penultimate Potter film handily restored my faith in the movie franchise after the underwhelming Order of the Phoenix and Half-Blood Prince. Now that he's set the bar really high, can director David Yates maintain the momentum for The Deathly Hallows Part 2, which is seven long months away? Among the pleasant surprises of Hallows Part 1 were scenes that weren't even in the book- e.g. Hermione removing herself from the memory of her Muggle parents and her slow dance with Harry. If there are more inspired inventions like this in Deathly Hallows Part 2, then there's every reason to be optimistic that the last Potter film will be the best one of all. Also boding well for the series is the fact that Harry Potter creator J.K. Rowling is now listed as a producer on both Deathly Hallows films. Surely she won't allow Harry to stumble as he crosses the finish line with Ron and Hermione in their race to find Voldemort's Horcruxes.  


3. THE SOCIAL NETWORK
The Social Network
Inspired by the real people and events which surrounded the creation of facebook by Harvard students in 2003, this truly is the defining movie of the decade. Powerfully acted by its young cast and impeccably directed by David Fincher, The Social Network is compelling proof that not everyone can be a genius and a billionaire, and that a film about fast talking geeks can be as riveting - or even better- than a movie filled with action set-pieces and eye catching visual effects. In tandem with Inception, The Social Network made thinking a cool thing to do at the movies this year.
ADVERTISEMENT - CONTINUE READING BELOW


2. HOW TO TRAIN YOUR DRAGON
How To Train Your Dragon
In the late 70s, before the age of dvd and  Betamax, movie distributors opened their best movies on Easter Sunday. This soaring, 3D computer animation spectacle from Dreamworks restored that tradition by opening the week before Holy Week. Featuring the best use of 3D since Avatar, this touching, funny tale of the friendship between a boy and the dragon he had hoped to kill is my favorite family movie of the year. While the opening narration refers to dragons as "pests," the closing narration refers to them as "pets." Seeing how the fire breathing creatures went from pests to pets was 100 minutes of pure joy at the cinema. One of my Christmas wishes is that this fantasy adventure will be released on dvd in 3D one day- seeing it twice in 3D in a movie theater simply wasn't enough.       

1.INCEPTION
Inception
Writer/director Christopher Nolan's mesmerizing dream within a dream within a dream caper is the smartest blockbuster ever made this year, and quite possibly the smartest movie of all time. Dense with intriguing ideas and surreally provocative imagery, Inception re-established the movie theater as the place where, as one early film theorist put it, human beings do their collective dreaming. No other film from 2010 dared to dream as big or aspired to be as original, and no other film was as rewarding to behold.



Share this story with your friends!
---
Help us make Spot.ph better!
Take the short survey
Load More Stories