MOVIE REVIEW: Gulliver's Travels
How does this latest Jack Black flick compare to his past hits?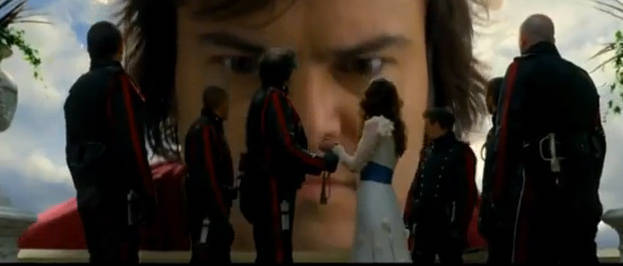 Jack Black stars as Gulliver
Fans of Jack Black know what to expect from his movies. More often than not, the talented comedian plays an underachieving slacker who somehow rises above his incompetencies and brings out the best in the people around him. He even gets the girl in the end. Black's movies usually feel like extended, low-budget sitcoms, like School of Rock and Shallow Hal. Sometimes, though, he gets to appear (or be heard) in major event movies, like Peter Jackson's King Kong remake, or family-friendly animated gems like Shark Tale and Kung Fu Panda, which appeal to a much broader audience than his older core fans. In those types of movies, however, Black's signature juvenile persona is toned down and made more child-friendly.
ADVERTISEMENT - CONTINUE READING BELOW
CONTINUE READING BELOW
Recommended Videos
Watch the trailer
Gulliver's Travels is a movie that wants to have the best of these two worlds, one that tries to appeal to both Black's adolescent-minded fans and the family audience. In the film, which he also executive-produced, Black plays Lemuel Gulliver, a slacker who has worked in the mail room of a New York magazine for 10 years and has never been promoted. Prompted by a co-worker who was promoted after just one day on the job, Lemuel plagiarizes two articles from travel websites and passes them off as his own to his editor, Darcy (Amanda Peet), whom he's had a crush on for a long time. Impressed, Darcy immediately assigns Lemuel to take a boat to the rumored site of the Bermuda Triangle so he can write about it. As Lemuel nears his destination, an awe-inspiring vortex of water transports him to the scaled-down kingdom of Lilliputia, where the people are just a couple of inches high. After a shaky start with the Lilliputians, Lemuel soon becomes their friend and protector, even acting as a matchmaker for its princess and the disgraced man who's in love with her. Evil forces, however, are plotting to take over the kingdom, and they're not going to let even the giant Lemuel get in their way.    

That Gulliver's Travels is a movie that tries to appeal to its star's adolescent-minded fans and kiddie fans is obvious. The story makes use of Black's underachiever persona for most of its running time, and it has the prolonged sitcom feel of the comedian's earlier films. For the kids, there are the expensive, 3D visual effects that make Black look twice as tall as King Kong, not to mention the inclusion of giant robots, castles, kings and princesses in the mix. And so, it must be asked: does the movie appeal to both mature viewers and children?

As an older viewer who likes even those Jack Black comedies that were rated R like Tenacious D in the Pick of Destiny, I have to admit that I enjoyed Gulliver's Travels more than I thought I would. Though not all the jokes and punchlines were funny, I never got bored with the movie. One of my favorite lines is in the scene where Lemuel admonishes his Princess Leia action figure for "making out" with her brother, Luke Skywalker. And even though the line is featured in the trailer, I still laughed when it was played in the film. As one who loves movies, I was also happy to see Black once again spoofing some of the most popular movies ever made in Gulliver, a trick he last performed in 2008's Be Kind, Rewind. Where he remade blockbusters like 2001: A Space Odyssey, Lion King and Ghostbusters as crude, low-budget videos from his garage in that little-seen gem, he restages scenes from Titanic and The Empire Strikes Back as live, Broadway-style extravaganzas starring the citizens of Lilliputia in Gulliver's Travels, passing them off as incidents from his life to the naïve audience.   

For the kids, there's more than enough spectacle to keep their eyes glued to the screen. The movie is in fact preceded by a hilarious animated short starring Scrat the sabre-toothed squirrel from the Ice Age movies. Also shown in gorgeous, dazzling 3D, the special attraction shows how Scrat's never-ending pursuit of acorns created the phenomenon of continental drift. Following this, Gulliver's Travels begins with sped-up aerial shots of New York that make it look like a miniature. The visual effects showing Lemuel interacting with the Lilliputians are quite good, the battle scenes showing him attacking a fleet of miniature ships a spectacular 3D set piece. Also notable are a couple of surprising twists in the story. One has to do with the re-appearance in Lilliputia of Amanda Peet as Lemuel's boss, while the other is a bizarre, Twilight Zone-inspired turn of events that involves Lemuel and a "little" girl with a doll house.  

As for the question of whether Gulliver's Travels succeeds in entertaining both the adolescent-minded and the kids who are still in primary school or kindergarten, it's safe to say that the former have no need to be protected from anything in the movie. For the moppets, however, there's that line about Princess Leia snogging her brother that a curious, prepubescent viewer might ask his parent or guardian about. It's also worth mentioning that Gulliver's Travels is probably the first post-Avatar 3D family film to have a scene where the lead character urinates on the bad guys to stop them in their tracks. Count on Jack Black to be the first major Hollywood comedian to use 3D technology for toilet humor. It's mainly because of these two scenes that I felt uncomfortable watching the movie with children. I got the impression, though, that they lapped it up from start to finish.    

Rating: 3.5 out of 5 Spots


ADVERTISEMENT - CONTINUE READING BELOW
Load More Stories