MOVIE REVIEW: Sucker Punch
This trippy adventure film has officially started Manila's summer movie season with a colossal bang, says our SPOT.ph movie reviewer.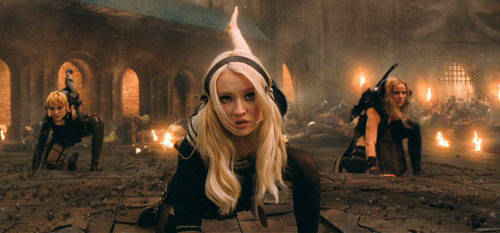 Sucker Punch's writer-director Zack Snyder described this  flashy adventure flick  as "Alice in Wonderland with machine guns"
Sucker Punch isn't your typical action movie, it's a lot better. With its breathtaking visuals, kick-ass females and intriguing story, Sucker Punch has officially begun the Philippine summer movie season with a colossal bang. Reportedly described by its writer-director Zack Snyder as "Alice in Wonderland with machine guns," Sucker Punch is a trippy, dreamy adventure that packs a surprisingly powerful punch (pun intended).
ADVERTISEMENT - CONTINUE READING BELOW
Watch the trailer


Babydoll (Emily Browning) is brought to the Lennox Asylum by her wicked stepfather, where she will be lobotomized after five days. Determined to escape, she  convinces four other young girls in the facility-Rocket (Jena Malone), Blondie (Vanessa Hudgens),  Amber (Jamie Chung) and Sweet Pea (Abbie Cornish)-to help her escape from the asylum and its evil administrators Blue (Oscar Isaac), Madam Gorski (Carla Gugino), and the High Roller (Jon Hamm). Like other individuals who find themselves in a dire predicament, Babydoll copes by daydreaming. During one of her flights of fancy, she's told by a Wise Man (Scott Glenn) that she needs five objects to help her get out of the asylum. With time running out, Babydoll and the four other girls plan their escape, the success of which will require sexy dancing and trips to five dreamscapes to confront  ghost Germans, fierce dragons, and persistent robots.
ADVERTISEMENT - CONTINUE READING BELOW
Sucker Punch begins its mind games immediately.  It starts, Moulin Rouge-style, with the parting of a red curtain which reveals Babydoll in her bedroom in the middle of a spacious stage, looking like she's the star of a musical. We then hear a new version of the 80s Eurythmics song, "Sweet Dreams Are Made of These" on the soundtrack, then see the series of unfortunate events which result in her being brought to an asylum. What makes this spellbinding, pre-title sequence even more amazing is the fact that it's filmed entirely in slow-motion. As Babydoll is driven from her home to a house for the insane, the film's title is brilliantly revealed on the rain-splashed window of the 1960s car that's transporting her to her new nightmare.   

Stunning as the beginning is, the movie gets even better as its 109 minutes tick quickly away, plunging us into Babydoll's imagination as it echoes the idea popularized by   Inception that dreams exist within dreams. Though the actresses who play Babydoll and her other female friends provide plenty of eye candy, the real stars of Sucker Punch are the five adventure set pieces which the female friends must try to survive in their quest for the five objects.     

The first realm in Babydoll's mind is a snow-swept Japanese temple where she's attacked by three giant samurai warriors after she meets the Wise Man played by Scott Glenn. Kinetically choreographed and wonderfully, almost poetically visualized, the sequence evokes the climax of The Last Airbender, and had me wishing that Snyder had directed that film too instead of M. Night Shyamalan.

The next action set piece that takes place in Babydoll's head is where the movie reveals that Sucker Punch isn't set in the 1960s as the production design had indicated, but in contemporary times. What appears to be a World War I trench defended by German soldiers and their disfigured leader (shades of Captain America's nemesis, Red Skull) later involves weapons that the marines in James Cameron's Avatar might have used, including a giant mecha suit and handheld bombs with lots of colorful and bright lights. They're objects that Babydoll may have seen in movies, tv shows, or video games which were stored in her mind.   

The third set piece, which involves a World War II bomber attacking a medieval castle that's home to two dragons, is my favorite among the five. With a splendidly gloomy castle that looks like Saruman's stronghold from the Lord of the Rings movies, and a dragon as scary as the one in Robert Zemeckis' inspired but underappreciated Beowulf, this part was a pure joy to behold. Though it recalls details from the opuses of Peter Jackson and Zemeckis, Snyder made the sequence his own by filming the high-flying action against the tobacco/orange skies that he used to unforgettable effect in 300. That's one of the many cool things about Sucker Punch- though its surreal action scenes   have elements that echo great movies (another scene involving a train seems inspired by the climax of Batman Begins), it'll never cross your mind to accuse Snyder of plagiarism, since all the shots have other eccentric details and amazing camera angles that are the product of his unique visual style and no other filmmaker's.

It must be said though, that Snyder doesn't always show everything. Considering his first mainstream Hollywood success was the R-rated Day of the Dead, he shows admirable restraint in the scenes where something violent happens in Babydoll's real world, preferring to let sound effects rather than gruesome sights (e.g. people getting sliced or shot at) to let us know what's happened. I also thought it was a brilliant touch for him to leave one important element of the story to the viewer's imagination: the much admired, but never seen action that Babydoll does to transport herself to her dazzling fantasy world.

With all this eye-candy to dish out, it was perhaps inevitable that some character development would be sacrificed. As a Filipino moviegoer, I certainly would have wanted to see Vanessa Hudgens in more hard-hitting action sequences than she was given. Hudgens aside though, what's important is that Snyder gave his two most central characters, Babydoll and Sweet Pea, enough humanity to make us care about what happens to them. If he hadn't, the flawlessly rendered visual effects would have all been for nothing, and Sucker Punch would have just been another forgettable, bloated spectacle like Transformers 2: Revenge of the Fallen or Snyder's own Watchmen.     

Sucker Punch is the first movie I've seen this year that I'm looking forward to watching on the big screen again. It's also the reason why I no longer dread the words Superman: The Man of Steel... A Film by Zack Snyder, and why December 2012, the still subject-to-change playdate for his Superman reboot, suddenly seems so far away.  

Rating: 4 out of 5 Spots ••••

ADVERTISEMENT - CONTINUE READING BELOW
Photos from the Sucker Punch Facebook page
Load More Stories