MOVIE REVIEW: The Tree of Life
SPOT.ph movie reviewer Paul Daza dissects the Brad Pitt- and Sean Penn-starring Best Picture winner at the recent Cannes Film Festival.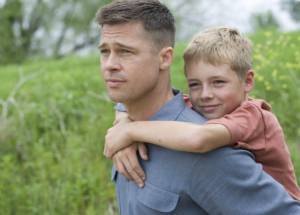 The Tree of Life, winner of the Palme d'Or (best picture) at last month's Cannes Film Festival, is a captivating, challenging meditation about life and death, nature and grace, fate and faith. Slow and meandering, but poetic and profound, it isn't a film for everyone.
In a season of fast-paced, popcorn entertainments like X-Men First Class, Kung Fu Panda 2, Super 8 and the like, The Tree of Life stands proud and tall for bucking the trend and taking its time to tell a delicate, often disorienting tale of an unhappy man grappling with some of life's big questions: Why can't people be kinder to one another? Why does God allow bad things to happen to good people? Is there life after death? The film begins with a quotation from the Book of Job, one which establishes the story's  Biblical pursuit of questions about the Almighty's presence or absence in our lives. Jack (Sean Penn) is a troubled man in the modern world, trying to make sense of a stressful and lonely existence that's bounded by skyscrapers of glass and steel. Reflecting on what could have led him to this low point, Jack recalls his idyllic, sometimes painful childhood in 1950s Texas. Foremost in Jack's memories are incidents involving his two brothers, his loving mother (Jessica Chastain) and his fearsome father (Brad Pitt). In the end, though, there are no obvious answers to the questions Jack poses, just a dreamlike reassurance that all will be well.
Despite the presence of such Hollywood heavyweights as Brad Pitt and Sean Penn in the cast, there is nothing Hollywoodish or formulaic about The Tree of Life. For one thing, the narrative is told unconventionally by writer/director Terrence Malick in a non-linear,  stream of consciousness-like fashion. Glimpses of Jack in the present day are followed by long stretches showing his life as a boy, where he's played by an amazing new child actor, Hunter McCracken. The film then goes off on another tangent, showing us a magnificent depiction of the universe's creation that owes as much to the book of Genesis as it does to National Geographic in terms of tone. This sequence, which has the wonderful, man-made look of the visual effects we saw before computers started changing everything in the mid 80s, also recalls the "Rite of Spring" segment in Disney's Fantasia, which showed awe-inspiring primal forces shaping our planet to the music of Igor Stravinsky. But where wall-to-wall music characterized Fantasia, Malick and his gifted music scorer, Alexander Desplat, use music more sparingly and unpredictably in this sequence and the rest of The Tree of Life, alternating between original compositions and well-known works from the classical canon.
ADVERTISEMENT - CONTINUE READING BELOW
It's a tribute to Malick's mastery of the film medium that he can create moments of breathtaking beauty and unbearable suspense without relying on music to cue the audience as to what it should be feeling. For instance, no music intrudes in the many exquisitely poetic shots showing Jack's mother playing with him and his two younger brothers. We are spared from the sound of distracting stingers when she wets her feet with a hose as she stands barefoot on the grass, and there's  no orchestral surge accompanying that magical moment when she appears to fly like a wingless angel.
CONTINUE READING BELOW
Recommended Videos
The same is true for the unbearably suspenseful scenes which show the boys fooling around with an electric lamp and a hunting rifle. Malick stages these scenes with a deafening silence, the only sounds being the occasional word from Jack and the click of the threatening object being toyed with.
That we do care for Jack and the other characters in scenes like these (there wouldn't be any suspense if we didn't) is also due to the superb cast, whose captivating honesty shines through in every frame of the film. Watching the little boys (there are no little girls in the 1950s flashbacks), you'd be forgiven for thinking that you were watching an exquisitely-filmed documentary... they're that natural. As the young Jack, Hunter McCracken is a revelation, especially in the subtle ways he differentiates the Jack who is a peer to his neighborhood friends, with the boy who is controlled by his frighteningly unpredictable father. McCracken is as much a revelation as Jack in The Tree of Life as Christian Bale was as Jim in 1987's Empire of the Sun.
ADVERTISEMENT - CONTINUE READING BELOW
Among the grown-ups, the surprise here is the splendid Jessica Chastain as Jack's idealized mother, whose stability and strength balance her husband's mercurial outbursts. Chastain's portrayal is helped immeasurably by cinematographer Emmanuel Lubezki, who bathes her hair and hands with a golden sunshine that makes her positively angelic in many of her scenes.
As her bitter half, Brad Pitt has never been better. Playing a frustrated musician given to temperamental outbursts at the dinner table, Pitt's role here is far meatier than the one he was Oscar-nominated for a couple of years ago, as the title character in the reverse-aging romantic drama  The Curious Case of Benjamin Button. I haven't seen a father as psychologically complex as the one who inhabits The Tree of Life in a while, and Pitt plays him superbly.
Of late, we've had a nonstop barrage of big-budget films screaming for attention in our multiplexes. If you're looking for a more philosophical, life-affirming alternative, the heartfelt whisper that is The Tree Of Life is worth a listen.
Rating: 4 ½ out of 5 Spots  ••••.
Share this story with your friends!
---
Help us make Spot.ph better!
Take the short survey
Load More Stories