Catch the Eiga Sai Japanese Film Festival 2011 from July 1 to 10
Eiga Sai is back with free screenings of Japanese flicks for foreign film fanatics.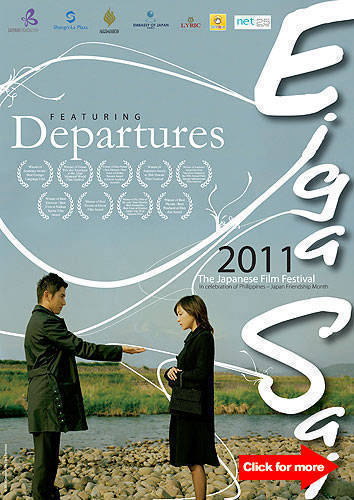 To see the lineup of films, schedules, and synopses, click for more.
(SPOT.ph) Eiga Sai, the annual Japanese film festival held in Manila by the Japan Foundation, Manila and the Embassy of Japan, features a hodgepodge of films spanning several genres from Japanese cinema. Among the must-see flicks this year are the highly-acclaimed Departures and Villon's Wife-both big winners in international film festivals.
Departures, the 81st Academy Award winner for Best Foreign Language Film in 2009, chronicles the story of out-of-work cellist Daigo Kobayashi, who finds himself accepting an unfamiliar job as an "encoffinner," where his main task is to clean the bodies of the deceased before they're cremated. Award-winning actor Masahiro Motoki plays Koyobashi's character-a role that has earned him acting awards from foreign film fests. Villon's Wife is a drama based on the Japanese novel Villon no Tsuma and features the work of Kichitaro Negishi, who won the best director award at the 33rd Montreal World Film Festival. The film tells the story of the life of a novelist and his wife who stands by him through alcoholism and affairs with other women.
ADVERTISEMENT - CONTINUE READING BELOW
The film festival, which will be screening flicks for free, is part of the festivities of the Philippines-Japan Friendship Month this July. Eiga Sai kicks off its 13th year this week with a invitational screening of Departures on July 1, 7 p.m. at the Shang Cineplex Cinema 2 in Shangri-La Plaza, EDSA, Mandaluyong City. Philippine Philharmonic Orchestra principal cellist Renato Lucas and pianist Naomi Sison will serenade guests at the Atrium Plaza during the opening night. Starting July 2, Departures will be opened to the public.
Head to Cinema 4 from July 2 to 10 to catch screenings of other films like The Summit: Chronicle of Stones; The Chef of South Polar; One Million Yen Girl; Your Friend; Yunagi City, Sakura Country; Summer Days with Coo; Climber's High; Feel the Wind; and Villon's Wife. All films will be shown with English subtitles.
Check out our gallery for schedules and synopses.
Eiga Sai will also run at the UP Film Institute from August 17 to 20. For more information, log on to www.jfmo.org.ph or call Japan Foundation, Manila at 811-6155 to 58.
Images courtesy of Japan Foundation, Manila
Load More Stories