10 Tunes to Listen to This Month
A storm of songs to rival the rainy days ahead.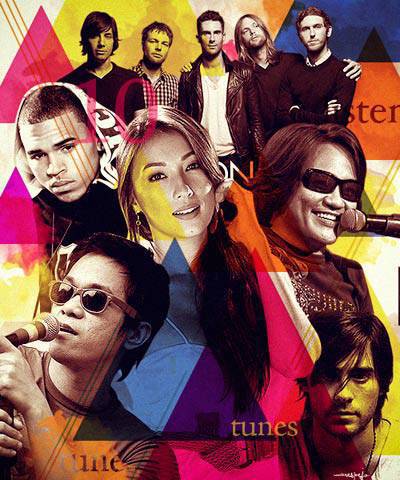 (SPOT.ph) This month, former Sugarfree vocalist Ebe Dancel is back with a new song, It Girl Solenn Huessaff's first single heats things up, Adam Levine and Christina Aguilera release a chart-topping winner, and a hot Chris Brown and Justin Bieber collab is on our playlist.  Gotta get these tunes now!
Song: "Fire"
Artist: Solenn Heussaff

Yes, you read right, the multi-slashie has just added another title to her already long list of talents. A remake of the Bruce Springsteen original, "Fire" showcases Huessaff's sultry voice. Who knew she could sing, too? This tune can heat up a cold and rainy day.      

Fun Fact: Solenn's full album will launch this July, watch for it! "I'm so excited about this album. I assure you there will be lots of surprises," she promises.
Song: "Closer to the Edge"  
Artist: 30 Seconds to Mars

Probably the most moving tune from this award-winning American rock band, "Closer to the Edge" is more than just pounding drums and heavy guitar riffs. Fronted by Hollywood actor Jared Leto, the song's strong lyrics will definitely get to you.        

Fun Fact: 30 Seconds to Mars performs in Manila on July 29. Buy your tickets here.
ADVERTISEMENT - CONTINUE READING BELOW
Song: "Muli"
Artist: Ebe Dancel

Former Sugarfree frontman Ebe Dancel is back with "Muli," a tune that's bound to be big. More than its rockin' rhythm and easy melody, it's the lyrics that stand out and Dancel's distinct vocal that shines. We can't wait for the full album.      

Fun Fact: "Muli" is part of Dancel's first double-disc album titled Dalawang Mukha ng Pag-Ibig set to launch this month.


Song: "This City"  
Artist: Patrick Stump featuring Lupe Fiasco

Fall Out Boy's lead singer has finally released a single from his self-written and produced solo album, Soul Punk, and we're so happy to hear it. Though "This City" showcases Stump's signature voice, the tune is a far cry from the FOB's punk-pop sound. In fact, it's got a dance-y beat and a rap verse.      

Fun Fact: Stump started working on Soul Punk in January 2010, he's set to release the full album this July.
CONTINUE READING BELOW
Recommended Videos
Song: "Enveloped Ideas'  
Artist: Techy Romantics

The Techy Romantics pays tribute to legendary Pinoy band The Dawn with their take on cult classic "Enveloped Ideas." Applying their distinct electro-pop sensibilities and a dreamy vocal, this version is totally trippy.          

Fun Fact: When this song was first released by The Dawn in 1986, it topped radio charts, helping the band gain a loyal following.
Song: "Moves Like Jagger"
Artist: Maroon 5 featuring Christina Aguilera

Maroon 5 veers away from their pop rock sound with this upbeat Electro-pop ditty. Debuting at Billboard's Top 10 when it was first released, this song has the makings of a worldwide hit.  Plus, it features the hotness that is Adam Levine, how can you not love it?

Fun Fact: "Moves like Jagger" was first performed by Levine and Aguilera on The Voice, a singing competition show on which both are vocal coaches.


ADVERTISEMENT - CONTINUE READING BELOW
Song: "Mi Ultimo Amor"  
Artist: Sandwich

This song is Sandwich's contribution to Rock Rizal, an album that pays tribute to our dear Lolo Pepe. A fun song about the women (listen closely to the lyrics) in Rizal's life, "Mi Ultimo Amor" has a really catchy melody that you'll be singing in no time. Download it for free here!

Fun Fact: Keep your ears peeled for Rock Rizal songs from Ely Buendia, Jett Pangan, Hijo, Radioactive Sago Project and more. Check Rock Ed's Facebook page for updates.     


Song: "Inventing Shadows"
Artist: Dia Frampton

The contestant of the musical reality show The Voice wowed the world with "Inventing Shadows." Performed by Frampton during the show's finale, the touching song showcases the 23-year-old's raw, imperfect tone, which is actually quite refreshing. Her unique voice gives life to the song's moving lyrics and could easily give you goosebumps. Download the song on iTunes.

Fun Fact: The Dutch-Korean cutie also writes novels and children's books.


Song: "This Used to Be My Playground"
Artist: Urbandub

The Giant Sound of the South does their version of Madonna's "This Used to Be My Playground" with the band's bassist extraordinaire Lalay Lim on vocals. An interesting spin on the pop icon's song, their version features a somber and slow melody laced with heavy drums and guitar riffs.       

Fun Fact: Meet Urbandub on July 16, 4 p.m. at Astroplus, 2nd Floor, SM North EDSA.


Song: "Next to You"  
Artist: Chris Brown featuring Justin Bieber

What do you get when you put two of the best RnB artists together? One hell of a song, and a music video that will probably get more attention than the tune. This offering from the super duo is everything we expect and want it to be-smooth vocals infused with an infectious beat and lyrics that can make any woman swoon.   

Fun Fact: The epic video of "Next to You" was directed by Colin Tilley, a renowned hip-hop music video director.
ADVERTISEMENT - CONTINUE READING BELOW
Share this story with your friends!
---
Help us make Spot.ph better!
Take the short survey
Load More Stories