MOVIE REVIEW: Larry Crowne
Is this worth a trip to the theaters? Read our SPOT.ph's movie reviewer's take on the "mildly entertaining" flick.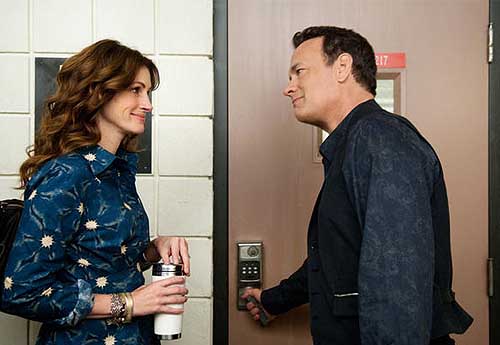 Larry Crowne stars Julia Roberts and Tom Hanks
(SPOT.ph) Not quite as bland as its title would suggest, Larry Crowne is the romantic dramedy starring Tom Hanks as an average Joe who loses his job because of an absurd corporate policy. The Oscar winner not only plays the title character, but does triple duty behind the camera as co-writer, producer and director as well. With its cast of colorful characters and a naïvely rosy view of life after being laid off, Larry Crowne has all the depth and ambition of a TV sitcom, its presence in multiplexes justified only by the star wattage of Hanks himself and fellow Academy Award winner Julia Roberts as his love interest. But considering the talent involved in the creation of this film, it could have- and should have- been better.
Watch the Larry Crowne trailer
After many years as a cheerful employee at a Wal-Mart type store in an L.A. suburb, eight-time employee of the month winner Larry Crowne (Tom Hanks) is laid off because he never went to college. And so, on the advice of his seen-it-all neighbor Lamar (Cedric the Entertainer), Larry enrolls in community college, taking courses in economics and public speaking. There, he's befriended and given a youthful makeover by twenty-something Talia (Gugu Mbatha-Raw), who also gets him to join her scooter-riding, feng shui practicing posse. In between studying and working as a chef at a local diner to make ends meet, the divorced Larry also finds time to fall in love. The object of his affection? His grumpy, public speaking professor Mercedes Tainot (Julia Roberts), whose marriage to an internet porn addict is on the rocks. Could romance be in the cards for the middle-aged college student and his unhappy, much younger teacher?
ADVERTISEMENT - CONTINUE READING BELOW
Watching Larry Crowne is a lot like viewing four consecutive episodes of an average (not brilliant) sitcom minus the commercials. Throughout its 100 minutes, you'll be tickled every now and then by the quirky characters and their witty one-liners. In terms of tone, the script (co-written by Hanks himself and Nia Vardalos of My Big Fat Greek Wedding fame) is almost absurdly naive. Comparing it with a recent film, Larry Crowne's depiction of the world of unemployed Americans is far rosier than the cynical, realistic portrait showcased in Up In The Air (2009). Where that film presented the depressing, stomach-churning angst associated with being middle-aged and jobless, Larry Crowne shows that getting fired isn't the end of the world- it's just a prelude to making new friends and finding love. If Up In The Air was about the glass being half-empty for the terminated, Larry Crowne is its more escapist but less satisfying "glass is half-full" complement.
CONTINUE READING BELOW
Recommended Videos
For me, the most problematic aspect of Larry Crowne was the love angle, particularly the scripting of Julia Roberts' character, Mercedes. Aside from the fact that Mercedes has the looks and legs of Julia Roberts, there's really no other reason given to justify Larry's attraction to her. In the movie, she comes across as a tired, uncaring, perpetually hung-over professor who hates her job. She doesn't have a single encouraging word for her students when she meets them, and won't even try to conceal the disgust she feels when they say things she doesn't agree with. Why would a good and decent guy like Larry fall for a woman like her?
ADVERTISEMENT - CONTINUE READING BELOW
Drawing some attention away from the unlikable Mercedes are the sitcom-prescribed characters of various ethnicities who inject fun into Larry's world. There's Larry's lovable African-American neighbors- played by Cedric the Entertainer and Oscar nominee Taraji P. Henson-who've had a perpetual yard sale on their lawn "since Lionel Ritchie started dancing on the ceiling." There's also Star Trek's George Takei as Crowne's economics professor, whose comedic contributions consist of him confiscating cellphones from students and laughing inappropriately while he lectures. There's also another sitcom veteran-Wilmer Valderrama of "That 70s Show"-as the scooter gang's fiery Latino Dell Gordo. All he's made to do in the movie is glare at Larry, who he thinks is out to steal his girlfriend Talia. These characters are such an appealing bunch that I wondered why Hanks didn't use them more.
The Talia character, played by Gugu Mbatha Raw, is given more to do and more screen time to do it with, but she isn't on board to tickle the viewer. She gives Larry the youthful makeover that sets him on the road to romance, and is the Cupid who says the right thing at the right time to seal the attraction between Larry and Mercedes.
For all its laughs, surprises, and cast of eccentrics and do-gooders, however, Larry Crowne proves to be only mildly entertaining. There are more giggles and humorous twists of fate to be had from an average episode of first-rate sitcoms like "Modern Family" or "The Big Bang Theory" than there are in Larry Crowne's 100 minutes. There's a popular slogan that later became a song lyric that proclaims, "The best things in life are free." Paraphrasing that thought in the context of this review, I'd say Larry Crowne is proof that "The best comedy today is on free TV."
ADVERTISEMENT - CONTINUE READING BELOW
Rating: 2½  spots out of 5 ••.
Check out the movie schedule for Larry Crowne here.
Photos from Universal Pictures
Share this story with your friends!
---
Help us make Spot.ph better!
Take the short survey
Load More Stories