MOVIE REVIEW: One Day
Up for another love flick? Our SPOT.ph movie reviewer calls this Anne Hathaway-starrer "a mature romance."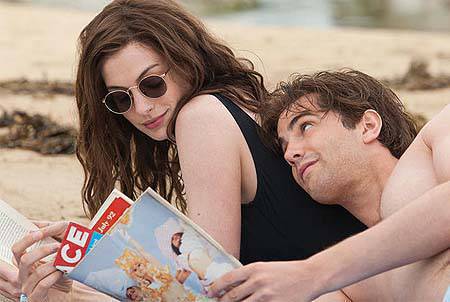 One Day stars Anne Hathaway and Jim Sturgess
It seems that August- not February- is now the month for quality, big-screen love stories. On the heels of last week's delightful confection Crazy Stupid Love now comes the poignant One Day, a romantic weepie based on the bestselling book by David Nicholls (who also wrote the screenplay).
Watch the trailer of One Day
On the day they graduate from a university in Edinburgh-July 15, 1988-polar opposites Emma (Anne Hathaway) and Dexter (Jim Sturgess) begin a friendship that will last a lifetime. She's a plain, working class writer who dreams of becoming a novelist. He's the wealthy, pleasure seeking crush ng bayan who lives only to party and bed every woman he fancies. On nearly every July 15 over the next twenty years, we see Dexter and Emma-sometimes together but more often apart-as they play the cards life deals them. The film also affords glimpses of the pair every 365 days as they deal with their unresolved feelings for one another. As the film's trailer so eloquently states, Dex and Emma's story is about meeting your soul mate one day but taking a lifetime to realize it.
ADVERTISEMENT - CONTINUE READING BELOW
There's lots to like-even love-about One Day. Not having read the #1 international bestseller on which it's based, I had no idea what it was about. I guess that's why I was unexpectedly moved by the film and more appreciative of it than the many who had read the book first then found the movie wanting. Since I'm about the same age as the lead characters, it was easy for me to get caught up in the story's time frame. I remember what it was like to hear Tracy Chapman on the radio for the first time, and where I was working when Jurassic Park appeared in local screens. From the faddish haircuts and colorful fashion statements to the invention of cellular phones and laptops, the visual and aural signposts which mark Dex and Em's surprising but recognizable journey from 1988 to 2011 mirror those of fortysomethings the world over.
CONTINUE READING BELOW
Recommended Videos
Don't worry that the film's European setting will result in a cultural disconnect between a proud Pinoy like you and One Day's Scots and Brits. The first job Emma lands after graduating from college is as a waitress for a shoddy Mexican restaurant in London. It's an eatery with far from immaculate interiors, one you can imagine seeing in Manila. One Day also shows us that young people from Edinburgh aren't that different from us. To de-stress, for instance, it's also apparently normal for them to leave the city and head for the beach. There's even a moonlit skinny-dipping scene that's punctuated by a theft, an occurrence which I thought was reserved only for tourists who were visiting impoverished countries.
ADVERTISEMENT - CONTINUE READING BELOW
The only thing I didn't "get" in One Day was a parlor game involving a blindfolded person whacking players on the head with a rolled-up newspaper. All else, however, was easy to relate to, especially the characters. I sympathized with Emma's dogged determination to succeed against all odds, and certainly identified with Dexter's desire to live a hedonistic lifestyle. I'm guessing again that the reason why the book is an international bestseller is because people the world over see bits of themselves in the two characters.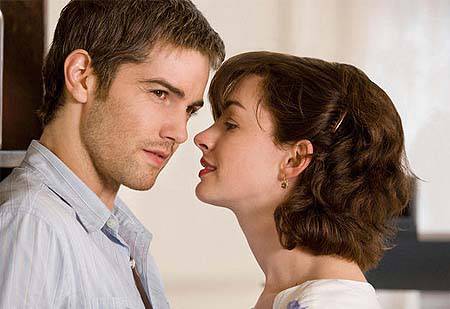 "One Day is a more mature romance," says Paul Daza.
Of the two lead actors, however, it's the virtually unknown Jim Sturgess as Dexter who shines brighter in the film. The usually brilliant Anne Hathaway struggles with Emma's Yorkshire accent, tainting an otherwise winning portrayal that will have you laughing and sobbing with her.  With no foreign accent to weigh him down, Sturgess- a true Brit-soars and makes a more lasting impression as the downward spiraling Dex.
ADVERTISEMENT - CONTINUE READING BELOW
As his concerned and dying mother, Patricia Clarkson also gives One Day a glowing maternal warmth in just a handful of brief scenes. Also providing solid support is Rafe Spall as the unfunny stand-up comedian who pines for Emma's love.
Adding to the film's lovey dovey intoxication are picturesque locations in Paris and Scotland, many of which look like they're being shown on a cinema screen for the first time. Helping Dex and Em age convincingly are the flawless makeup and costume design. Rachel Portman wraps up their will-they-or-won't-they relationship in a heartfelt and haunting music score.
Rated R-13 by the MTRCB for nudity, profanity, and violence among other things, One Day isn't for younger, more impressionable teenagers. With its painful message that life can be cruel to lovers and dreamers of all ages, One Day is a more mature romance than even the already heartbreaking (500) Days of Summer ever was.
Rating: 3 ½ spots out of 5 ...
Check the screening schedule of One Day
Photos from Focus Features

Share this story with your friends!
---
Help us make Spot.ph better!
Take the short survey
Load More Stories