MOVIE REVIEW: J. Edgar
Our SPOT.ph movie reviewer dissects why this film didn't receive a single Oscar nomination.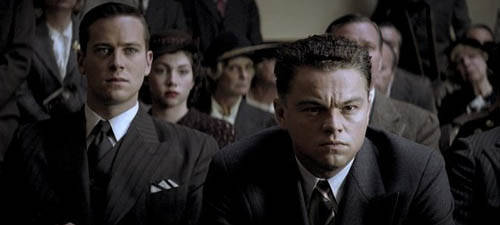 (SPOT.ph) Despite all the Oscar-winning talent involved in its creation, despite looking like a film that was all but tailor-made to win Academy Awards, producer/director Clint Eastwood's speculative biopic J. Edgar didn't receive a single Oscar nomination last week. My two cents as to why the film was snubbed by the Academy of Motion Picture Arts and Sciences (AMPAS) as an Oscar contender? The film's complicated and confusing script.

J. Edgar tells the decades-long story of controversial FBI director John Edgar Hoover(Leonardo DiCaprio), from his youth in the 1920s to his death in 1972. The film shows Hoover as the man who championed the use of forensics in the FBI's campaign against crime, and how such methods resulted in the arrest of the man who masterminded the kidnappingof Charles Lindbergh's baby. The film also shows how Hoover tried to keep men like John F. Kennedy and Martin Luther King at bay by blackmailing them with wiretap recordings and info in Hoover's notorious secret files. Juiciest of all, the film presents as fact the long-whispered rumor that Hoover was a homosexual who had an affair with his number two man at the FBI, Clyde Tolson (Armie Hammer). J. Edgar even implies that Hoover "became" gay because of his domineering mother Annie (Judi Dench), and includes a moving scene where Hoover puts on a dress as a posthumous tribute to her.
ADVERTISEMENT - CONTINUE READING BELOW
Watch the trailer
The problem with J. Edgar is its structure. The film jumps back and forth in bewildering fashion from one decade to another for no apparent reason, with flashbacks within flashbacks leapfrogging in time, sometimes chronologically, sometimes not. The script justifies these leaps by having Hoover dictate his memoirs to various junior FBI staffers,but the disorienting device muddles the story rather than clarifies it. The approach fractures the narrative and makes it anecdotal rather than unified and thematic.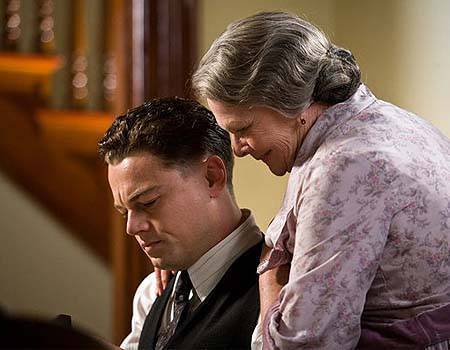 CONTINUE READING BELOW
Recommended Videos
Judi Dench joins Leonardo Di Caprio in J. Edgar
There are however, a couple of bright spots. The scene where Judi Dench, as Edgar's steely mother Annie, short of orders her son not to be gay is superb, thanks toscreenwriter Dustin Lance Black's dialogue and the perfectly pitched performance of Dench. Had the Shakespeare in Love Oscar winner cranked up her acting just a little bit more and gone overboard, you'd expect her character's son to grow up to become Norman Bates rather than J. Edgar Hoover. But she plays Annie perfectly in the scene, providing Edgar the perfect excuse to remain closeted about his sexuality for life. The film's other great moment is the one where Hoover shows how much he misses his deceased mother by putting on her clothes, a scene that's exquisitely handled by director Clint Eastwood and sensitively portrayed by Leonardo DiCaprio.
ADVERTISEMENT - CONTINUE READING BELOW

As for the other ways the film addresses Hoover's gayness, there are a couple of scenes where he's shown holding hands with frequent companion Tolson (Armie Hammer)and even more scenes where they're talking about clothes and fashion. There's also an explosive scene where Tolson kisses Hoover on the lips during an argument in a hotel suite.

Ultimately, however, the viewer's ability to suspend disbelief and accept DiCaprio as Hoover is compromised by the Titanic star himself. While Leonardo DiCaprio deserves praise for giving the role his all, he's handicapped by his own physical appearance. No amount of makeup created by an Oscar-winning prosthetics artist can make DiCaprio look anything other than DiCaprio-his face is simply too distinct. Compounding the problem is the fact that he doesn't look or sound anything like the real Hoover. Sadly, DiCaprio is no chameleon a la Meryl Streep or Robert De Niro. For now, whether he's playing Howard Hughes (as he did in The Aviator) or John Edgar Hoover, he'll still be Leonardo DiCaprio first, and the character he's playing second, and not the other way around, as it should be.
In visual media circles, the cliché is that "a picture is worth a thousand words." In the case of the J. Edgar, however, the cliché proves untrue. I learned more about Hoover from his Wikipedia write up (it's a couple of thousand words long) than I did from the millions of still photos that unspooled from Clint Eastwood's latest opus over 137 minutes at 24 frames per second. I guess the best thing I can say about J. Edgar the movie is that it made me want to read more about the man. Now how many films out there can claim to have influenced its viewers to read about its subject afterwards?
ADVERTISEMENT - CONTINUE READING BELOW

RATING: 2½ out of 5 Spots ••.
Check the movie schedule of J. Edgar
Photos from Warner Bros. Pictures
Share this story with your friends!
---
Help us make Spot.ph better!
Take the short survey
Load More Stories