SPOT.ph's Top 10 Out-of-Action Pinoy Action Stars
Where are all the leather-clad, gun-toting reel heroes now?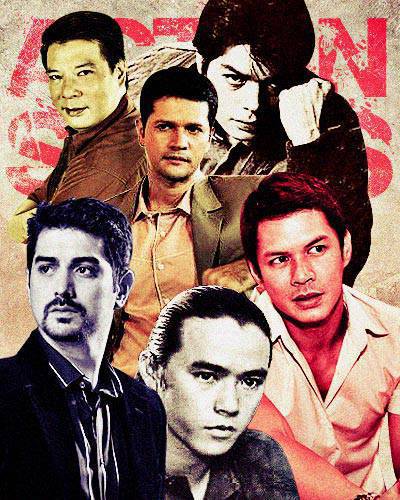 (SPOT.ph) It came almost without warning: all of a sudden, nobody's producing Tagalog action movies anymore. Some blame the genre's untimely demise to the competition brought by Hollywood, some to rampant video piracy (which, incidentally, is a problem now being dealt with by a former action movie star, Ronnie Ricketts, the current Optical Media Board chairman). Perhaps it's the combination of the two. Whatever it is, it's unfortunate that the once-popular genre seems to have gone the way of the once popular bomba flicks, sending dozens of tough-talking, leather-clad, slick-haired macho men to Unemployment Street.
While some former action stars-heroes and villains alike-managed to make a successful jump from the big screen to the boob tube via afternoon soaps and primetime telenovelas, there are those who seemed to have fallen through the cracks in this universe, never to be seen or heard from again except in cable TV channels showing classic Pinoy films. Here are 10 of them:
10. Baldo Marro
Starred in: Boy Negro (1988), Iyo ang Batas, Akin ang Katarungan (1988), Tumakbo Ka Hanggang May Lupa (1990), and Alyas Boy Tigas: Ang Probinsiyanong Wais (1998).
Signature look: Kind of nondescript for an action star, actually. Put him in a crowd of aging policemen and you would not know that he was once an actor-and an award-winning one at that!
Where he is now: The name itself-Baldo Marro-commands respect in local showbiz. Not because it's such a quintessentially tough-guy name, but because he was awarded best actor by the prestigious Metro Manila Film Festival in 1988 for the cop movie Patrolman. Curiously, in his last movie, the Joel Lamangan-directed Mamarazzi (2010), he played the role of a prisoner.
ADVERTISEMENT - CONTINUE READING BELOW
9. Efren Reyes Jr.
Starred in: Huminga Ka Na Hangga't Gusto Mo (1990), Frame Up: Ihahatid Kita Sa Hukay (1997), and Pasasabugin Ko Ang Mundo Mo (2000), among others.
Signature look: Existing Internet pictures show him sneering, which make him perfect for the role of a scheming villain. You know, the type who would shake your hand and then whack you a good one once you turn your back on him.
Where he is now: Son of noted Filipino actor and director Efren Reyes Sr., Efren Jr. is one of those actors who seemed to have faded into obscurity when Filipino producers decided it's better to produce romance movies with English love songs for titles than action flicks with titles designed to make viewers cower in fear (like the ones mentioned above). Efren Jr.'s last known action film appearance was on Kilabot at Kembot 2: Hari at Reyna (2008). He did, however, appear in teh 2011 indie flick, Amok.
CONTINUE READING BELOW
Recommended Videos
8. Dante Varona
Starred in: Walang Impiyerno sa Matatapang (1972), Silang Matatapang (1976), Commander Lawin (1981), and Hari ng Stunt (1981).
Signature look: Brown and muscle-bound, Dante Varona is probably the archetypal Pinoy action star. And then, of course, you have that facial hair.
Where he is now: In the 1981 Carlo J. Caparas-directed flick Hari ng Stunt, Dante Varona proved that he was the king of stunts when he jumped off the San Juanico Bridge, the country's longest bridge. Stories had it that Dante Varona did it to save his career, which was then in limbo. Unfortunately, it seems to not have worked: Dante Varona is nowhere to be found these days.
ADVERTISEMENT - CONTINUE READING BELOW
7. Ace Espinosa
Starred in: Simaron, Barya Lang ang Halaga ng Ulo Mo (1997), Balasubas (1998), Warfreak (1998), and Pag Oras Mo, Oras Mo Na (2000), among others.
Signature look: Always clean-cut and clean-shaven, with a smile that could sometimes appear mischievous, sometimes furtive. Had played both good and bad guy roles.
Where he is now: Although this That's Entertainment alumnus was still visible in 2009 via bit roles on GMA Network soaps Babangon Ako't Dudurugin Kita (2008) and Obra (2009), we prefer him gruff and spitting vitriol in Simaron, Barya Lang ang Halaga ng Ulo Mo, where he is the lead star.
6. Chuck Perez
Starred in: Ang Pumatay ng Dahil Sa Iyo (1989), Kapag Wala ng Batas (1990), and Codename: Bomba (1998), among others
Signature look: He doesn't really look like an action star; he looks more like your playboy uncle.
Where he is now: After more or less two dozen movies from 1988 to 2000, Chuck Perez seemed to have disappeared completely from the movie industry. If local showbiz were a town, his face would be plastered on every lamp post, with the word "MISSING" or the phrase "HAVE YOU SEEN HIM?" written in bold letters above it.
5. Rommel Padilla
Starred in: Grease Gun Gang (1992), Mistah (1994), Col. Billy Bibit (RAM) Story (1994), and Kumakasa, Lumalaban (1999), among others.
Signature look: Think of a gruffer version of Robin Padilla, and that's him.
Where he is now: His last movie was You and Me Against the World (2003), top-billed by his brother Robin and Kris Aquino. In 2009, he appeared on GMA Network's Totoy Bato also alongside his brother. He has been out of the circulation ever since he lost in the vice gubernatorial race in Nueva Ecija in the 2010 elections.
ADVERTISEMENT - CONTINUE READING BELOW
4. Jeric Raval
Starred in: Biboy Banal: Pagganti Ko Tapos Kayo (1994), Bunso: Isinilang Kang Palaban (1995), and Melencio Magat Dugo Laban sa Dugo (1996), among others.
Signature look: Leather jacket, leather pants, and shiny hair. Possibly to make up for the fact that his boyish face makes him an unlikely action star.
Where he is now: Jeric Raval worked as consultant of Sen. Lito Lapid in 2004. There have been reports that he intends to return to showbiz. But so far, they've remained just that: reports.
3. Jestoni Alarcon
Starred in: Amanos, Patas na ang Laban (1997), Resbak, Babalikan Kita (1999), Makamandag ng Bala (2000), and Kahit Pito ang Buhay Mo (2000), among others.
Signature look: Sideburns. Need we say more?
Where he is now: Aside from appearing on various TV telenovelas, this That's Entertainment alumnus also once served as councilor in Antipolo City in Rizal and vice governor of Rizal province. In the 2010 elections, he sought a congressional seat but was unsuccessful.
2. Ian Veneracion
Starred in: Totoy Hitman (1997), Kapag Nasukol ang Asong Ulol (1997), and Armadong Hudas (1998), among others.
Signature look: A former child star, nobody really expected this mestizo actor to appear - much less become the lead star - in action movies.
Where he is now: He's still quite visible on TV, playing father roles in soap operas. His days of playing the tortured hero with a gun in his hand and vengeance in his heart, however, seem to be long over.
ADVERTISEMENT - CONTINUE READING BELOW
1. Raymart Santiago
Starred in: Magnong Rehas (1992), Dodong Armado (1993), Iskalawag (1997), Marahas Walang Kilalang Batas (1998), among others.
Signature look: The bad-boy-but-vulnerable look that a lot of girls seem to like.
Where he is now: When we say missing in action action stars, we mean those who have suddenly stopped beating up bad guys on the big screen. Figuring in a scuffle with a veteran media personality at an airport does not exempt Raymart from this list.
Art by Warren Espejo.
Share this story with your friends!
---
Help us make Spot.ph better!
Take the short survey
Load More Stories