Top 10 Most Memorable Pinoy Mermaids
The fairest (mer)maidens of them all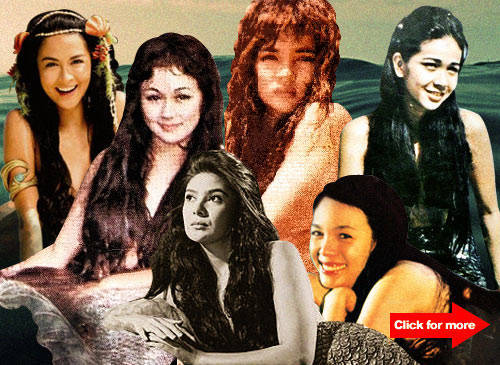 A school of mermaids! Click for more.
(SPOT.ph) Mermaid legends began as early as 1000 B.C. with mermaids (or, for our more politically correct readers, mer-people) described as humans with fish tails instead of legs. Depictions vary with time and tradition. While Splash and A Little Mermaid feature classically beautiful but naïve creatures, literature like Harry Potter and Peter Pan delivered vicious maritime attackers.
In a country surrounded by water, it's not unlikely for us to develop our own mermaid culture, what with the likes of Mars Ravelo and Pablo S. Gomez creating iconic nymphs. But decades and several portrayals later, local mer-lore remains largely unchanged story-wise. With every plot beginning with a curse-whether the mermaid is the salot or she was sentenced to a fishy existence varies. After falling in love with a curious land dweller, the journey to obtain legs begins and she lives happily, "bipedally" ever after.
ADVERTISEMENT - CONTINUE READING BELOW
This begs us to ask the following questions: Is there really no happiness in the sea? No good-looking shokoys to rub elbows with? No other tail color except orange? No life for mer-people except to long for land, battle a vengeful spell, and live in the Dyesebel mold? With our country's obsession with the mermaid legend, shows like Marina, Dyesebel, and the newly aired Aryana have a solid, built-in fan base. The actresses who play the scaly protagonists, however, often get muddled under the semi-recurring plot.
Because it's almost the end of summer and we're starting to miss the beach (and potential mermaid sightings), we listed the country's most memorable mermaid portrayals. Who stood-er, swam-out from the fishy crowd?
Other mermaids worth mentioning:
Rufa Mae Quinto as Dolphina in Marinara (2004)
To counter the top-rated Marina on ABS-CBN News, GMA-7 came out with Marinara, a collective parody of then-drama princess Claudine Barretto's soap operas like Marina and Saan Ka Man Naroroon (where the actress played a set of triplets). Prior to being Dophina, Rufa Mae was an extra (mermaid) in Charlene Gonzales' Dyesebel. A decade later, she played sea witch Amafura in the Marian Rivera version.
ADVERTISEMENT - CONTINUE READING BELOW

Ara Mina as Dyesebel in Darna (2005)
Yes, Dyesebel made a splash in GMA-7's earlier reincarnation of Darna (starring Angel Locsin). We wonder how Ara felt when she wasn't asked to reprise the role in the actual Dyesebel series.

Marifi as Miranda in Miranda: Ang Lagalag Na Sirena (1966)
Newcomer Maria Filomena Araullo bore the tail in this classic. What is it with Pablo S. Gomez and these tailed creatures?

Eva Montes as Alona in Anak ni Dyesebel (1964)
Unlike her mother who went through hell and back to get legs, all the bipedal Alona wants is a tail so she could swim in the ocean forever. Sounds familiar? This was decades before Disney's The Little Mermaid 2: Return to the Sea. Eva Montes also played Darna.

Johanna Raunio as Lorelei in Lorelei (1974)
We've never heard of Finnish mermaids before, but there's always a first. To preserve her conservative image, Johanna agreed to a long, thick wig and rubber breasts to prevent indecent exposure.
ADVERTISEMENT - CONTINUE READING BELOW

Mutya Orquia as Mutya in Mutya (January 2011 - May 2011)
They really made sure you won't forget her name: Mutya as Mutya in Mutya. This adorable toddler gave a fresh perspective to the mermaid franchise and it's not just her superb acting skills that got us hooked. Born with her legs fused together (not a tail, take note), her condition was considered a simple an abnormality as a birthmark. No salots here. It was later when her scales developed and she learned of her background that the sea tale actual begins.

Ella Cruz as Aryana in Aryana (May 2012 - ongoing)
With Mutya having shown what mermaids are as kids and Dyesebel extensively covering the adult department, this new series intends to showcase what it's like to be a teen with a tail. Teenage life is difficult, what with acne, braces, hormones, but add scales to the mix? Now that's plain harsh.
ADVERTISEMENT - CONTINUE READING BELOW

Lotis Key as Marina in Ang Mahiwagang Daigdig Ni Pedro Penduko(1973)
Lotis Key's character is now largely overshadowed by a much more famous Marina, but she'll always be the beautiful mermaid that caught everyone's eye in Pedro Penduko. Lotis, always involved in international projects, also portrayed another mermaid that year in the Hong Kong flick, Beba, The Mermaid.


Other stars who played mermaids albeit in supporting roles are Niña Jose, Sunshine Cruz, Michelle Madrigal, Mylene Dizon, Gloria Diaz, Nadia Montenegro, and Agot Isidro. KC Concepcion and Rachelle Ann Go, also, played Ariel in the musical adaptation of The Little Mermaid. Diether Ocampo, Marco Alcaraz, and Alfred Vargas played mer-men, while Gary Estrada and Paolo Ballesteros played shokoys.
CONTINUE READING BELOW
Recommended Videos
Share this story with your friends!
---
Help us make Spot.ph better!
Take the short survey
Load More Stories