MOVIE REVIEW: Rock of Ages
Tom Cruise gives a spitfire performance, but was it enough to fuel this musical adaptation? Movie guru Paul Daza gives us the details.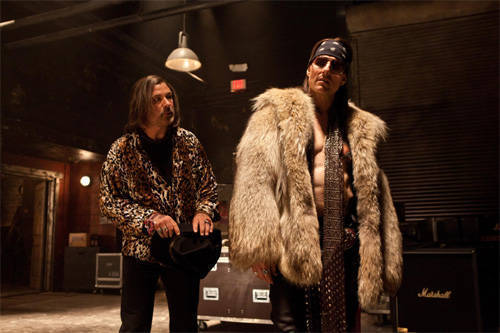 Tom Cruise as Stacee Jaxx and Alec Baldwin as Dennis Dupree
(SPOT.ph) Based on the Tony-nominated 2009 Broadway musical comedy (that will soon be staged in Manila), Rock of Ages is set in 1987 and follows small-town girl Sherrie (Julianne Hough) as she ventures to Hollywood to pursue her dream of becoming a rock singer. There, she meets Drew (Diego Boneta), a youth with similar goals who gets her a job as a waitress in The Bourbon Room, the epicenter of L.A.'s rock scene. Soon enough, Drew and Sherrie fall in love, but their dreams of fame and fortune are thwarted by missteps and misunderstandings. Borrowing the jukebox format of Mamma Mia!, Rock of Ages subs that musical's Abba bonbons with Eighties pop rock songs to punctuate Drew and Sherrie's crazy, colorful journey through a world of drugged-out rock gods, thieving talent managers, and hypocritical public servants.


Watch the trailer here.
ADVERTISEMENT - CONTINUE READING BELOW

Pluses:
That irresistible soundtrack! If you love '80s music, Rock of Ages will quickly and effortlessly transport you to pop rock Nirvana. Among the nearly two dozen wall-to-wall hits the movie employs are songs made famous by Def Leppard,  Journey,  Night Ranger, REO Speedwagon, Pat Benatar, Starship, and more.
Tom Cruise's brave and beguiling performance as rock god Stacee Jaxx. The Mission: Impossible star has never been this fearless nor this fun. He sings, seduces, and struts... He acts like a spaced-out Axl Rose! Cruise's manic "Wanted Dead or Alive" number is one arresting musical highlight in a movie that could certainly have used more of them.
CONTINUE READING BELOW
Recommended Videos
"Hit Me With Your Best Shot." Catherine Zeta-Jones channels Pat Benatar and Michael Jackson in an ironic number where conservative ladies are moving like the goons in Jackson's "Beat It" video while proclaiming their disgust over "Satan's music" in a church. The song and dance is a delightful, kinetic reminder of Zeta-Jones' win as Oscar best supporting actress for another musical based on a stage phenomenon, Chicago (2002).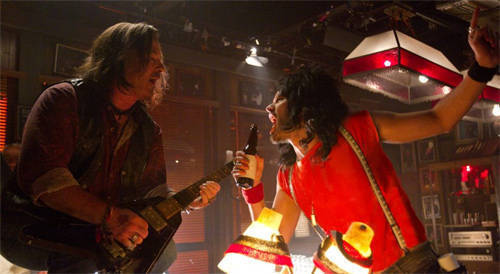 ADVERTISEMENT - CONTINUE READING BELOW
Russell Brand and Alec Baldwin singing "Can't Fight This Feeling."
"Can't Fight This Feeling." Sung by Alec Baldwin and Russell Brand, the duet  culminates in a gobsmacking surprise that makes it a prime candidate for a popcorn trophy at next year's MTV Movie Awards. Be warned, though, that this very same surprise was probably the main reason Rock of Ages got an R-13 rating from our MTRCB (It's rated PG-13 in the USA).
The blink-and-you'll-miss-them Michael Jackson references. For me, no jukebox  musical about the '80s would be complete without references to the late Peter Pan of Pop. Sadly, none of Jackson's music is heard in the movie, but alert viewers will see the "Thriller" album in the Tower Records scene. In addition, one beat of the choreography in the "Hit Me With Your Best Shot" number looks like a homage to Jackson's "Beat It" music video. Lastly, Stacee Jaxx's unfriendly baboon "Hey Man" could also be a dig at  Bubbles, the chimpanzee who sometimes accompanied Jackson on his world tours in the Eighties.
The jokes about boy bands. 'Nuff said.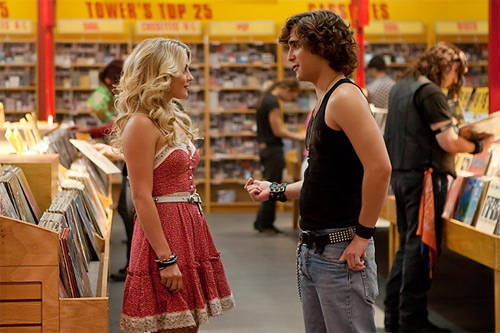 Julianne Hough as Sherrie Christian and Diego Boneta as Drew Boley
ADVERTISEMENT - CONTINUE READING BELOW

Minuses:
The unimaginative mounting of many of the production numbers. Of the film's nearly two dozen song numbers, only the three mentioned above are memorable. Rock of Ages begins with the dull "Sister Christian" sung by the film's heroine and her fellow bus passengers, a scene that sets the bar really low for the film. Only when Zeta-Jones and her posse of conservative lady churchgoers belt out "Hit Me With Your Best Shot" some 20 minutes later does the movie pick up steam again. More often than not, however, director Adam Shankman (whose movie adaptation of Hairspray I adored) misses the musical marks thanks to forgettable choreography and uninspired camerawork. Even the "I Want To Know What Love Is" sex scene of Tom Cruise and Malin Akerman (playing a Rolling Stone reporter) lacks fire and sizzle.
The bland leads. As the boy and girl who try to make their rock dreams come true in Los Angeles, Diego Boneta and Julianne Hough simply don't have the star power to carry Rock of Ages. Zac Efron and Vanessa Hudgens exhibited more star wattage in High School Musical, and that was a made-for-TV movie! Boneta and Hough's cause aren't  helped by a thin, cliché-riddled storyline and the fact that they're surrounded by  seasoned performers like Alec Baldwin, Tom Cruise, Catherine Zeta-Jones and Paul Giammati, who give more arresting performances using far less screen time.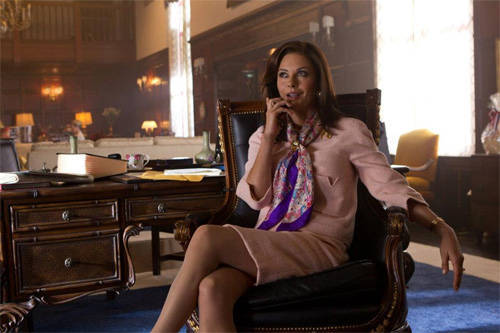 Catherine Zeta Jones as antagonist Patricia Whitmore
ADVERTISEMENT - CONTINUE READING BELOW

Last words:
If Hairspray was a homerun for director Adam Shankman, Rock of Ages shows the filmmaker struggling to reach second base. As a jukebox musical comedy, this Rock is far from solid.
RATING:
2 ½ out of 5 spots ••.
Share this story with your friends!
---
Help us make Spot.ph better!
Take the short survey
Load More Stories