(SPOT.ph) Coming a mere five years after Sam Raimi's unloved blockbuster Spider-Man 3, The Amazing Spider-Man is a reboot of Marvel's iconic wall-crawling superhero. Some of the characters and details chronicling the tale of how Peter Parker (Andrew Garfield) became Spider-Man have been changed. For the first time, Peter's parents, especially his father Richard (Campbell Scott), are actually shown and given an important role in the plot. The reboot also gives Peter a new love interest in Gwen Stacy(Emma Stone). There's also a new villain to battle in Dr. Curt Connors (Rhys Ifans), a.k.a. The Lizard, whose twisted, reptilian plan is to unleash a biological weapon in New York.
Watch the trailer here.

Pluses:
The 'untold' story. Don't fret that you'll get bored by another cinematic retelling of how Peter Parker became Spidey. Director Marc Webb and his scriptwriting team, which includes Harry Potter scriptwriter Steve Kloves, have embellished the plot with enough new intriguing ingredients so as to make the story feel new even to long-time Spider-fans. Uncle Ben's death now has an intriguing loose end, and Peter Parker's dad now has a role in his son's superheroic destiny. Science geeks will also be enthralled by Connors' horrifying genetic experiments and his high-tech plot to hasten the next phase of evolution. For even more intrigue about Peter Parker's dad, stick around until after the first wave of names is flashed in the end credits. (Yes, there is an after-credits scene.)
ADVERTISEMENT - CONTINUE READING BELOW
The amazing Andrew Garfield. In how he conveys Peter Parker's complexity as a troubled teen and how he moves as the web-swinger, franchise newcomer Andrew Garfield is an amazing find. He improves on Tobey Maguire's already-celebrated portrayal of the same character in the previous films, giving us a more emotionally-rich Peter Parker and a faster-moving, more agile Spidey to boot.

The slam-bang action. A subway car, a school, a suspension bridge, a sewer, and a skyscraper. What all these things have in common aside from the fact that they're all 's'-words is that they are the settings of the movie's most spectacular and sensational action scenes. For maximum impact, see the film in IMAX 3-D.

The love story. Peter Parker and Gwen Stacy's romance has all the charm, unpredictability, and eccentricity of (500) Days of Summer, which should come as no surprise since director Marc Webb got the Amazing directing gig because of his work on (500) Days. The cinematic sparks which Garfield and Stone generate in their many scenes together give The Amazing Spider-Man -- more than any other Spider-Man movie -- an adolescent-date-movie quality the other films didn't have.
Stan Lee's cameo. Spidey's co-creator, Marvel's chairman emeritus Stan Lee, has had cameo appearances in Raimi's Spider-Man trilogy, Thor, Captain America, and X-Men, to name a few. His appearance in The Amazing Spider-Man is his funniest and best cameo yet.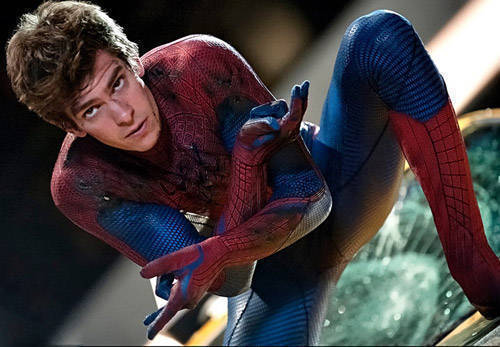 Andrew Garfield plays a very different Peter Parker this time around.
CONTINUE READING BELOW
Recommended Videos
Minuses:

Just one superhero in a 136-minute flick? With the billion-dollar grossing ensemble juggernaut that was The Avengers still fresh in moviegoers' minds, will a superhero flick with just one superhero and many long stretches where the costumed hero is nowhere in sight make viewers, especially the younger ones, fidget in their seats and make them less inclined to watch the movie again?
That maddeningly inconsistent 'spider-sense.' Marc Webb's reboot shares a flaw with Sam Raimi's Spider-Man flicks, which in turn share a flaw with the Spider-Man comics. Spidey is supposed to be warned of impending danger by his spider-sense ("My spider-sense is tingling," he says in the comics), a handy dandy power the films take pains to emphasize. With that early warning system in his head, how is it possible for The Lizard to sneak up on him?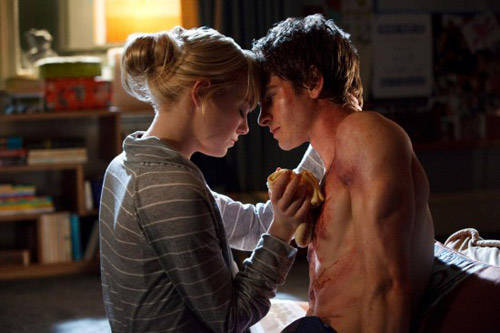 Andrew Garfield and Emma Stone create some on-screen chemistry.
ADVERTISEMENT - CONTINUE READING BELOW

In brief:

The Amazing Spider-Man is a soaring, feel-it-all superhero flick that gives reboots a very good name indeed. It's superior to the first and third Spider-Man movies directed by Sam Raimi, and is equal to or even better than Spider-Man 2, the high point of the Tobey Maguire franchise. To call Marc Webb's Spider-Man reboot merely 'amazing' is a vast understatement. Following The Avengers, The Amazing Spider-Man is now the second perfect superhero flick of 2012. (And there's everyindication that The Dark Knight Rises will make it three for three.)

RATING:
5 spots out of  5 •••••
Share this story with your friends!
---
Help us make Spot.ph better!
Take the short survey
Load More Stories