MOVIE REVIEW: People Like Us
Nuanced portrayals of excellent cast makes this worth a trip to any of the two cinemas it's available at!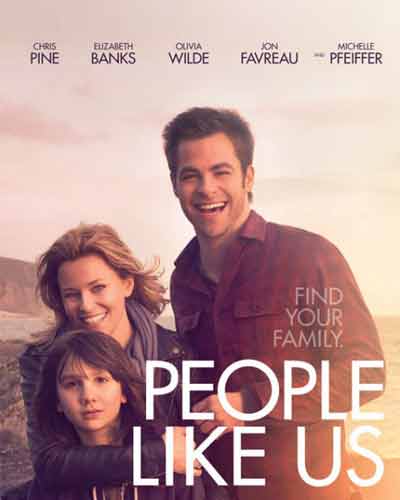 When his estranged father dies in Los Angeles, New York barter salesman Sam (Chris Pine) reluctantly flies to L.A. to attend the funeral and visit his mother Lillian (Michelle Pfeiffer). While in L.A., Sam discovers that his dad had a secret daughter named Frankie (Elizabeth Banks), who is now the mom of Josh (Michael Hall D'Adario), a troubled pre-teen boy. Before he died, Sam's dad left instructions for Sam to give his half-sister and her son an "inheritance" of $150,000 cash. Sam, however, needs the money to bail him out of a business deal gone terribly wrong. Will he do the right thing or do the selfish thing?
ADVERTISEMENT - CONTINUE READING BELOW
PLUSES

Chris Pine tries serious drama...and succeeds! Previously, the handsome actor played cocky, larger-than-life characters in big-budget productions like Star Trek and This Means War with crowd-pleasing results. He tried to play a quieter, more ordinary human being in Unstoppable, but was compromised by the trappings of a formulaic buddy movie and upstaged by the titular runaway train. As a fast-talking, self-centered businessman who discovers the joys and pains of having a sibling and being an uncle for the first time in his life, Pine, in People like Us, has never been more vulnerable and emotionally accessible.

Another superb portrayal by Elizabeth Banks. She was the best thing about What To Expect When You're Expecting and morbidly effective as the enthusiastic host Effie in The Hunger Games. So why isn't Elizabeth Banks a superstar yet? As single mom and recovering alcoholic Frankie in People Like Us, Banks' star continues to rise thanks to her affecting portrayal of a battle-scarred woman struggling to be a good mother despite never having been acknowledged by her father.

Michelle Pfeiffer gets serious again. Her bucket list quest with Zac Efron in New Year's Eve was one of that ensemble's high points, and she was wickedly funny as Elizabeth  Collins Stoddard in Dark Shadows. Last month, Anne Hathaway's portrayal of Selina Kyle in The Dark Knight Rises reminded us that Pfeiffer's work as Catwoman in Batman Returns can't be improved on. In People Like Us, Pfeiffer does a 180 degree turn from her comedic role in Dark Shadows, showcasing her dramatic chops and amazing us once more with her supreme versatility as Sam's sad mother. She even does a scene without any makeup. Now that's a seriously committed actress!

Salvatore Totino's glowing cinematography. People Like Us is the directorial debut of Alex Kurtzman, the co-writer of such mega-hits as the Star Trek reboot and the first two Transformers movies. Considering his resumé, it's surprising that his first film would be an intimate drama that's more about faces and relationships than about a planetary threat. Similarly surprising is that Kurtzman chose as his cinematographer Salvatore Totino, the artist who lensed both Angels & Demons and The Da Vinci Code. Totino, however,  proves himself a wonderful choice for this heartfelt movie, for which he lights the characters with a beautiful, golden-orange hue that makes them radiate constant warmth.

The delicately moving ending. Though People Like Us feels longer than it really is (see below), the last scene is quite the tearjerker.
ADVERTISEMENT - CONTINUE READING BELOW

MINUSES

The long middle section. When Sam finds out that Frankie is his sister, he arranges to bump into her at one of her Alcoholics Anonymous meetings and at the hotel bar where she works. As a member of the audience, you're bracing yourself for the moment when he'll reveal that he's her half-brother. He decides not to tell her during these two occassions- maybe it's too much too soon. Sam then meets Frankie's troublemaker son Josh, and doesn't tell the boy that he's his uncle even after they've made a connection. Sam then bonds with both Frankie and Josh, and still he refuses to tell them who he really is. As you wait for Sam to own up, you'll be forgiven for thinking that the mid-section of the movie is as drawn out as this five-day weekend.

It's only showing in two theaters. It's bad enough that the film has a forgettable title and a soap operatic premise that's hardly unique. But if you really want to watch this delicate family drama, you'll have to go to either Glorietta 4 or Trinoma to see it!

IN BRIEF: Despite its made-for-TV storyline, the nuanced portrayals of its excellent cast make People Like Us worth seeing in a movie theater.

Rating: 3 out of 5 spots
ADVERTISEMENT - CONTINUE READING BELOW
Recommended Videos
Load More Stories