For the Couch Potatoes: 10 Cooking Shows!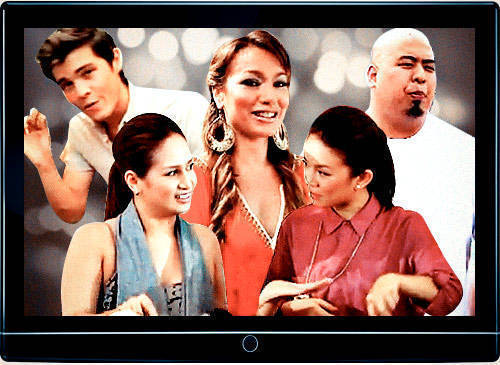 (SPOT.ph) This is a tribute to all Filipino foodies who are also couch potatoes. Straight-up cooking shows on a Saturday morning-yes, we're refering to the original Cooking It Up with Nora Daza-are long gone, sure, but hey! Look at how Pinoy cooking shows have evolved!
If you don't know how to cook, watching, say shrimps, go from raw to sizzling gambas is a sight to behold. If you know how to cook, watching cooking shows is almost like exchanging notes.  Here are 10 locally produced cooking shows that will get you hungry, get you cooking, get you laughing, or get you just plain entertained.
1. Sabrina's Kitchen
Saturdays at 6:30 p.m. on Lifestyle Network (Sky Cable channel 52)
http://www.sabrinaartadi.com
About the show: Think Bohemian-Mediterranean version Nigella Lawson meets Giada DiLaurentiis--but Pinoy! At first you'd mistake it for a foreign production, thanks to the Forbes Park-like garden Sabrina Artadi hangs out in at the start of every show. The pretty fortysomething non-chef makes mostly Mediterranean-themed dishes loaded with flavors and spices like paella and kebabs.
Why watch it: Sabrina's dishes are very photogenic and surprisingly doable, too. Plus, her younger brother Basti Artadi (Sabrina's brother), who wrote and performed  the show's theme song, makes an occasional appearance with his twin daughters. Aww!


2. Curiosity Got The Chef
Wednesdays at 9:30 p.m., on Lifestyle Network (Sky Cable channel 52)
http://curiositygotthechef.tumblr.com/
About the show: Chef Sharwin Tee can make gourmet versions of everyday food like burgers and omelets in his colorful kitchen. His claim to fame: winning Lifestyle Network's Clash of the Toque-en Ones. He's also currently working as a culinary instructor at Xavier School. Think Filipino-Chinese version of Jamie Oliver.
Why watch it: Chef Sharwin has personality and charm. You know the Fil-Chinese dude cooks from the heart and can chop onions while he's not looking-while simultaneously smiling, too! Also, his technicolored T-shirt collection. Remember Parker Lewis?
ADVERTISEMENT - CONTINUE READING BELOW


3. Hot Guys Who Cook
Mondays at 9 p.m. on Diva Universal (Channels 37 on Sky Cable, 40 on Global Destiny, and 24 on Dream Satellite)

About the show: Here are a bunch of hot, really good-looking men showcasing more than their good looks. Watch cutie Erwan Heussaff talk about food with mucho gusto, like how Giada Laurentiis goes crazy for everything Italian on "Everyday Italian."
Why watch it: See what goes into each dish, from shopping and chopping, to cooking and eating! It's Cosmo Bachelor Bash-meets-Yummy magazine. If you like cute boys and food, this one's for you!
CONTINUE READING BELOW
Recommended Videos


4.  Cooking with the Stars with Grace Lee
Mondays, Wednesdays, and Fridays at 9:55 a.m. on GMA 7; with replays on GMA News TV every Tuesday and Thursday (7:00 p.m.); and Saturdays at 6:45 p.m. on GMA News (channel 11)
About the show: Like Quickfire, Cooking with the Stars is a 10-minute capsule show on GMA-7 hosted by the ex-girlfriend of the President/DJ Grace Lee and San Miguel Pure Foods Culinary Center's Chef Maricel Manalo and Chefs Martin del Prado, Rene Ruz, and Kai Verdadero. There's also a guest celebrity on every episode, featuring their cooking dilemmas to be solved by Grace Lee and the gang of chefs with practical advice.
Why watch it: The four chefs plus Grace Lee turn real stuff from your pantry into actual stuff you like, like Pure Foods Corned Beef  into corned beef hash! Plus: wildcard celebrity guests like ex-lovers Dennis Trillo and Carlene Aguilar making good food together.
ADVERTISEMENT - CONTINUE READING BELOW
5. AFC's The Boss with Bruce Lim
Wednesdays at 9:30 p.m. on Asian Food Channel (channel 22)
About the show: Unlike Chef Bruce Lim's previous shows, Tablescapes (with Angel Aquino), this one does away with the niceties as he makes his favorite Filipino dishes how he wants them--and devours them how he wants to. He earned his "bully" image on the E&O Search for AFC's Next Celebrity Chef where he acted as the show's Gordon Ramsay, hence the title of his show.
Why watch it: One reason: his sous chef-slash-best friend "The Monkey," JC, who "follows" Chef Bruce's orders with a straight face. Try watching that with a straight face, too. And we must admit, "The Boss" can indeed cook and eat. He always tries to go the extra mile by adding, say, that extra pepper or using real pig's ears for his tokwa't baboy. That's authentic stuff right there.
6. Quickfire
Mondays to Fridays at 10:30 a.m., 11:50 a.m., 6 p.m., and 7:10 p.m.;  Saturdays at 9 p.m.; and Sundays at 9 p.m. and 11 p.m. on GMA News TV (channel 11)
About the show: Quickfire is an informative 10-minute capsule show broadcast thrice daily on GMA News with Chef Rosebud Benitez and a guest celebrity. The challenge is for the chef to produce a dish in ten minutes, tops, from preparation to plating.
Why watch it: Chef Rosebud can actually make doable and yummy-looking dishes dashed with Ajinomoto in 10 minutes. She can actually cook--and talk--fast! Quickfire is currently on its 14th season and has launched DVDs of her show, so she must be doing something good.
ADVERTISEMENT - CONTINUE READING BELOW

7. Cooking Kumares
Mondays, Wednesdays, and Fridays at 10:30 a.m. on TV-5

About the show: Headed by Regine Tolentino and Tuesday Vargas and sidelined by Hannah and Yumi, Cooking Kumares is like eavesdropping on four Pinay friends doing a wholesome version of Sex in the City in the kitchen while using Carnation Evap.
Why watch it: The four girls have chemistry. They are living proof that too many cooks spoil the broth. Listen these girls on a constant "chikahan" session and screaming stuff like "Yay!" in unison.


8. Sarap to Heart
Weekdays at 10 a.m., 11:20 a.m., and 5:50 p.m.; Saturdays at 11 a.m., 12:45 p.m. and 6 p.m.; Sundays at 9:20 a.m.,  12:45 p.m., and 6:15 p.m. on GMA News TV (channel 11)
About the show: This cooking show-meets-dating show with Chef Sau del Rosario and Sam Oh is a 30-minute commercial for San Marino Corned Tuna. In every episode two searchees cook a San Marino Corned Tuna recipe, then whichever dish the searcher picks at the end gets to win the date.
Why watch it: Unless you're a fan of It's the San Marino show!
Watch out for: An abundance of superlatives for the canned seafood. This show makes you question Chef Sau's skills--where are they? Count how many time Chef Sau del Rosario's hoarse voice say "San Marino Corned Tuna."

9. Del Monte Kitchenomics
every Thursday, Friday, and Saturday at 9:55 am on GMA News (channel 11)

an old clip of the classic!
About the show
The cooking show we've all known and loved is back. And new and improved, too! This time it's hosted by restaurateur Chef Rob Pengson and Unang Hirit mainstay Love Anover.
Why watch it: Three words: Chef Rob Pengson. He is one of the cutest chefs in the country. Thank tv gods he's back on screen!
Watch out for: Good ol' reliable and doable lutong bahay recipes.


10. Idol sa Kusina with Chef Boy Logro
every Sunday at  7 pm on GMA-7
ADVERTISEMENT - CONTINUE READING BELOW

About the show: Chef Boy Logro is a star in the kitchen! Idol sa Kusina is a spectacle of a cooking show, featuring a guest celebrities and a live audience, too, that can heckle at any time. This former houseboy-turned-president of the Hotel and Restaurant Chefs Association of the Philippines and school founder (he has his very own culinary school
named CLICKS (Chef Logro Institute of Culinary and Kitchen Services). Believe us, this is entertaining.
Why watch it: Chef Boy Logro's charm mixed with mad cooking skills paired with his thick Visayan accent will magically make you smile while. This graduate of UE (University of Experience) can also amaze you with his mad skills with the wok, which reminds us of the Chinese chef on Iron Chef Japan.
Watch out for: Doesn't matter who's on the show or what he's cooking, Chef Boy Logro steals the show every single time.










Share this story with your friends!
---
Help us make Spot.ph better!
Take the short survey
Load More Stories