MOVIE REVIEW: Hope Springs
Did this duo live up to their Oscar-winning status? Paul Daza finds out.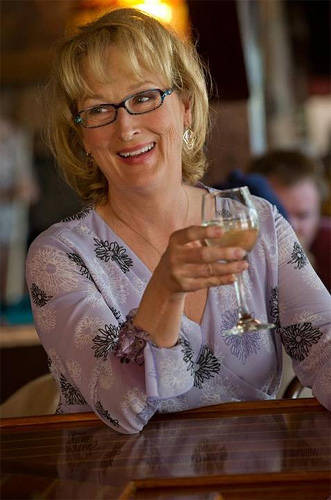 Meryl Streep is Kay.
(SPOT.ph) Rated R-13 by the MTRCB, Hope Springs is a funny, sad, and honest dramedy about a couple's efforts to restore romance in their 31-year-old marriage. It's been ages  since Kay (Meryl Streep) has been held- let alone made love to- by her grumpy husband Arnold (Tommy Lee Jones). And so, she decides to sign them up for an intense week of marriage counseling with the renowned Dr. Feld (Steve Carell) in the small town of Great Hope Springs in Maine. Arnold reluctantly agrees to leave the creature comforts of the Omaha home he shares with Kay to attend the therapy sessions. But as Dr. Feld learns more about what went wrong with Arnold and Kay's marriage, he tells them he's not quite sure if their union can be saved.


Watch the trailer here

Pluses:

Despite being an extremely simple, quiet and low-budget ($30 million) film, Hope Springs is as mesmerizing as any of the loud, budget-busting spectacles that Hollywood's  been parading in our movie screens since April. And why? Because it showcases superb performances from Meryl Streep and Tommy Lee Jones, two Oscar-winning actors. And so, enumerating the "pluses" of Hope Springs simply boils down to listing key scenes where Jones and Streep- either separately or together- are inhabiting their immensely relatable characters. To wit:


ADVERTISEMENT - CONTINUE READING BELOW
Tommy Lee Jones as Arnold complaining about the high cost of living
Meryl Streep as Kay learning how to perform oral sex using a banana while reading  the book, Sex Tips for Straight Women from a Gay Man
Streep and Jones talking about the best sex they've ever had
Streep and Jones discussing their sexual fantasies
Streep getting frisky with Jones as they watch a French film
Streep and Jones dining at a classy restaurant in Maine
Streep and Jones doing the intimacy exercises suggested by Steve Carell's Dr. Feld in a cheap lodge
Streep and Jones doing it in an expensive hotel room
CONTINUE READING BELOW
Recommended Videos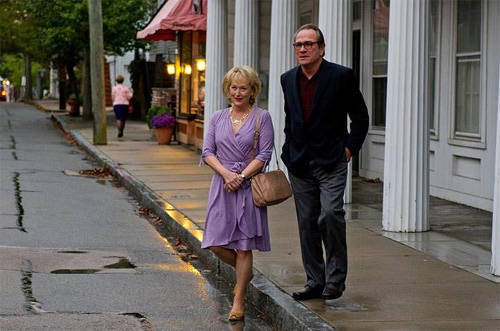 The Oscar-winning duo displayed a superb performance.

Other pluses:

Steve Carell's muted performance. Though I'm a fan of Carell's broad comedy portrayals in movies like The 40-Year-Old Virgin, Get Smart and Date Night, his quieter, more subdued work as the calm marriage counselor in Hope Springs is just as delightful to watch.

Mimi Rogers' hilarious cameo. The surprise appearance of Tom Cruise's first ex-wife as Carol, Arnold and Kay's neighbor, is a priceless punchline. Nuff said.

The Maine setting. Hope Springs makes splendid use of the seaside charms of lobster-loving Maine (though the exteriors were actually filmed in Connecticut).

The mostly quiet song and music track. Most romantic comedies rely heavily on moody music and pop songs to manipulate audiences into feeling either giddy or sad about what's happening to an onscreen couple. For Hope Springs, director David Frankel (who also helmed The Devil Wears Prada) makes the smart and brave decision to keep the use of music and hit tunes (from the 60s and 70s) to a minimum, resulting in a film whose many awkward silences are as telling as Arnold and Kay's revelations and admissions at their therapy sessions.
ADVERTISEMENT - CONTINUE READING BELOW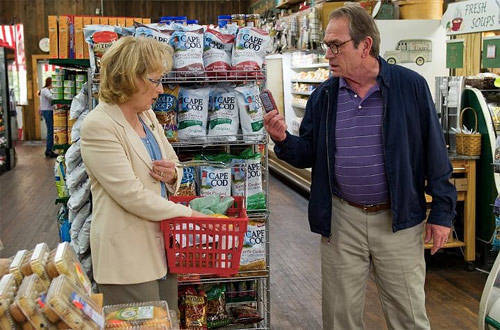 Really, restoring romance after n number of years is difficult.
Minuses:

Elizabeth Shue's cameo appearance. The Oscar nominee (for Leaving Las Vegas) has one scene in Hope Springs as a bartender who tells Kay that she's not the only married person in the world who's not getting any sex. It's a phony, contrived scene that feels like it was taken from another movie.

That generic title. Hope Springs does itself a huge disservice by having a completely forgettable title. In the days before I saw the film, I repeatedly referred to it as Hope Floats. And in the screening schedules of Trinoma and Megamall, the movie is actually referred to as Great Hope Springs! Couldn't the producers have come up with a catchier, more specific title a la The Bridges of Madison County or The Devil Wears Prada?

In brief:

Though it's about the marital woes of a fifty-something, mid-Western American couple, there's enough truth in Hope Springs about the challenges of keeping love alive that people of all ages and backgrounds can relate to and learn from. And Meryl Streep and Tommy Lee Jones are simply superb at imparting these love lessons.
ADVERTISEMENT - CONTINUE READING BELOW

RATING:
4 out of 5 spots ••••
Check out the movie schedule for Hope Springs here.
Share this story with your friends!
---
Help us make Spot.ph better!
Take the short survey
Load More Stories