Guni-guni: Nightmares on Wax
Our SPOT.ph blogger says this scream flick is tastefully scary.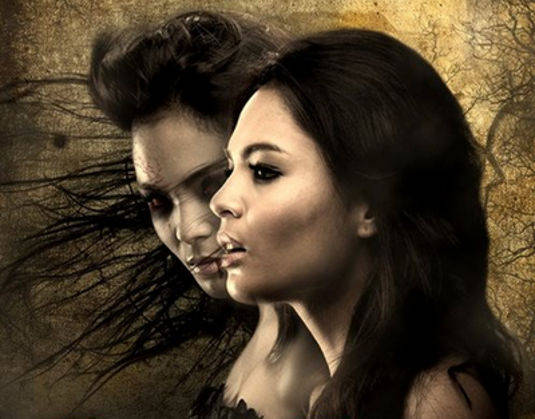 What gives you nightmares? If you had a large disfiguring scar on your body and a closet full of bottled body parts in formaldehyde, or if you strangled a woman to steal her man, or if you buried a baby in the garden-would you have bad dreams? I know I would.
There's nothing like a guilty conscience or an overactive imagination to fuel nightmares or provide plots for horror movies. In the case of Regal's latest one Guni-guni (Filipino for "figment of the imagination"), Lovi Poe plays a medical student named Mylene who has a mysterious scar on her body. On the day they discuss conjoined twins in class, Mylene is anxious. She dreams strange dreams in her boarding house where the senile Tatay Nanding (Jaime Fabregas) feeds the garden lamang loob and Vangie (Julia Clarete) the evil yaya takes care of a special child with a special friend. There's a crazy old lady (Gina Alajar) getting drunk in her room on Tanduay. One day a stranger appears at the door, pleading for a room. Alicia (Ria Garcia) is young and four months pregnant and pleading for help. It seems everyone has secrets in the beautiful 1960s house haunted by more than the ghost whom Joanna, one of the boarders with a third eye, endearingly calls Little Boy.


Only Lovi, with her husky seventies starlet delivery and her ridiculously long hair (as in literally, ang haba ng hair ni Lovi), can walk us through a slightly convoluted but otherwise engrossing movie from award-winning editor Tara Illenberger, who wrote and directed it. The great thing about Lovi is that she never does ugly horror scream face (I'm sure you can name a few actresses who have perfected this look). She smolders with her preternatural morena beauty but never really loses it all to fear.
ADVERTISEMENT - CONTINUE READING BELOW
And the equally wonderful thing about Tara Illenberger as a writer/director she knows exactly when and how to stage a scare, the most subtle of which are the ones that use reflecting images and wide shots of Mylene skulking down hospital hallways, into the basement where a creepy Quasimodo-type janitor who collects biohazard waste. It's generally a bunch of characters who are well-drawn caricatures from the horror genre, cast with amazing actors : Jaime Fabregas deserves a whole film to himself, and Empress is surprisingly simpatica as the nice girl/best friend/I -wear-a-gold-cross-pendant-and-I-have-ESP sidekick, also Isay Alvarez is the best crazy mother I've seen on screen in ages. Expect a lot of creepy doll production design (the opening titles are quite cute, I think) and lots of body part props-always well executed by Ericson Navarro and his team. I particularly like the crawling baby doll perched above Mylene's bed (remember the crawling baby in Trainspotting?)
CONTINUE READING BELOW
Recommended Videos
It's very tastefully done.  And yes it's scary enough but alas, it would be impossible to outline the plot here. So if you're in town for the long weekend and have nothing planned, here's what I'll tell you: go and see it.
***
Or if you're more into silent films accompanied live by contemporary musicians, head to the Shangrila Cineplex for the 6th International Silent Film Festival Manila, apparently the only one of its kind in the region. Aside from German, Japanese, and Italian classics, this year there is an American film Safety Last (1923) scored by The Radioactive Sago Project and Raymond Red's Eternity (1983) scored by award-winning composer Diwa de Leon.
ADVERTISEMENT - CONTINUE READING BELOW
The festival opened last Friday with Fritz Lang's dystopian classic Metropolis (1927) with Philippine electronica pioneers Rubber Inc. (Malek Lopez and Noel de Brackinghe). They screened the restored version and with the boys it was mad. And brilliant as usual.
There's more of this goodness this weekend at the 6th International Silent Film Festival. Tickets are free, but running out quickly. Go!
But if you're really on stay-cation mode, and staying in all weekend-here is my favorite conjoined twin nightmare of a film from Japanese director Takeshi Miike. The Box is the first segment in Asian horror trilogy Three...Extremes (2004):


Sweet dreams.


Share this story with your friends!
---
Help us make Spot.ph better!
Take the short survey
Load More Stories