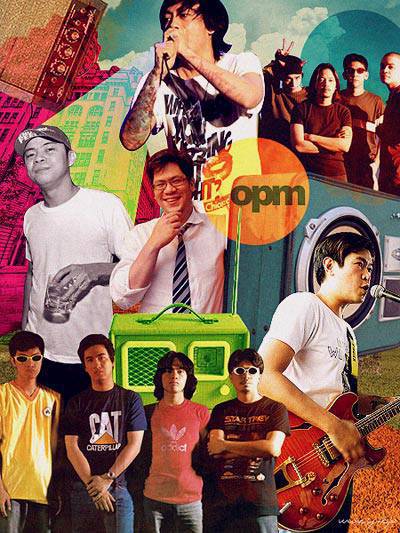 (SPOT.ph) much has been said about OPM, or Original Pilipino Music, in the past few days. In fact, by now too much has been said. (And yet here we are, and here you are-for which, my thanks, by the way.)

When I read Don Jaucian's piece-"The Life and Death of OPM"-last Saturday morning, I appreciated it. But I had no idea it would spark such furor online. The points made were on the whole valid, and familiar: musical artists are faced with a struggle; we had acts in the '90s that were both good and popular; major labels want sure sales, not innovation; but still, there are many things to be hopeful about.

That Jaucian's piece set off an avalanche of counter-arguments, insults, defenses, impassioned pleas, rants, personal accounts, logical fallacies, and calls to arms can be chalked up to the fact that he declared the death of something that so many of us love, and love deeply.

Naturally, our instinct is to deny this declaration: "No, OPM is alive and well." "I was just at saGuijo/ Route 196/ '70s and saw the most amazing performance." "My band/scene/online radio station rocks," -and so forth. Many good points were made online, some of them on big media sites and some of them on Facebook (and sometimes IN ALL CAPS). Here are a few examples.

Zach Lucero (of Imago and the site Radio Republic) posted on Facebook: "Why limit yourself to what the media and labels dish out? As business units they will always be 'safe' and will try to do what worked before. And that can stagnate. Sometimes to get to the good stuff one must look for it. The day Filipino Music dies is the day Filipinos stop making music. Good music never needed you, listeners or numbers, good music is good music, and it's waiting to be discovered."

"The times have changed, the musical landscape has changed," posted Toti Dalmacion, big boss of Terno Recordings. "There might never be another Eheads or Rivermaya equivalent sans the 'push and money' in terms of countrywide popularity, but because the talent's there, the necessary tools are available and the playing field has been leveled, you are now presented with a smorgasbord of local artists whose material you probably wouldn't hear easily if we were still the '90s and without being signed by or to a major label. Now you get a chance to discover new, interesting artists with something different to offer..."
ADVERTISEMENT - CONTINUE READING BELOW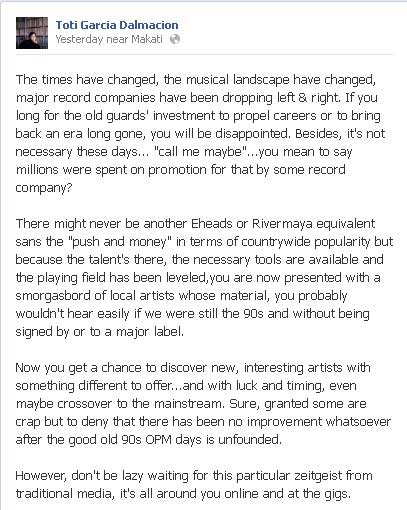 "Perhaps the record industry is dead," said Esquire Magazine Editor-in-Chief (and widely respected music critic Erwin Romulo in a text message to me. "But music, not at all. After all, institutions don't or shouldn't make music, individuals should."

Though the debate is dying down, it's clear that people really felt the need to weigh in on the matter. The question is whether we were weighing in on the same things, or whether the debate was sparked by a basic misunderstanding, or at least the lack of an agreed-upon definition of terms.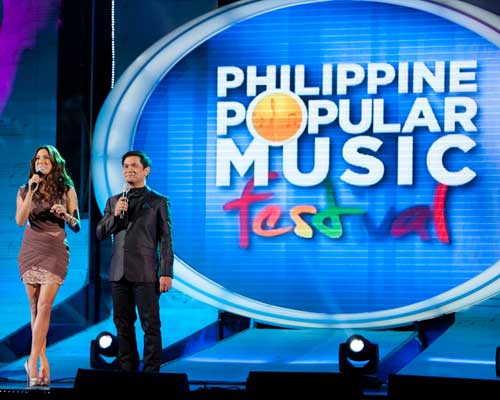 At the recently concluded Philippine Popular Music Festival last July 14, 2012


ADVERTISEMENT - CONTINUE READING BELOW
Recommended Videos
OPM is an old term that used to refer to a certain kind of music; it could be said to be a genre. The "P" practically stands for "Popular." Lately, however, people have been using it as an umbrella term for all music created by any Filipino. People who do this are essentially throwing together the skull-stomping music of Intolerant with, say, the vocal stylings of Martin Nievera. Some confusion, or indignation, may ensue.

When someone says OPM IS DEAD, he or she really means "The local music I like is not popular." When someone says OPM IS NOT DEAD, it means "The local music I like exists (and in fact, is in many ways thriving)." These are not stances that cannot exist in the same universe.

As Mikey Amistoso of the band Ciudad posted on Facebook: "There's no OPM. Music is music. It's made by people of the world and open to consumption by people of the world. I mean there's no OCM (original Chinese music) or OJM (original Japanese music) or OAM (original American music). They just make music for music's sake, not to show or boast to everyone how capable they are as a people."

It's clear that new music is still being made, and that there are many active and vital local music scenes encompassing many genres out there. It's also clear that, musically speaking, we do not exist in an ideal state of affairs: the artists are rarely compensated to a sufficient degree, and the music, no matter how good it is, does not reach everyone who might appreciate it. (Not all musicians mind: in fact, many of the ones I've spoken to really just want to keep making music, and hope that the rest will sort itself out.)

Leloy Claudio (in his online article "OPM is Dead, So Sue Me") makes a proposal worth exploring, about government investing more in local music. (Of course, there might be issues of nepotism and mismanagement, but cynicism aside, good might come from it.) Vin Dancel of the band Peryodiko has proposed putting together a primer of sorts for younger fans, to give them more of an idea of what's out there. Of course, there have been many efforts, past and ongoing, that involve making people aware of music that they might love: Rock Ed is still spreading the word as it has for years, through gigs and tours across the country and events like its "Rock the Riles" concerts held at MRT stations. (And there are blogs, sites, radio shows, columns, magazine articles, and so on...)

We should remember that listening to music is not an act of charity or obligation; we love music because it gives us pleasure, not because we're supposed to. We should also remember that these days, local music is competing with the whole world: there are only so many hours, and yes, some of them are spent watching "Gangnam Style" on YouTube.

But also: Local music can hit us in the soul like nothing else-the recent online debates about OPM have reminded us of that-and that while audiences may be splintered (as they are everywhere), there is much to celebrate in our variety of music scenes, and it is not too much to hope and work for that we might, occasionally, find ourselves jumping up and down in front of the same stage, and shouting along to the same words.
ADVERTISEMENT - CONTINUE READING BELOW
Art by Warren Espejo
Additional photo by Tamara Adrian Franco
Share this story with your friends!
---
Help us make Spot.ph better!
Take the short survey
Load More Stories