So, What Do You Think of Charice's Hair?
You think people tune in to X Factor to watch the contestants? Uh, no.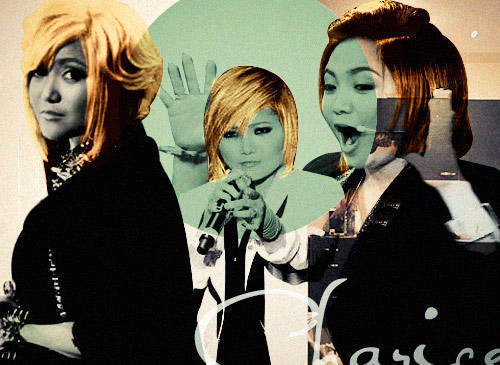 (SPOT.PH) The country has never been this preoccupied over someone's 'do since Calauan Mayor Antonio Sanchez's combover in the early '90s. When Charice began sitting as judge in X-Factor Philippines, the ensuing protests in the social networks were such that one could imagine a sea of humanity marching from Mendiola to the PAGCOR Grand Theater, each Twitter account holder brandishing a gunting on one hand and a suklay on the other, hollering "Off with her head!"-or at the very least have her hairstylist stripped of his membership from HACAP.
But it wasn't only her do these self-styled stylistas were up against. They hated how she called attention to herself by bursting into tears, or swaying her hands in the air, or gasping over someone's breathtaking voice, or delaying the announcement of her decision a few seconds longer than the three OPM veterans on the same table. How dare that little nugget! Standing up and shouting "Whoa!" when Martin, Gary and Tita Pilits were all trying to keep their excitement to themselves. Running to the stage and giving a contestant a hug, or worse, singing a duet with him! They hated her confidence. They hated her guts. They hated her just-acquired American twang. The way Charice has been crucified on the Internet it's as if she claimed in the Senate session halls that her son died of a weak heart because she took contraceptive pills.
Wasn't it only yesterday we were singing along to "Pyramid" while happily making the shape of a triangle with our hands? Wasn't it just yesterday we were so excited over her getting into Glee, hyper-sharing her performance of "All By Myself" on Facebook, hashtagging the link with #pinoypride on Twitter?
ADVERTISEMENT - CONTINUE READING BELOW
And then she jetted back into the country early this year looking like a cross between Aiza Seguerra and Yeng Constantino (or like Aiza Seguerra-styled Yeng Constantino?), and all of a sudden we were throwing virtual stones at her, calculating in our minds how much damage it would cost our suweldo to buy her a ticket back to wherever she was seen last.
When I met Charice Pempencgo for the first time in 2009, in her newly furnished home in Tagaytay, which was spiffied up with heavy Muebles Italiano-style furniture and drapes-all bought from her hard-earned money-she was already 17, but a precocious child still in many ways: running around barefoot, bursting into song every chance she gets, playing the guitar while we sang along, toy cars and stuffed dolls on either side of her bed. She introduced us to Chuckie then. She is a fan of horror movies, she said, and was particularly fond of those that star the rubber toddler-slash-monster. The doll was a gift from a doctor friend in Las Vegas. She was so fond of it she bought a pair of matching Lacoste shirts: one for her, one for Chuckie. And she would walk the streets of Hollywood with him, the doll getting much of the attention.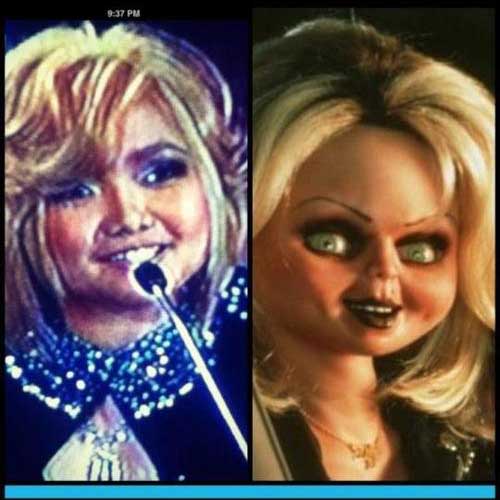 one of the many memes that circulated in social media
CONTINUE READING BELOW
Recommended Videos
Did I think then she would love Chuckie so much that one day she'd be compared to his bride? Of course not. She had then, at that time, just befriended Ellen, made a fairy godmother of Oprah, and made it to that, um, rarefied list of David Foster's friends.
How does one get from hanging out in that penultimate galaxy of Hollywood hotshots-where she was hobnobbing with Whitney and Celine and Josh and Boccelli-to being stoned to death (and not in the good way) just because she ditched the sleek dresses and long tresses, and decided to put an ensaymada on her head?
Let's go through the list of some of the things that so offended X Factor audiences-based on what I read on Twitter and text response from personal friends.
1)    Her bursting into tears when the old security guard Modesto sang "My Way," saying he reminded her of her departed dad. The judgment proceedings had to be delayed that night to allow the girl time to recover. But while Gary and Pilita and Martin proved very kind to Charice, audiences were quick to question the daughter's sentiment towards her dead father.
2)   Running up to the stage and hugging a contestant. His singing wasn't all that and he wasn't going to make it through. But his big dream, the contestant said, was to do a duet with Charice. So Charice made a young man's dream come true by singing "The Prayer" with him. And then the judges-Charice included-very kindly gave their No.
ADVERTISEMENT - CONTINUE READING BELOW
3)   Those hairstyles. The ensaymada, the blonde bob, the Lucky Me! Pancit curls that had you laughing your asses off with memes that put her face side by side pictures of Chuckie's bride, Hetty Spaghetti, the white boy with yellow curls on the Alaska package-and the star of the noche Buena feast: the round white plato with instant noodle hair partially draping it.


Personally, I'd never wear them, nor ask an estranged friend to sport them, but for Charice, the hairstyles work. You think people tune in to X Factor to watch the contestants? Uh, no. They give up weekend dinners and early cocktails just to see what Charice and her hairstylist are up to. And that's showbiz for you. That's a girl who knows how to put on a show. Isn't showbiz, after all, about calling attention to yourself? That's how you make sure you're in everyone's radar. That you're trending. That people like you. Or at the very least like to hate you.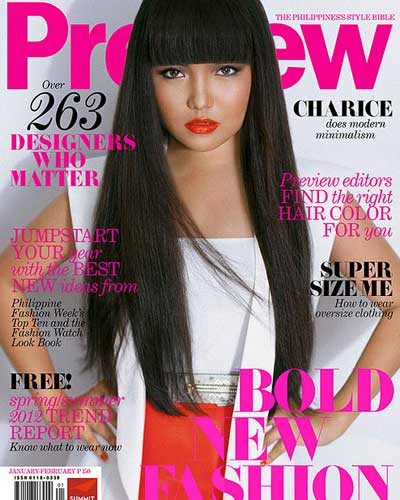 Charice on the cover of the January 2012 issue of Preview magazine
ADVERTISEMENT - CONTINUE READING BELOW
Charice explained the "change" in early May, when media asked why she looked like, well, like that. "Honestly, actually hindi talaga siya change image-what you see now is the real me and what you [saw] before wasn't me," she told PEP.ph. (Guys, a bit of advice: when in doubt, read Pep. It's the Google of local showbiz.) "A lot of people around me, like in the U.S. and here, they didn't really know what I really wanted so they were deciding for me. I didn't get the chance to do that myself." The girl clearly got tired of managers and stylists and producers running her life and declared herself free. It's like a coming out, and you know what happens with those things. We become too giddy to flex our peacock wings and shower glitter to our dour, uptight, self-righteous surroundings.
So did you guys expect her to step back and blend in with the curtains in X-Factor Philippines? (Isn't that what the show had asked KC to do?) Not when she's just gotten tattoos she shouldn't. (One of them says "I Never Knew True Love Until Someone Broke My Heart".) Not when you know you're this bite-sized kid sharing screen time with Pilita Corrales' big hair and fake nails. Not when you're on the same table with three OPM stalwarts who, understandably, have a more comprehensive vocabulary than you because they're older and just that much more experienced. Not when you knew you were coming back to an audience and an industry that didn't think much of you before you were anointed by Hollywood.
ADVERTISEMENT - CONTINUE READING BELOW
I mean, admit it, even with pastry on her head in the colors of your neighborhood panaderia-mamon yellow, pan de ube, pan de regla--draping from her blonde bob and on her neck, if she were not here in the Philippine Islands and instead singing with, say Lady Gaga, wouldn't you, the helplessly, endlessly pride-seeking Filipino, share that video on Facebook and Twitter and hashtag it #proudtobePinoy?


Share this story with your friends!
---
Help us make Spot.ph better!
Take the short survey
Load More Stories