The Mistress: Two and a Half Stars
Does SPOT.ph blogger Ria Limjap appreciate <em>The Mistress</em>'s essential John Lloyd Cruz-ness?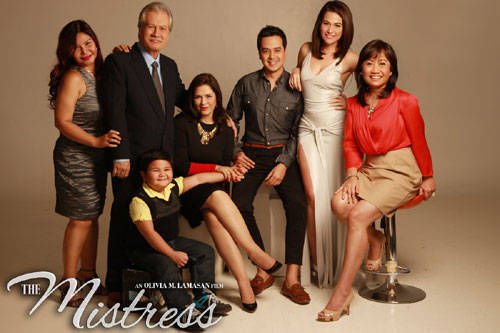 Photo courtesy of Star Cinema
(SPOT.ph) Star Cinema's latest romantic drama directed by Olivia Lamasan, The Mistress, opened yesterday in 200 theaters throughout the country. At the screening I caught on the evening of opening day, the theater was packed with an audience that every filmmaker dreams of: excited, appreciative, and responsive. Star building machinery and heavy promotions certainly work well if you're after commercial success-and there's certainly nothing wrong with it if the necessary resources are there-but it doesn't always translate into something life-changing, or compelling, or inspiring experience. This John Lloyd-Bea vehicle, dubbed a "four-sided love story", is supposedly a leap into "mature" (as opposed to "teeny bopper"?) roles for the two young stars, who have been paired in several commercially successful movies. Just be warned: it does not deviate from that formula, it does not refresh its aesthetics, and mostly, it is predictable. It is also unsurprising that they are raking it in at the box office-because who can resist another love team romance complete with theme song and poignant lines?
ADVERTISEMENT - CONTINUE READING BELOW
Federico Torres, Jr. (John Lloyd Cruz) plays a Ferrari-driving coño kid/architect who has shallow affairs with (presumable) junior socialite types. One day he meets a lovely young woman named Sari (Bea Alonso) who works for a small but thriving tailoring shop run by an old tailor (Tony Mabesa, whose voice and presence is utterly wasted as supporting cast) with irate clients (Gabe Mercado, who has the best lines in the movie) and cheeky employees (K Brosas is awesome). Despite her seemingly wholesome existence, Sari leads a secret life: she's the mistress of a rich old man (Ronaldo Valdez) whose boozy wife (magnificent Hilda Korel) reveals to her son the name of his father's mistress. It's a tangled web, to be sure: full of complicated relationships and emotional baggage which is fodder for crying and flinging insults, lots of confrontations and more crying. Aside from the rather brilliant acting of the supporting characters (including a chubby child actor whose name escapes me, the leggy Carmi Martin, the vastly underrated Nor Domingo, and Anita Linda, who is truly a national treasure)-The Mistress is just another cheesy two hanky drama with a rather nice ending but a truly unfortunate dream wedding sequence. It is what it is.
The trailer for The Mistress
But go forth, ye John Lloyd and Bea fans, and throw your hard earned money at the producers and the cinema chains. For two hours of complete escapism, it's worth it naman, in fairness to JLC and Bea. He's looking trim and dashing (boxer shorts shot, anyone?) while Bea Alonso is possibly at her loveliest right now. This is her movie-it's her steely performance as the titular mistress that provides the emotional core of the story. For once it's nice to see Bea under-act. If only the cinematography had been fresh and the writing less melodramatic. Well, one can dream.
CONTINUE READING BELOW
Recommended Videos
***
The good news is-this is a fabulous week for Philippine cinema. Aside from a big, glossy romance from a mainstream studio, there are actually other options for those who are not inclined towards a schmaltzy drama. (Last week, there was Brilliante Mendoza's Captive starring iconic French actress Isabelle Huppert as a kidnapped NGO worker from the infamous Dos Palmas incident in 2001. Mendoza's latest film Thy Womb starring Nora Aunor received the critic's prize at the Venice International Film Festival. Congratulations to Direk Dante and La Aunor.) I cannot wait to see it.
The trailer for the award-winning Thy Womb
Also this week, Marie Jamora's charming Ang Nawawala is also out in theaters. I watched it twice at Cinemlaya last July and found that it was even better on the second viewing. (It is The One to see this weekend because Dominic Roco is adorable.)
For a list of theaters where Ang Nawawala is screening, check out http://www.angnawawala.com/
So you know what to do this payday weekend! Let's go to the movies!
Share this story with your friends!
---
Help us make Spot.ph better!
Take the short survey
Load More Stories