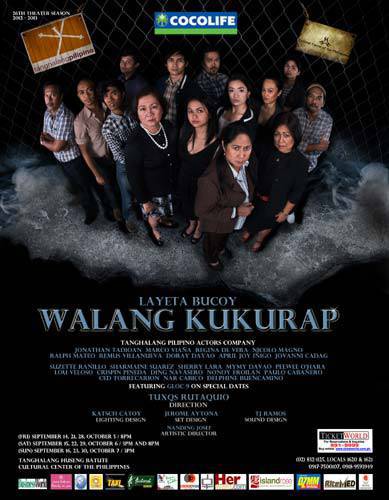 (SPOT.ph) Tanghalang Pilipino's latest play was launched with good timing. It's been 40 years since martial law was declared by Ferdinand Marcos, and as the country looks back at that era's painful memories, we are still getting our weekly dose of political blunders that would make any ordinary Filipino citizen roll his eyes.
Walang Kukurap aims to address "the continued atrophy of the Filipino identity" through a live suspense thriller about graft and corruption. Set in a fictional town in the Philippines, the play follows the story of five families intertwined by political dynasties and filthy government practices.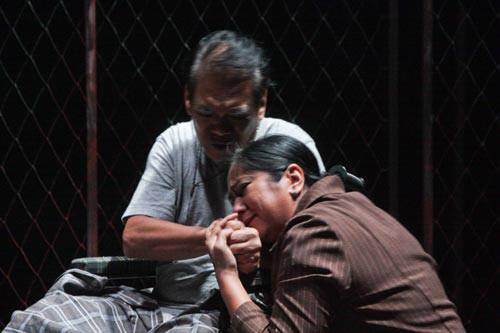 Lou Veloso as Papang and Suzette Ranillo as Christina
ADVERTISEMENT - CONTINUE READING BELOW
This straight play may as well have been classified under non-fiction, since the elements of dishonestly, fraud, and nepotism are all too familiar-from their depiction of barangay bit-players to the bigger sharks in the political game. With so many suspicious characters in the play, it was initially difficult for me to keep up with the intertwined storylines. I kept referring to my cheat sheet, the playbill, during the first half of the play.
One of the main reasons why I watched Walang Kukurap was to see why fans keep referring to playwright Layeta Bucoy as the female version of Quentin Tarantino in Philippine theater. Although I've seen her play Bona weeks before, Walang Kukurap's elements of unrestrained violence are closer to the Tarantino style that people keep comparing Bucoy with, especially since I sat in the front row where some of the morbid murder scenes were inches from my face.
Bucoy's new collaboration with director Tuxqs Rutaquio did more than just open the audience's eyes to political realities. It reminded me that I've become almost desensitized to our highly flawed government, which continues to do its dirty business behind the happy PR slogans and glittery projects.
It was a treat to see seasoned actors such as Suzette Ranillo, Lou Veloso, and Sherry Lara return to the stage, and to see up-and-coming thespians Nar Cabico, Doray Dayao, and Regina De Vera stand out with their comic skills. It was an even bigger bonus to spot Bayan Muna representative Teddy Casiño, whistle-blower Rodolfo "Jun" Lozada, and Senator Koko Pimentel watching with us during opening night. If I could only read what was going on in their heads during the play.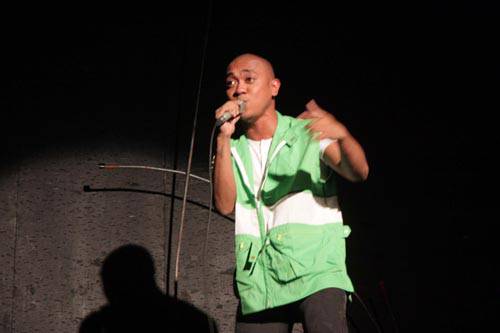 Nar Cabico raps over a song by Gloc9
ADVERTISEMENT - CONTINUE READING BELOW
The production maximized the use of the two-floor stage in the small Tanghalang Huseng Batute theater, while the clever mix of sound and light effects added suspense to the scenes. It was like watching a Pinoy action movie filmed live. It's too bad Gloc-9 was absent during opening night. He alternates with Nar Cabico as SK chairman/part-time rapper Gutierrez, and I would have loved to see if he can act as good as he raps.
Whether you've turned apathetic or are one of those social networking activists who can't stop bashing the government, you must see this play. I'm willing to bet that there's at least one corrupt and nepotistic character that would remind you of someone you know in real life.
Photos by Jude Bautista
Walang Kukurap opened on Sept. 14 and will run until Oct. 7 (Fridays at 8pm, Saturdays at 3pm & 8pm, and Sundays at 3pm) at Tanghalang Huseng Batute, CCP, Pasay City. Tickets are available at the CCP Box Office or via Tanghalang Pilipino at P600 each. Student and senior citizen discounts apply.
ADVERTISEMENT - CONTINUE READING BELOW
Cast: Jonathan Tadioan as Lu, Marco Viaña as Marky, Regina de Vera as Rhoda, Nicolo Magno as Santiago Jr., Remus Villanueva as Vic, Ralph Matteo as Mateo, Doray Dayao as Doray, April Joy Iñigo as August, Jovanni Cadag as Pong/Gutierrez, Suzette Ranillo as Christina, Sherry Lara as Purita, Sharmaine Suarez as Christina, Mymy Davao as Melba, Peewee O'Hara as Panchang, Lou Veloso as Paquito/Papang, Crispin Pineda as Molong/Papang, Ding Navasero as Santiago Sr., Nonoy Froilan as Santiago Sr., Paulo Cabañero as Paquito/Molong, Nar Cabico as Gutierrez/Pong, Delphine Buencamino as Mirra, Ced Torrecarion as Alex, and GLOC-9 as Gutierrez.
Share this story with your friends!
---
Help us make Spot.ph better!
Take the short survey
More Videos You Can Watch
Load More Stories