Zefronmania in Manila
Thousands of teens, screaming their hearts out for Zac Efron.
(SPOT.ph) At one point during Boy Abunda's Q&A with Zac Efron at the Penshoppe All-Stars Fan Conference last Saturday, September 29, the PA system queued "Start of Something New," one of the carrier duets in High School Musical, the movie that catapulted Efron to fame. The crowd, composed mostly of girls in their late teens, immediately began to sing along.
His face projected on four large screens inside the Mall of Asia Arena, Zac became speechless for a few moments, visibly moved. "I love being here!" he said later.
And how could he not? Six years ago, during the height of HSM mania, these were the girls who fell in love with his character Troy Bolton, the jock-turned-unlikely-theater-star, and  followed him through two more HSMs. While his post-Musical career hasn't yet led him to blockbuster, box-office status, there's no doubt that Troy still occupies a special place in these girls' hearts.
ADVERTISEMENT - CONTINUE READING BELOW
"I was nine years old when I saw you in High School Musical," sobbed one fan into the mic as Andi Manzano asked the audience to give messages to Zac. "You were my first love."
Spot.ph went undercover at the Zac Efron Fan Conference to bring you shots of the fans who lined up to see their childhood crush in the flesh. Plus, scroll down to see some choice tidbits from Boy Abunda's Q&A. Zac Efron sure knows how to work a crowd!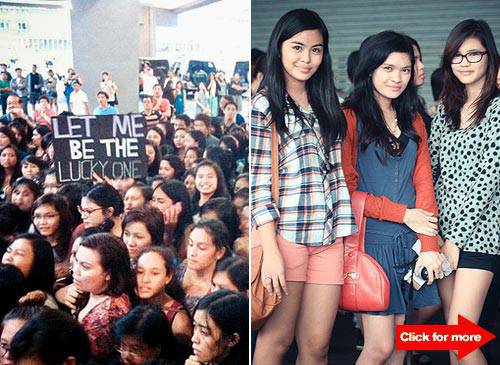 And the crowd goes wild. Click for more, or read on for Zac's FanCon soundbites.

ADVERTISEMENT - CONTINUE READING BELOW
The Philippines: "It's been a dream of mine to come here since I was young. When I was a small boy, my father would tell me about his adventures here. The Filipino people are so nice. You made me feel so at home, I just want to move here."
How he got into showbiz: "The first time I got on stage and sang and danced, I found my calling. It led me here today."
What he was like as a kid: "I was a prankster. I used to toilet-paper houses."
On his first kiss: "I was in first grade, and I think we were playing Spin the Bottle or Truth or Dare. We were in a tree fort and there was a girl I really liked. We kissed and it was awesome."
On meeting ex-girlfriend Vanessa Hudgens for the first time: "There were about forty guys and girls [during the audition for the first High School Musical]. I saw Vanessa right away, my first Filipina girlfriend. We clicked right away."
ADVERTISEMENT - CONTINUE READING BELOW
About leaving High School Musical: "It was very hard. On the last day of filming, I was very sad and very emotional. But who knows what the future holds?"
About Hairspray: "That movie was really fun 'cause it was set in the 60s. I watched a lot of Elvis, I watched the Broadway play over and over again. I felt much cooler than I really was."
On scenes with Michelle Pfeiffer in New Year's Eve. "We didn't really rehearse. I just grabbed Michelle Pfeiffer and danced with her."
On Nicole Kidman, his co-star in The Paperboy. "Nicole Kidman is amazing. She is one of the most lovely people in the world. I hope you get to meet her."
On his first on-screen love scene, with Taylor Schilling in The Lucky One: "We wanted to make it as real as possible. So...it's awkward talking about it!"
How he regards fame: "It's awesome! You guys rock! I love being here. It's taught me to appreciate my family, to love my work, but the most important thing is the fans. You put a smile on my face every time I see you."
ADVERTISEMENT - CONTINUE READING BELOW
On Penshoppe and his style: "I love Penshoppe clothes. I love the people who wear Penshoppe clothes. I'm pretty laid back. I like retro stuff, I like Elvis and James and Dean. [Looks at Boy Abunda's feet] You've got sweet boots!"
What he likes: "Lord of the Rings. The Goonies. Paul Newman, Leo DiCaprio. 'Hotel California'."
Zac Efron in three words: "I can do it in four: I love the Philippines."
Photos by Vincent Coscolluela and Grace Marcellana
CONTINUE READING BELOW
Recommended Videos
Share this story with your friends!
---
Help us make Spot.ph better!
Take the short survey
Load More Stories