No Kidding: This Guy's in Love With U, Mare
<em>This Guy's In Love with U, Mare</em> is part satire, part comedy of errors, and part sly commentary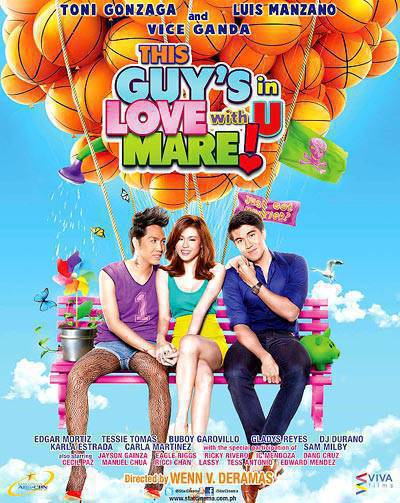 (SPOT.ph) Honestly, I found myself liking the latest Wenn Deramas comedy starring Vice Ganda-really digging it, laughing at the jokes, and appreciating the leggy Vice and Direk Wenn in an all new light. This gender-bending rom com is a nice departure from the usual lame-joke, slapstick-ridden, sloppily executed movies we've come to expect from mainstream studios with mainstream stars and mainstream storylines. This Guy's In Love with U, Mare is part satire, part comedy of errors, and part sly commentary on the sexual politics of modern relationships. Yay, I say. It's always nice to be pleasantly surprised.
Vice plays Lester, a cross-dressing parloric beauty, who is in a super kilig relationship with his boyfriend Mike (Luis Manzano). When Mike breaks up with him on their third anniversary citing recent spiritual conversion as the reason, Lester is devastated as devastated can be-especially since he wanted Mike to propose (with Lester concealing the engagement ring in his man-sized panty) over dinner, not break up with him. One day Lester spies Mike picking up pretty office girl Gemma (Toni Gonzaga) from work and squiring her home with a bouquet of flowers. Lester vows to get even by pretending to be straight-and super macho-then stealing away Gemma from Mike. It's an impossible plot but somehow, it all crazily works.


ADVERTISEMENT - CONTINUE READING BELOW
Watch the trailer for This Guy's In Love With U, Mare


I'm serious. Somehow they managed to make a comedy that's well-written and well-timed, with better than usual production values (the production design is quite nice), with intelligently written characters perfect for the actors they cast. Toni Gonzaga, in all her long-legged, glossy haired splendor, is really the quintessential nice Pinay girl-she's funny, sassy, and sweet. As Gemma, you can see why Mike wants to marry her, and how Lester eventually falls for her too, in his own way. (He doesn't want to do her; he wants to do her hair.)



Luis Manzano-who will always be Lucky to me-plays the sexually ambiguous gwaping so effortlessly, as if gay men fell at his feet all the time and it never bothered him one bit. The flashback scenes with Vice and Lucky are hilarious, and there's a tender chemistry between the two that deepens the movie in unexpected ways. Of course, the main Guy (or Gay) in this movie is really Vice Ganda, who literally strips himself of his MAC drag queen/Ru Paul-inspired look and transforms himself into a classic macho Pinoy male-in cardigans and skinny jeans-who wins the girl's heart by just being typical. It is disconcerting to see Vice Ganda use his "regular" speaking voice and act a bit like Robin Padilla. He's flexing his acting muscles in this movie, and it's quite a sight.
ADVERTISEMENT - CONTINUE READING BELOW
The supporting cast is quite brilliant, too. There's a funny gang made up of four Almodovar-esque badings (Ricky Rivero, I.C. Mendoza, Ricci Chan, and Lassy) who serve as a Greek chorus to Vice Ganda's wailing Lester, who needs support for the big breakup project. Tessie Tomas plays Lester's fabulous bisaya aunty to the hilt, dressed in tropical muumuus and big hair. Buboy Garovillo is Gemma's nice dad, and gets a fair share of laughs by donning a Beiber-style wig, after he visits Lester's parlor-na-pang-macho.
According to reports, the movie made a cool P23 Million on opening day, and reached the P100 Million mark after five days in theatres. Well, it isn't surprising, since the Vice Ganda-Wenn Deramas tandem churned out Praybeyt Benjamin (also a Star Cinema-Viva Films coproduction), which holds the distinction of being the highest grossing Filipino movie of all time.  It always stuns me how a combination of star power and studio muscle can come up with numbers as high as those mentioned above, but in this case I am even more stunned that they came up with a movie that I thoroughly enjoyed-and would willingly watch again.
ADVERTISEMENT - CONTINUE READING BELOW
Isn't that hilarious? The world must be coming to an end.


CONTINUE READING BELOW
Recommended Videos
Share this story with your friends!
---
Help us make Spot.ph better!
Take the short survey
Load More Stories