The SPOT.ph Guide to Surviving a Zombie Apocalypse
The undead have begun roaming the streets of Manila and it's the perfect opportunity for real zombies to blend in for a surprise takeover. Are you prepared?
(SPOT.ph) You wake up one day and there are zombies lurking outside your house. There's a fair chance that they will break down your door and consume you like a swarm of locusts. So pack up whatever you need, leave as quietly as you can and head for the hills. Oh, yeah-you may want to stop by these areas first.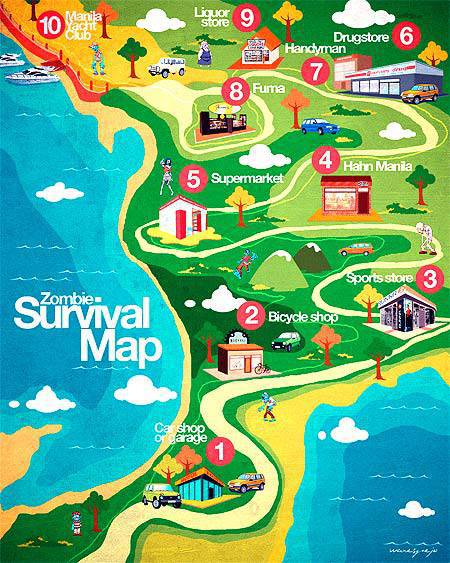 ADVERTISEMENT - CONTINUE READING BELOW
Your route to safety in the zombie-infested streets of Manila


STOP #1: A CAR SHOP (ANY BRAND OF YOUR CHOICE) OR GARAGE
Automobiles and car parts are important if you're the type who wants to stay mobile. If you've got some experience in mechanical repairs, you'll be a valuable team player. Get a sturdy truck or SUV, stock up on gas and head for the open road. Feel free to chop other automobiles up for spare parts and emergencies. There won't be any tow truck coming to help you if your vehicle breaks down.

Try: Land Rover, 32nd Street and 4th Avenue, Crescent Park West, Bonifacio Global City, Taguig; Speedlab, 11 Pagataan Street, Banawe Avenue, Barangay Manresa, Quezon City, 413-1888; 410-4678, http://www.speedlab.com.ph/


STOP #2: A BICYCLE SHOP
Fuel will be scarce and very difficult to get. So getting around for some people may be difficult, especially when you have to travel from town to town like a nomad. Getting a fuel-free bicycle is a good second choice. Actually, even if you do have a truck or automobile, it's always good to have a bike in storage to help you make quick getaways. It's also perfect for reconnaissance.

Try: Dan's Bike Shop, W13B, La Fuerza Plaza Compound, 2241 Don Chino Roces Avenue, Makati City, http://www.dans.ph/; John Wilkie Bike Shop, 621 J.P. Rizal Street, Concepcion Uno, Marikina City, 934-7826
ADVERTISEMENT - CONTINUE READING BELOW

STOP #3: A SPORTING GOODS STORE
Forget about your trendy high heels or those fashionable collector kicks. You walk slowly and zombies will be picking your flesh off their teeth with those stilettos. Get yourself to a running store and grab some sturdy running shoes to help push you off the pavement from the undead horde. Plan to do some detouring through the countryside to avoid the cities? Get mountain boots or off-road running shoes.

Try: Runnr, Bldg. B3 Bonifacio High Street, Bonifacio Global City, Taguig, 403-1787; Olympic Gold, 3rd Level Robinsons Galleria, EDSA corner Ortigas Avenue, Quezon City

STOP #4: A GUN SHOP
You'll need weapons. Lots of weapons. Besides having the traditional shotguns, ammunition, and other firearms, Hahn Manila is filled to the brim with sharp-edged weapons and blades that could help give you that silent head-chopping advantage or act as a tool for other life-threatening circumstances. Remember, the more quiet your kill, the better the chances that the hundred other zombies in your area wouldn't notice.

Try: Hahn Manila, SM Megamall, 3rd Floor, Building B, EDSA, Mandaluyong City, http://www.hahn.com.ph/; Trust Trade, Robinsons Galleria, Basement Level, http://www.trusttrade.com.ph/home/
ADVERTISEMENT - CONTINUE READING BELOW


STOP #5: A SUPERMARKET
Obviously, food and water are the two most important things that you should have in any emergency. It just so happens that this will also be the most dangerous area for you to scavenge. Besides the many corners and shopping aisles that you can get trapped in, a supermarket is usually right smack within ground zero. So get in, get your supplies, and get out quick. Don't forget to bring your weapons!

Try: Robinsons Supermarket, http://www.robinsons-supermarket.com.ph/directory; S&R, 32nd Street, 5th Avenue, Bonifacio Global City, Taguig, 888-0640

STOP#6: A DRUGSTORE
People get sick. It's just a matter of time before the elements, infections, and fatigue kick in to become a fever or something worse. That's why it's always good to have a fully stocked medicine cabinet in your base camp. You have to be in tip-top shape to run away from a horde of ravenous undead.

Try: South Star Drug, http://www.southstardrug.com.ph/; Mercury Drug, https://www.mercurydrug.com/cgi-bin/storelocation.py
ADVERTISEMENT - CONTINUE READING BELOW

STOP #7: A HARDWARE STORE
Most everyone you know has either been chewed to bits or is one of the undead looking to chew on you. So you can't depend on your friendly neighborhood carpenter or locksmith to help secure your base camp or hideout or make that oh-so-essential ladder. Go to a hardware store and get what you need. Locks, cables...there should even be a machete in the gardening section. Mental note: a hardware store is a gold mine for survival.

Try: Handyman, http://www.handyman.com.ph/store.htm; True Value, http://www.truevalue.com.ph/StoreFinder/tabid/72/Default.aspx


STOP #8: A CIGARETTE STORE
It's the end of the world. Of course people will want to smoke their lungs out. Grab all the reams you can and trade these precious cancer sticks for food, ammo, and other more important items. Another bonus from cigarette stores: matches and lighters. Perfect when you need to make a fire for warmth and cooking or to use as a decoy to draw away walkers.

Try: Fuma, 4/F Shop #2, Newport Mall, Villamor Barangay 183, Pasay City


STOP #9: A LIQUOR STORE
Having a world overrun by zombies fills people's hearts with dread and despair, which makes them crave for the finer things in life. It makes them desperate and hungry for whatever they can grab. Similar to cigarettes, alcohol and beer can be very powerful bargaining tools when you're trading for supplies. Keep those bottles of red wine and boxes of canned beer. Everybody will want a sip. And it will cost them.

Try: Ralph's Wines & Spirits, Ground Level, The Podium, ADB Avenue, Ortigas Center, Mandaluyong City; Wine Depot, 6 Missouri St., North East Greenhills, San Juan City, http://www.winedepot.com.ph/
ADVERTISEMENT - CONTINUE READING BELOW


STOP #10: A PLACE BY THE SEA
If you've got some seafaring experience and have no wish to risk your life on land, hanging out somewhere by Manila Bay, say Sofitel or the Manila Yacht Club, will guarantee that you have a ready exit plan straight into the ocean. It's a widely known fact, after all, that zombies are deathly afraid of water (look how dirty they always are). There's always the danger of human stragglers and scavengers attacking you for your boat or supplies, but having a boat or yacht handy means you can avoid the ice cold grip of the undead.

Try: Sofitel Philippine Plaza Manila, CCP Complex Roxas Boulevard, Pasay City  551-5555; Manila Yacht Club, 2351 Roxas Boulevard, Manila



CONTINUE READING BELOW
Recommended Videos
Share this story with your friends!
---
Help us make Spot.ph better!
Take the short survey
Load More Stories