10 Tunes to Listen to This Month
Fresh tracks from The Rolling Stones, Adele, Icona Pop, Hidden Nikki, Moonstar88, and more!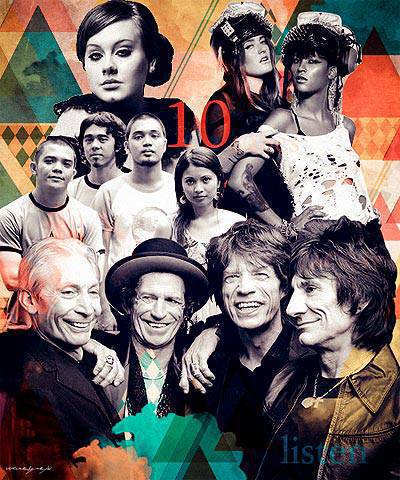 (SPOT.ph) This November, make sure to score yourself The Rolling Stones' latest rock-and-roll single, Adele's powerful Bond song, Icona Pop's bubbly ditty, Rudimental's inspirational song and music video, Haim's nu folk-pop release, and Lay Low's folk-alternative composition. Plus, hear Hidden Nikki's jazz-pop tune, Jessica Sanchez and apl.de.ap's dance-y collaboration, Moonstar88's sweet-sounding OPM, and Zia Quizon's jazz track.
Song: "Doom and Gloom"
Artist: The Rolling Stones
Five decades and counting, The Rolling Stones are still rocking hard. The legendary rock-and-roll band recently released its first studio recording since 2005 titled "Doom and Gloom." It starts off with an in-your-face, rough riff courtesy of Keith Richards and is followed by Mick Jagger's refreshed and pumped vocals (with occasional growls and stretched syllables). The track isn't a Stones classic, but it's enough to prove that the band, without a doubt, still owns rock and roll.
Fun fact: The Rolling Stones recently played a surprise gig at the La Trabendo rock club in Paris.
Song: "Gabi ng Sayawan"
Artist: Hidden Nikki
Jazz-pop quartet Hidden Nikki just came out with their music video for "Gabi ng Sayawan," a chill single that will make you sway to classic-jazz melodies with bits of modern sounds. Sweet and smooth, this is one love song you have to put on loop.
Fun fact: Hidden Nikki started in 2004 and was more influenced by the Australian rock band Silverchair.
Song: "Skyfall"
Artist: Adele
Adele is now officially a Bond girl. In this 007 track, the award-winning songstress croons through rich and bold melodies reminiscent of Shirley Bassey's "Diamonds are Forever." Adele sounds incredible, as always, as her powerful voice crawls through the slow, melodramatic tempo that explodes towards the end.
ADVERTISEMENT - CONTINUE READING BELOW
Fun fact: "Skyfall" was written by Adele and her "Rolling in the Deep" collaborator Paul Epworth.
Song: "Jump In"
Artist: Jessica Sanchez and apl.de.ap
Two Pinoy artists in the international music scene team up for this thump-filled electronic ditty. American Idol's Jessica Sanchez hits high notes like they're nothing, and apl.de.ap drops rhymes effortlessly. Take a listen and feel the Pinoy pride.
Fun fact: The "Jump In" music video was directed by Canadian director Marc André Debruyne.
Song: "Good for You"
Artist: Icona Pop
Swedish electropop duo Icona Pop's latest release is bubbly, fun, and delightful with edgy lyrics. Expect to hear clapping synths, and one catchy hook.
Fun fact: Icona Pop is Aino Jawo and Caroline Hjelt. "Good for You" is part of their Iconic EP, which dropped last October 16.
Song: "Not Giving In"
Artist: Rudimental featuring John Newman and Alex Clare
Hackney, London's Rudimental follows up their hit single "Feel the Love" with "Not Giving In," an inspirational masterpiece aided by the voices of John Newman and Alex Clare. Be sure to add this powerful and moving drum-and-bass single to your must-hear playlist.
Fun fact: The music video, written and directed by Josh Cole, was shot in Manila. It was inspired by the life of Cole's friend, world champion B-Boy Mouse.
Song: "Don't Save Me"
Artist: Haim
The Haim sisters from Los Angeles are out with "Don't Save Me," a catchy single combining all their nu-folk, pop, and nineties sounds. In this LSS-worthy tune, Danielle's vocals take center stage as she sings with a lot of attitude.
ADVERTISEMENT - CONTINUE READING BELOW
Fun fact: Haim sisters Alana, Este, and Danielle started playing music in a band with their parents, according to T Magazine.
Song: "Gilid"
Artist: Moonstar88
Pinoy alternative-rock band Moonstar88's "Gilid" is a lovable rock tune showcasing Maychelle Baay's vocal chops that go from sweet to aggressive to airy at some parts. She's accompanied by sweeping guitars and powerful drums.
Fun fact: Moonstar88 was formed in 1999, and their first studio album titled Popcorn was released in 2000.
Song: "The Backbone"
Artist: Lay Low
Lay Low, also known as Icelandic singer-songwriter Lovísa Elísabet Sigrúnardóttir, pleases music fans with her latest folk-alternative composition titled "The Backbone." The single packs a lot of emotions, with poetic lyrics interpreted with Lay Low's soulful and warm vocals.
Fun fact: Lay Low started in 2006 after she was contacted by a local label that heard her demo on MySpace.
Song: "So Much in Love"
Artist: Zia Quizon
In "So Much in Love," Zia Quizon sings smoothly accompanied by sexy saxophone and bass. The single is great for a relaxed night of dinner and dancing.
Fun fact: Zia Quizon is the daughter of singer-actress Zsa Zsa Padilla and the late Comedy King Dolphy.
Art by War Espejo
Load More Stories