The Twilight Saga: Breaking Dawn Part 2, By The Numbers
In the theater, we started counting.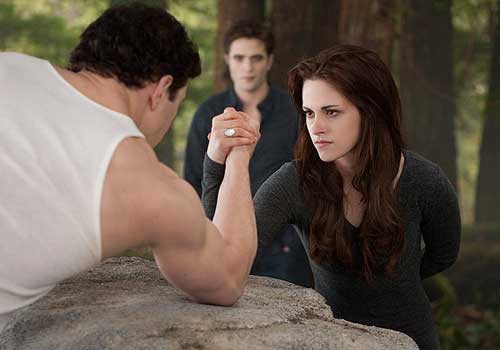 (SPOT.ph) Do you hear the wailing? That's the sound of Twi-hards everywhere mourning the end of their beloved obsession with The Twilight Saga: Breaking Dawn Part 2. For once, Team Edward and Team Jacob have entered a simultaneous state of depression, now that they're readying their fan shirts for retirement.

We still don't know why the last book in Stephanie Meyer's chaste vampire love series had to be broken up into two parts, but we do know that there's a hell of a queue at the ticket booths; people want to see how Bella Swan would finally fare as a bloodsucker complete with a newborn half-vampire, half-human baby. This shouldn't be confused with the immortal child variety of vampires. Trust us though, you don't really want to know.

Unsurprisingly, the film has already grossed $340.9M worldwide in just its opening weekend, so we thought we'd crunch a few other numbers for you.
ADVERTISEMENT - CONTINUE READING BELOW
CONTINUE READING BELOW
Recommended Videos
116 - The total number of minutes the film ran. This also happens to be the second to the shortest installment, though it's questionable how many of the minutes were actually utilized properly. This further proves that it could have been compressed to just one film.

17 - The number of minutes the movie spent on the opening and closing credits combined. We get the need for a long closing credits as there's a lot of crew involved, but opening credits? The first three minutes of the movie showcased every cast member's name, transformed from a Serif font to a Sans Serif font against a backdrop of red and white images. Was there supposed to be some metaphor behind this?

0.83 - The approximate temperature (in Celsius!) of newly un-dead Bella (Kristen Stewart); now that she and Edward (Robert Pattinson) share the same body temperature. This is exciting stuff.

2 - The number of camera "tricks" the film crew employed: fast zoom-ins and slow motion shots. There was no middle ground for director Bill Condon as things were usually either super fast (zooming in on everything Bella now felt or saw- from the fibres of the carpet to her moving prey)  or super slow, but still zoomed in (particularly for alone time for the not-so-new Mr. and Mrs. Edward Cullen).

10 - The maximum number of scenes or lines each Cullen family member had, excluding Edward of course. Jasper (the silent one) didn't start talking till around the 30-minute mark. We guess these vampires are better seen than heard.

21 - The additional number of vampires we got introduced to (most of whom got a maximum of five lines, if they were lucky). Despite the international nature of this group, they all spoke perfect English. We couldn't figure out who was from where by their accents so it was convenient that they all announced their place of origin: Egypt, France, Ireland, Romania, and the Amazon (who appropriately came in stereotypical Amazonian outfits).

0 - The death toll in Forks despite all the above-mentioned visiting vampires. We can't fathom how the humans managed to keep their pulses while all those non-vegetarian vampires were sashaying around Forks. Who knew vampires had that much restraint?
ADVERTISEMENT - CONTINUE READING BELOW
2 - The number of facial expressions Bella showcased in this film. There was her status quo expression aka the  constipated/pained face, and now, we are lucky to be presented with the new I'm-a-vampire-hear-me-snarl face! This face, saved only for the fourth installment, was used exclusively when Bella was surprised and delighted by her new vampire strength.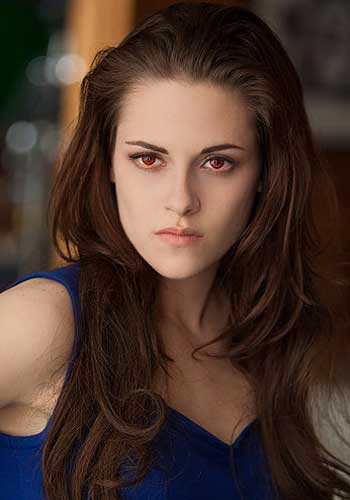 1 - Like mother, like daughter, perhaps-this is the number of facial expressions Cullen spawn, Renesmee was able to muster throughout the film. This was surprising considering they used CGI to fill Renesmee's supposed 'expressive' face despite her age. Still, we'll give her this. Renesmee is a newborn after all.

0 - The number of beds broken and rooms left in disarray. As Bella put it, it looks like Edward had been holding back on her. We feel for you, Bella. Considering it took fellow vampires Rosalie (the creepy aunt) and Emmett (the big, strong one) 10 years to get over the honeymoon phase, Bella and Edward seem to be chaste as ever.

1 - The number of times Jacob Black (Taylor Lautner) took his shirt off (his audience during his striptease wasn't very pleased either). We see you holding back as well, Jacob.

4 - The number of moustache twitches from Charlie, Bella's dad. The only intended comic relief to this franchise with his one-liners and non-advice for his daughter, Chief Swan was barely utilized this time around.

4 - The number of times the Volvo insignia was flashed on screen. We get the need for product placement in a movie, but this one just tied with Bella's dad! Despite her newfound speed, we guess vampire Bella still preferred to drive around in her Volvo. RIP dingy old truck.
ADVERTISEMENT - CONTINUE READING BELOW
10 - The number of family meetings of wolf/vampire conferences held. For a movie that promised action, they sure sat around discussing possible violence a lot. Though we did get an "epic battle," we don't think it was necessary that we were part of the entire preparation process.

1 - The number of vampires that sparkled this time around. No really, there was just one. Not that this was necessarily a bad thing.


Are you sure you want to delete this list?

Load More Stories