Pascalina: Degrees of Darkness
"Charmingly lo-fi, impassioned, visceral." SPOT.ph blogger Ria Limjap finds much to like about the winner of the Cinema One Originals filmfest.
(SPOT.ph) Yesterday, I finally had the time to haul myself to the Shangrila Cineplex to catch Pascalina, this year's best film at the Cinema One Originals Festival. I mean literally the Best Film-the first feature of Pam Miras was awarded the festival's top prize. It's also the only one I've seen at the festival, so far-and award or not, I'm plain happy to see something like it: charmingly lo-fi but impassioned and visceral.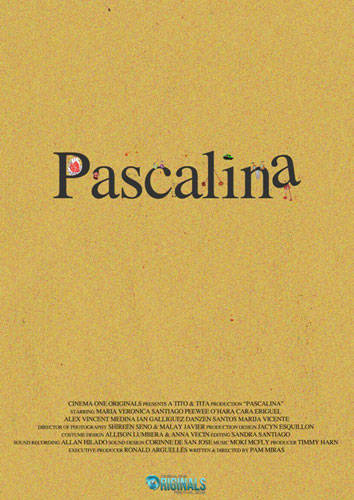 Pascalina (Maria Veronica Santiago) is a normal girl: the plain, downtrodden type who gets abused and taken advantage of by the people around her-her shrewish titas, her cheating boyfriend, petty criminals, bitchy officemates, and even her spoiled nephews. One day she inherits a dubious legacy from her dying aunt and her life is never the same. And yet it is always the same: one bad turn after another. It all starts when she dyes her hair bright Manic Panic red which is great for leggy German girls like Franke Potente but looks faintly ridiculous on short and slightly chubby Pinay nurses. But you can't blame Pascalina for not trying. She feels insecure. She loses her job. She's a nice girl who can't win in a hostile world. Pam Miras fearlessly and truthfully observes the quiet desperation of Pascalina's loser existence. What to do when your pet bunny dies? Eat it. And cry while you puke, of course. We all have our bad days.
ADVERTISEMENT - CONTINUE READING BELOW

And I just love that Pam Miras used a cute little digital camera that could have been a fancy hipster toy-but instead shot a film that's dark and fuzzy, both in aesthetics and emotion. It's a brave departure for this day and age of the crystal clear DLSR look, which is now de rigueur and rapidly becoming boring. (Do we need to see everything in sharp focus? What if I don't want another perfectly framed orange and pink sunset...or purple and pink sunrise? And pwede ba, enough flares, please.)
It's as if Pam Miras decided to tell her story in grainy Polaroids, faded photographs taken from far, far away-and created a style completely its own. Seemingly steeped in Goethe's theory of color (where "light and its absence, are necessary to the production of color") the darkness of Pascalina is active-almost a character-and not just the absence of light. It's awesome that her cinematographers (Shireen Seno and Malay Javier) had so much freedom with such a tiny tool. The camera is completely unfettered by weight or setup time, free to roam in dim hallways with Pascalina and examine very closely the ugly details of her life. Maria Veronica Santiago's hangdog expression and slumped shoulders are captured perfectly in very low light-and even if the titas sitting in front of me were complaining about not seeing a thing-I was totally into it. Also worth observing is subtly and precisely wrought sound design (by Corinne de San Jose) which becomes increasingly disquieting as the story descends into the darkest of all moments, when the girl turns into a monster and we in turn realize there is a little bit of aswang in us all.
CONTINUE READING BELOW
Recommended Videos
ADVERTISEMENT - CONTINUE READING BELOW
Share this story with your friends!
---
Help us make Spot.ph better!
Take the short survey
Load More Stories