Rocket Room's Doomsday Special + The Bar & Club Scene This Week
Your handy guide to the metro's hottest gigs and parties.
Saguijo - Pinoytuner Live! Lineup TBA
Bond Urban Pub - Stareoke Wednesdays
Opus - District: Urban Beats in the City
Izakaya - Izakaya Dojo Wednesday
M Café - Manteca! Salsa Night, 10 p.m.
Prive Luxury Club - Stiletto
Izumi - Sakephonic Wednesdays, Ladies and Models Night
Dillingers - CTRL ALT Delete Wednesdays 
7th High APEX Lounge - Soulful Wednesdays
Time in Manila - Femme Night
Reserve Liquor Lounge - Riot Wednesdays
Garage 88 - We Love House Wednesday
B - Side - SOJ GROOVES "VIDEO LAUNCH": TRIBUTE TO KARL ROY featuring SENTRI, GAYUMA, MOTHER POPCORN EXPERIENCE, SIDHI, 18TH ISSUE, BALANG SA NAYAB, PLANETA NG NGITI NI BOBBY BALINGIT, THE CLAN, FLIGHT SCHOOL, CAREN TEVANNY and FIONA
Republiq - Dirty South in Manila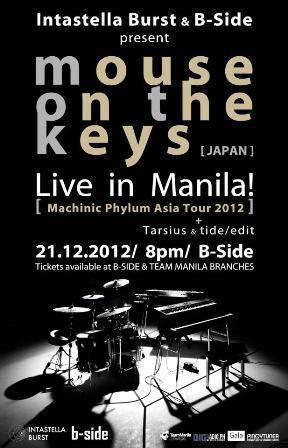 ADVERTISEMENT - CONTINUE READING BELOW
CONTINUE READING BELOW
Recommended Videos

Thursday, December 20

Saguijo - Hello Strange Productions w/ Helen, Maya's Anklet, Midnight Meetings, The Naked Lights, The Shocking Details, Stranger Danger & Toshi Andoroid. More TBA
Opus - Groove Thursdays
Rocket Room - Space Camp at Rocket Room
Bond Urban Pub - Girls Night Out
Izakaya - KISS! KISS! BANG! BANG!
Libations - Lipstick Mafia
Palladium - WILD & SEXY Thursdays
Eden Nightclub - Backbeat Thursdays  
Dilingers - Thirst Days
Izumi - Rockizumi
Excess Superclub - "PASSION TO FASHION 2012" Modelos Tambayan GRAND LAUNCH
19 East - Crib
B - Side - MOUSE ON THE KEYS (Japan) LIVE IN MANILA [Machinic Phylum Asia Tour 2012]
+ Tarsius & Tide/Edit
Friday, December 21

Saguijo - Kerplunk! Xmas Party! w/ Astrojuan, Brisom, The Steady Machines, Tea for Two. More TBA
Prive - Incognito
Excess Superclub - Filthy Fridays 
Fiamma - Fresh Fridays
Izumi - Fortress Friday feat. DJ Ron
Opus - Uber Disko
Palladium - Fabulush Fridays 
Candyshop - Sucette Fridays
Dillingers - Get Freaky 
7th High - Heaven Fridays 
Eden Nightclub - Forbidden Fridays with DJ Andrew Chow
ADVERTISEMENT - CONTINUE READING BELOW
Stella and Rocket Room - IN COLOR: Doomsday Special by Freedom Music & Belvedere
Time in Manila - LIVE SETS by ABDEL AZIZ and SILVERFILTER with ARTSTRONG on vocals; Afterhours by TIME Resident ALINEP, ERWIN EDRALIN on the Roofdeck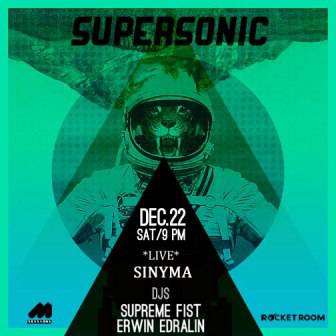 Saturday, December 22

Dillinger's - Saturday Swagger with DJ's Darrel D and Bad Boy Jeff
Eden Nightclub - Saturday Surrender
19 East - Side A
ADVERTISEMENT - CONTINUE READING BELOW
Saguijo - Santa Claustronaut: An Earthmover Xmas Party w/ The Butchercons, Ian Rondilla, Imbuenokudos & Nyctinasty
Republiq Club - Pure Saturdays
Fiamma - Stereo Static Saturdays
7th High - Indulgence Saturdays featuring DJs Buzz, Badboy Jeff, and Ron. 
Izakaya - Sake To Me Baby Saturdays featuring DJ Steal and Nina. Hosted by JP David.
Jill's - Jill's Straight Up Saturdays
Izumi - Suteki Saturday feat. DJ Jacob
Opus - Legendary Saturdays
Excess Superclub -  Saturday Xscape
Republiq - Pure Saturdays
Prive - Stilletto
Palladium - Guest DJ Sabrina Terence
Stella and Rocket Room - Sinyma's EP Launch + Djs Supreme Fist & Erwin Edralin
Sunday, December 23
Chihuahua Mexican Grill - Hangover Sundays
The Rocket Room - Sun Dazed with DJs Miss Badkiss & Supreme Fist
B - Side - Dub Explosion Session
M Café - Manteca! Salsa Night, 6 p.m.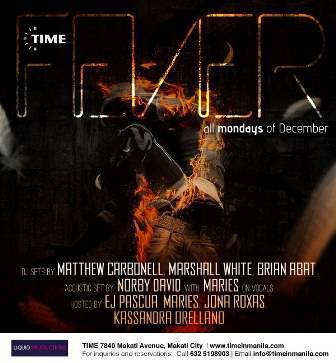 ADVERTISEMENT - CONTINUE READING BELOW
Monday, December 24

Izakaya - Moshi Moshi Mondays
Izumi - Muteki Monday
Opus - Industry Mondays
Dillingers - Misfit Mondays
Time in Manila - MONDAY FEVER! with DJs Marshall White | Matthew Carbonell & Brian Abat plus Maries & Jill on Vocals
Distillery Jupiter - iCoutsic Mondays
Reserve Liquor Lounge - Rockeoke Mondays
Eden Nightclub - Jumpstart Mondays
Jill's - Monday Mic Live