Kiss! Kiss! Bang! Bang! at Izakaya + The Bar and Club Scene This Week
Your handy guide to the metro's hottest gigs and parties.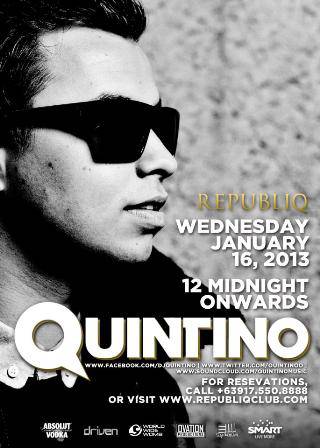 Wednesday, January 16
Saguijo - Blaster Music Night w/ Mr. Bones & the Boneyard Circus, Jonan Aguilar, Paramita, Reklamo. More TBA
Bond Urban Pub - Stareoke Wednesdays
Opus - District: Urban Beats in the City
Izakaya - Izakaya Dojo Wednesday
M Café - Manteca! Salsa Night, 10 p.m.
Prive Luxury Club - Stiletto
Izumi - Sakephonic Wednesdays, Ladies and Models Night
Dillingers - CTRL ALT Delete Wednesdays 
7th High APEX Lounge - Soulful Wednesdays
Time in Manila - Femme Night
Reserve Liquor Lounge - Riot Wednesdays
Garage 88 - We Love House Wednesday
ADVERTISEMENT - CONTINUE READING BELOW
7th High - Shot To Fame: Search for DJs Semi-Finals
Republiq - Guest DJ Quintino, midnight onwards
Saguijo - Pinoytuner Live! w/ Ebe Dancel, Evee Simon, Gabriel Lynch (Australia), Hannah+Gabi & The Purplechickens
Route 196 - Terno Northside @ Route 196: UP DHARMA DOWN, PULSO, MAUDE, SLEEPWALK CIRCUS, YOLANDA MOON, NOT ANOTHER BOY BAND
19 East - Freestyle
Thursday, January 17

Saguijo - Revolver w/ Earthmover, Pedicab, Tarsius, Techy Romantics. More TBA
Opus - Groove Thursdays
Rocket Room - Space Camp at Rocket Room
Bond Urban Pub - Girls Night Out
Izakaya - KISS! KISS! BANG! BANG!
Libations - Lipstick Mafia
Palladium - WILD & SEXY Thursdays
Eden Nightclub - Backbeat Thursdays  
Dilingers - Thirst Days
Izumi - Rockizumi
Time in Manila - Dirty featuring DJs Matthew Carbonell and Brian Abat
Saguijo - The Pocket Universe Art Collective x We Will Doodle. Lineup TBA
Route 196 - DocDef Productions: The RONY (acoustic), FURNOISE, LANGIT LUPA, BAKESHOP, MAYA'S ANKLET, AUTOTELIC, PALE YELLOW LIGHT, BLUE KETCHUP, TANYA MARKOVA, DECEMBER AVE.
ADVERTISEMENT - CONTINUE READING BELOW
19 East - Juris
Friday, January 18

Saguijo - Revolver w/ Taken by Cars, Tide/Edit. More TBA
Prive - Incognito
Excess Superclub - Filthy Fridays 
Fiamma - Fresh Fridays
Izumi - Fortress Friday feat. DJ Ron
Opus - Uber Disko
Palladium - Fabulush Fridays 
Candyshop - Sucette Fridays
Dillingers - Get Freaky 
7th High - Heaven Fridays 
Eden Nightclub - Forbidden Fridays with DJ Andrew Chow
7th High Apex - "ALTERNATIVE ESCAPE", The weekly alternative night in town featuring: "GENERAL LUNA" with CIRCA, BRISOM, & THY HOLY WATER
Saguijo - Kerplunk! w/ Archipelago, Hilera, Pitik, Salamin & Wilderness
Route 196 - LockedDown & Generic Mamaw presents "Taste Ni Grace", with GAIJIN, IMAGO, JOHNNY ALEGRE, DONG ABAY and the TANODS
19 East - Side A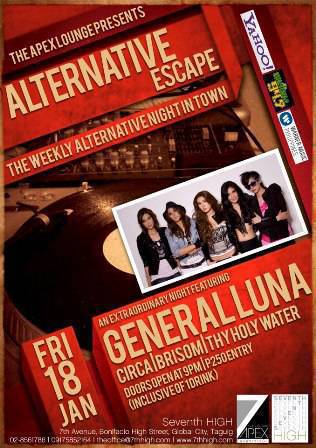 ADVERTISEMENT - CONTINUE READING BELOW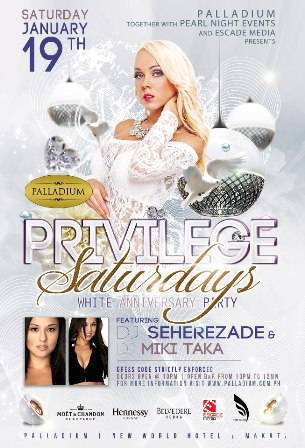 Saturday, January 19

Dillinger's - Saturday Swagger with DJ's Darrel D and Bad Boy Jeff
Eden Nightclub - Saturday Surrender
19 East - Barbie Almalbis, Yosha, Peryodiko, Malay, Kai Honasan & Sky Junkie
Saguijo - Terno Inferno w/ The Charmes, Encounters with a Yeti, Hidden Nikki, Maude, Musical O, Not Another Boy Band, Populardays, Pulso, Sleepwalk Circus, The Sleepyheads, Up Dharma Down. More TBA
ADVERTISEMENT - CONTINUE READING BELOW
Republiq Club - Pure Saturdays featuring Emil Angeles, Marc Naval, Mars Miranda
7th High - Indulgence Saturdays featuring DJs Buzz, Badboy Jeff, and Ron. 
Izakaya - Sake To Me Baby Saturdays featuring DJ Steal and Nina. Hosted by JP David.
Jill's - Jill's Straight Up Saturdays
Izumi - Suteki Saturday feat. DJ Jacob
Opus - Legendary Saturdays
Excess Superclub -  Saturday Xscape
Prive - Stilletto
Palladium - Guest DJs Seherezade and Miki Taka
Time in Manila - Special guest Boom Tchak Guti
Route 196 - Love One Another Prod
Sunday, January 20
Chihuahua Mexican Grill - Hangover Sundays
The Rocket Room - Sun Dazed with DJs Miss Badkiss & Supreme Fist
B - Side - Dub Explosion Session featuring Dandimits and Good Leaf and Iamtong
M Café - Manteca! Salsa Night, 6 p.m.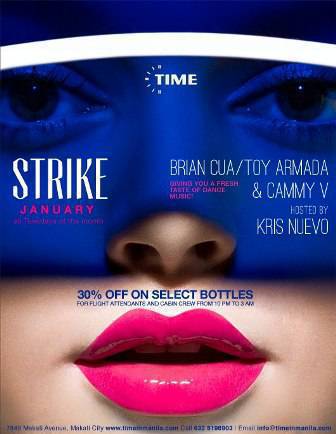 ADVERTISEMENT - CONTINUE READING BELOW
Monday, January 21

Izakaya - Moshi Moshi Mondays
Izumi - Muteki Monday
Opus - Industry Mondays
Dillingers - Misfit Mondays
Time in Manila - MONDAY FEVER! with DJs Marshall White | Matthew Carbonell & Brian Abat plus Maries & Jill on Vocals
Distillery Jupiter - iCoutsic Mondays
Reserve Liquor Lounge - Rockeoke Mondays
Eden Nightclub - Jumpstart Mondays
Jill's - Monday Mic Live
Route 196 - Guilty Acoustic Pleasures feat. KEVIN ROY, MIKE CANLAS, KESSENTH CHENG
Tuesday, January 22
Saguijo - Drum & Drummer w/ Jayman Alviar (Brass Munkeys/Brownbeat All Stars), Rickson Ruiz (Cynthia Alexander). More TBA
7th High Lounge - Timeout Tuesdays
Bond Urban Pub - The Original Models Night
Izakaya - Open Mic Tuesday
Dillingers - Hipstop Tuesdays
Beso - Viva Tuesdays 
Reserve Liquor Lounge - Twisted Tuesdays 
Distillery Jupiter - Ladies' Night
Prive - Weekday Warriors
Time in Manila - Strike Tuesdays
19 East - MYMP
Recommended Videos
Load More Stories