Femme at Time + The Rest of The Bar & Club Scene This Week
Your handy guide to the metro's hottest gigs and parties.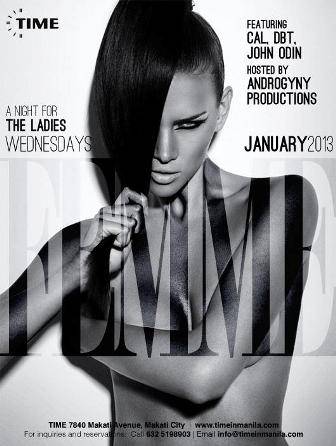 Wednesday, January 23
Saguijo - Blaster Music Night w/ Mr. Bones & the Boneyard Circus, Jonan Aguilar, Paramita, Reklamo. More TBA
Bond Urban Pub - Stareoke Wednesdays
Opus - District: Urban Beats in the City
Izakaya - Izakaya Dojo Wednesday
M Café - Manteca! Salsa Night, 10 p.m.
Prive Luxury Club - Stiletto
Izumi - Sakephonic Wednesdays, Ladies and Models Night
Dillingers - CTRL ALT Delete Wednesdays 
7th High APEX Lounge - Soulful Wednesdays
Time in Manila - Femme Night
Reserve Liquor Lounge - Riot Wednesdays
Garage 88 - We Love House Wednesday
ADVERTISEMENT - CONTINUE READING BELOW
Saguijo - Chicosci Night. More TBA
Route 196 - Brown Bottle Productions: BRIGADA, MISTRESS, EVIL TWIN WINS, BAGETSAFONIK
19 East - Freestyle
Thursday, January 24

Saguijo - Revolver w/ Earthmover, Pedicab, Tarsius, Techy Romantics. More TBA
Opus - Groove Thursdays
Rocket Room - Space Camp at Rocket Room
Bond Urban Pub - Girls Night Out
Izakaya - KISS! KISS! BANG! BANG!
Libations - Lipstick Mafia
Palladium - WILD & SEXY Thursdays
Eden Nightclub - Backbeat Thursdays  
Dilingers - Thirst Days
Izumi - Rockizumi
Time in Manila - Dirty featuring DJs Matthew Carbonell and Brian Abat
Saguijo - Red Ninja w/ Curbside, Farcuss, Inky de Dios, Lady Ransom, Lions and Acrobats, Mayonnaise & Runway Crimes
19 East - Juris
Friday, January 25

Prive - Incognito
Excess Superclub - Filthy Fridays 
Fiamma - Fresh Fridays
Izumi - Fortress Friday feat. DJ Ron
Opus - Uber Disko
Palladium - Fabulush Fridays 
Candyshop - Sucette Fridays
Dillingers - Get Freaky 
7th High - Heaven Fridays 
Eden Nightclub - Forbidden Fridays with DJ Andrew Chow
ADVERTISEMENT - CONTINUE READING BELOW
Saguijo - Pinoy Soul Movement w/ Cosmic Love, Pinoy Stories, Sino Sikat? More TBA
Route 196 - White Noise Prod: YUREI, SWORDFISH, LESTER CANON, RATFIELD, SAMARIA, END GOLIATH, ELEYN
Time In Manila - Alterego featuring Cammy V, Paul C, Clyde Harris, and more
B - Side - Chronic Wheeze featuring Franco, Indio I, The Chongkeys, Citrus Lane, Chocolate Factory, Against The Sky
19 East - Side A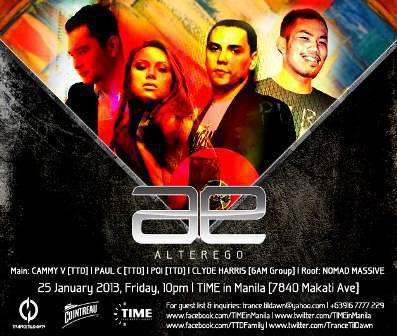 ADVERTISEMENT - CONTINUE READING BELOW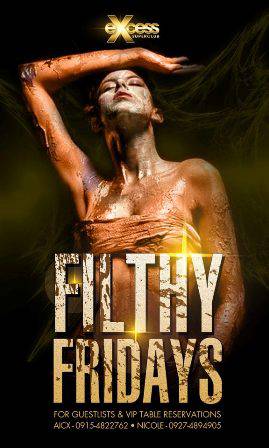 Saturday, January 26

Dillinger's - Saturday Swagger with DJ's Darrel D and Bad Boy Jeff
Eden Nightclub - Saturday Surrender
19 East - Nina & NATF
Saguijo - The Foundation x Revolver w/ Brick City, Chocolate Grass, Dark Crayola, Wilderness. More TBA
Republiq Club - Pure Saturdays featuring Owens Sun, Bombi Balquidra, Chewy
7th High - Indulgence Saturdays featuring DJs Buzz, Badboy Jeff, and Ron. 
Izakaya - Sake To Me Baby Saturdays featuring DJ Steal and Nina. Hosted by JP David
Jill's - Jill's Straight Up Saturdays
Izumi - Suteki Saturday feat. DJ Jacob
Opus - Legendary Saturdays
Excess Superclub -  Saturday Xscape
Prive - Stilletto
ADVERTISEMENT - CONTINUE READING BELOW
Route 196 - Diego Manzano
Sunday, January 27
Chihuahua Mexican Grill - Hangover Sundays
The Rocket Room - Sun Dazed with DJs Miss Badkiss & Supreme Fist
B - Side - Reggae Night featuring Chocolate Factory and Collie Herb
M Café - Manteca! Salsa Night, 6 p.m.
Monday, January 28

Izakaya - Moshi Moshi Mondays
Izumi - Muteki Monday
Opus - Industry Mondays
Dillingers - Misfit Mondays
Time in Manila - MONDAY FEVER! with DJs Marshall White, Matthew Carbonell & Brian Abat plus Maries & Jill on Vocals
Distillery Jupiter - iCoutsic Mondays
Reserve Liquor Lounge - Rockeoke Mondays
Eden Nightclub - Jumpstart Mondays
Jill's - Monday Mic Live
Saguijo - The Pop Shoppe! x Requiem Rising Sheila & The Insects Bar Tour. w/ Clementine, The Etiquettes & The Gentle Isolation
Route 196 - Doghouse Prod: RUNMANILA, LAMPARA, NEVER The STRANGERS, TRIBU Ni DULU, MITHI, KAPNOBATAI, PROCLAMATION 22 (free entrance!)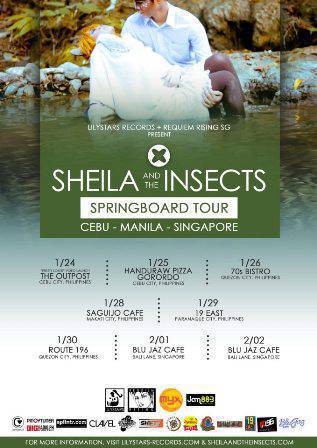 ADVERTISEMENT - CONTINUE READING BELOW
Tuesday, January 29
Saguijo - Tubby Trousers. Lineup TBA
7th High Lounge - Timeout Tuesdays
Bond Urban Pub - The Original Models Night
Izakaya - Open Mic Tuesday
Dillingers - Hipstop Tuesdays
Beso - Viva Tuesdays 
Reserve Liquor Lounge - Twisted Tuesdays 
Distillery Jupiter - Ladies' Night
Prive - Weekday Warriors
Time in Manila - Strike Tuesdays
19 East - Sheila & the Insects
Route 196 - SoulChild Productions : JULIANNE plus other bands TBA
Load More Stories