Movie Review: Hansel and Gretel:Witch Hunters
How does this sound? A fairy tale that's been made into an action flick complete with the sort of sensibility from video games?
(SPOT.ph) After getting a deserved reputation as witch killers when they were children, the brother and sister duo of Hansel (Jeremy Renner) and Gretel (Gemma Arterton) grow up to become witch slayers for hire. Their latest assignment- to catch those responsible for kidnapping a dozen children in the town of Augsburg - takes them back to their childhood home and the infamous house made of candy where it all began.

MTRCB Rating: PG-13- for foul language, graphic violence and nudity (the film is rated R in the USA).
Pluses

The mash-up of past and present. Though Hansel and Gretel is ostensibly set in the  16th or 17th century, the dialogue spoken by the film's leads- not to mention the weapons they use- are quite modern. "Are you f**king kidding me?" is said more than once in the film's 80 minutes, and Gretel refers to the townspeople of Augsburg as "f**cking hillbillies." The town's missing children even have woodcut illustrations of their faces pasted on milk bottles! As for the guns and weapons? They look like something Tony Stark's dad would have developed in the 1940s.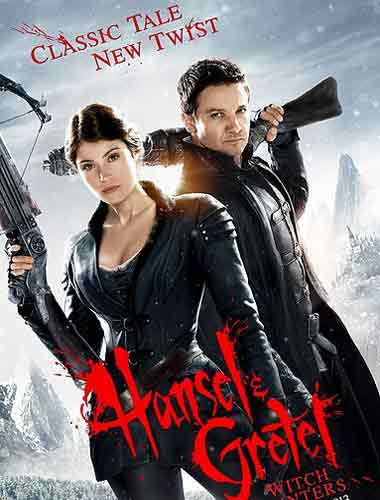 ADVERTISEMENT - CONTINUE READING BELOW
The woodcut illustration opening credits. After a brief flashback showing Hansel and Gretel's harrowing encounter with the witch in the gingerbread house, the movie segues into a pop-up book montage of gorgeous, 15th century woodcut illustration credits sequence that also shows us how the two kids became vigilantes as they grew up. It's the best illustration-driven opening credits sequence I've seen in a 3D flick since The Adventures of Tintin.

The return of the scary witch. JK Rowling's Harry Potter books (and the subsequent films) were such a phenomenon that they made millions of fans forget for a time that witches were once fearsome, murderous creatures with bad teeth, who cackled while riding their brooms- clearly not the kind of witch that Hermione Granger was studying to become in Hogwarts School of Witchcraft and Wizardry. Thanks to Hansel & Gretel, the ghoulish witches who starred in the fairy tales and nightmares of my childhood are back with a vengeful vengeance to frighten children of all ages once more, with some modern updates. Since this is a 21st century movie, H&G's witches don't wear pointed hats, nor do they cackle. They do, however, have creepy white faces that have the texture of cracked china, while the younger witches sport goth and punk haircuts. And yes, they still need broomsticks to fly.
CONTINUE READING BELOW
Recommended Videos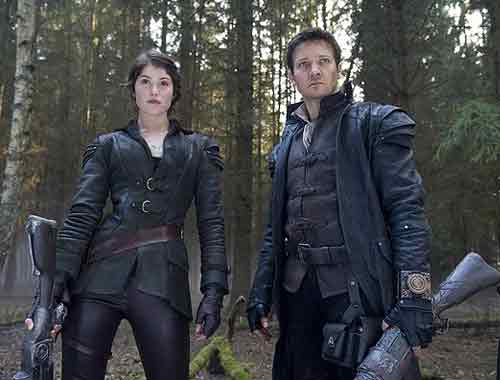 The nostalgic, "comin at ya" 3D. Since the post-Avatar 3D boom, filmmakers like Steven Spielberg, Ang Lee, and Martin Scorsese have been using 3D intelligently and artistically, holding back on the gimmick's more sensational and exploitative "virtues." Thank goodness then that Hansel & Gretel director Tommy Wirkola has no qualms about reverting to the kind of 3D used in 70s films, where stuff was routinely thrown at the audience to make them duck.  In a couple of shots in H&G, witches' bodies are torn apart by gunfire and wire traps, their bloody guts and innards flying out of the screen and "showering" the audience. These are the kinds of gratuitous, in-your-face exploitation shots that the aforementioned Oscar winners would probably not be caught dead using in their films. Which isn't to say that Wirkola doesn't know how to take advantage of 3D's purely spatial benefits. Two of my favorite shots in H&G are those showing witches flying on their brooms above a sleepy town, and zooming above a forest canopy. Both shots give you the edifying, vertiginous feeling of flight, and felt a lot like the Peter Pan ride in Disneyland which allows riders to soar over a miniature London.


Minuses

Jeremy Renner's unchanging look. As the 15th century witch-hater Hansel, the Oscar-nominated Renner looks just like he did in the 21st century flicks Mission Impossible: Ghost Protocol, The Avengers, and The Bourne Legacy. In a shot in Hansel & Gretel where he's wearing a sleeveless vest, he even looks like Hawkeye. A chameleon whose physical appearance changes from film to film like Johnny Depp, Jeremy Renner is not. And as in his previous films, Renner hardly smiles as Hansel either.
ADVERTISEMENT - CONTINUE READING BELOW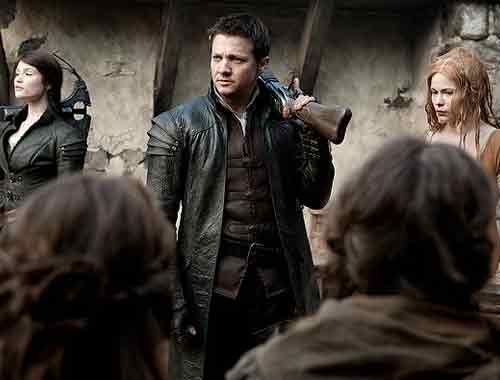 Famke Jenssen's uninspired villainy. When gifted actresses have a ball playing outrageously evil villainesses, the audience also has a wonderful time. Cases in point: Glenn Close as Cruella De Vil in 101 Dalmatians and Angelica Huston as the Grand High Witch in The Witches (1990). And then there are those who seemingly give the bad girls they're portraying the bare minimum that the role requires. Such is Famke Jenssen's forgettable work as the sorceress Muriel, who could have been a memorable villainess had Jenssen bothered to invest her with more personality and dimension.

IN BRIEF: Best seen in 3D, Hansel and Gretel is a sometimes funny, frequently graphic fairy tale-action flick hybrid with a video game's "shoot-em-up" sensibility. And though its script is quirky and clever in parts, lackluster performances from the cast prevent the movie from being a popcorn-popping delight.        

Rating: 3 ½ out of 5 spots for Imax 3D release ••• ; 3 out of 5 spots for regular 3D release ••• ; 2 ½ out of 5 spots for standard 2-D release ••.


ADVERTISEMENT - CONTINUE READING BELOW
Share this story with your friends!
---
Help us make Spot.ph better!
Take the short survey
Load More Stories