The Art That Was at BGC in Art Month 2013
Doodling on the pavement and a face in the bush. What people got away with during the National Art Month at BGC.
(SPOT.ph) We have to hand it to Bonifacio Global City for being crazy enthusiastic about National Art Month. It's almost surprising how a small space can hold so much art but since they took the time to build and create, we took the time to look around and see what went down during their #ArtBGC2013 campaign.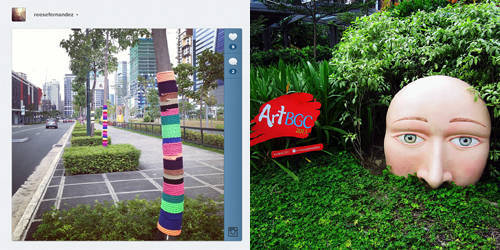 Stars of the #ArtBGC2013: Rags2Riches Rag Bombing and "Face in the Bush" at Mind Museum
There is obviously no shortage of artwork in BGC. The trash bins in the area have cute little drawings, combining two things we like: art and cleanliness. At any given time, there's something popping out against the green that catches people's attention. Remember this classic?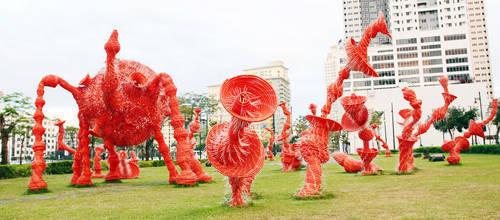 Psychopomp's Reef by Leeroy New from 2011
ADVERTISEMENT - CONTINUE READING BELOW
We were pleasantly baffled by this red growth but alas, some art comes and goes. It's part of the appeal. But we also like a little permanence, which BGC provides. The entire strip of High Street has five art installations, including Presence (more popularly known as "the orange musical tubes") and the more famous Hearsay.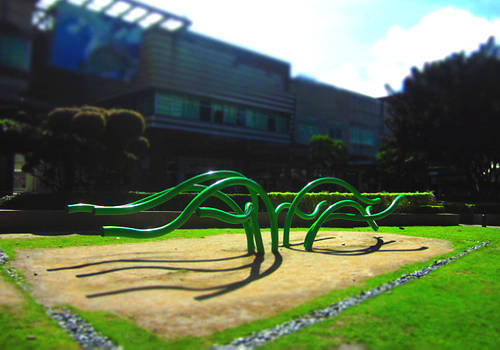 Reg Yuson's elegant take on two cups connected by a thread
CONTINUE READING BELOW
Recommended Videos
We've seen kids climb over these structures with no guards asking them to stop. You can touch it and be silly around it and we like that parks like Track 30th supports this tactile art movement with Raised Running Disk and Activated Carbon Tree Training Disk.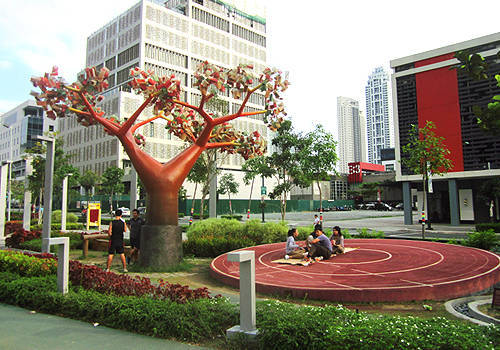 ADVERTISEMENT - CONTINUE READING BELOW
Aesthetics and exercise, who says they can't go hand in hand?
What more was there to see in Art BGC 2013? We couldn't keep up with all the activities but while walking around during the last week of Art Month, we still found them celebrating.
We found the canvas stretched on wooden prisms at High Street where people were free to doodle, though it was already doodled up to the corners.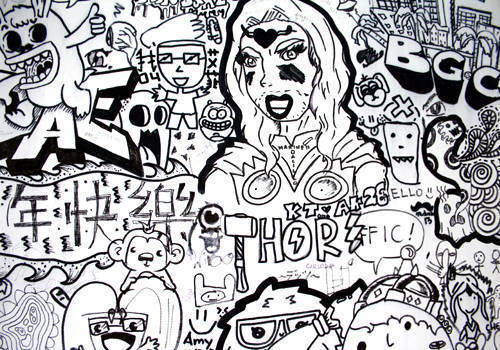 Too bad the spaces were filled with "Thoriffic!" art, or we would've demonstrated our doodling prowess!
We also saw Doodle Art Enthusiasts doing what they do best: doodling enthusiastically.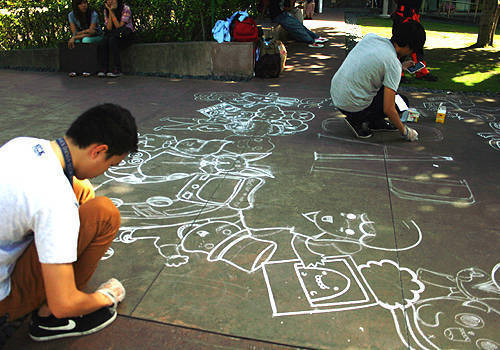 ADVERTISEMENT - CONTINUE READING BELOW
We were casually strolling, they were casually drawing. One takes more skill than the other. Guess which.
The response to the hashtag ArtBGC2013 was proof that there is much appreciation for chalking on pavement.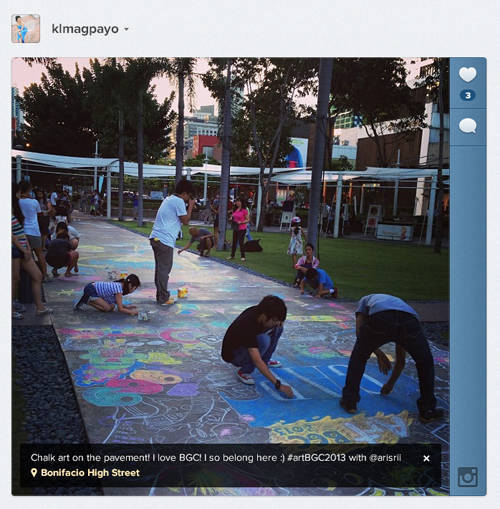 We're glad the grass is not off limits at High Street. We definitely don't want to step on ART.
Yes, there was a lot of doodling that went on but there were impromptu poetry readings and an Art Mart too. BGC was celebrating in style. The lucky folks who frequent the area plus the luckier folks who just happened to have been there at the time were definitely getting their art fix in easy-to-digest doses.
But for those with no precognitive abilities who failed to predict the impromptu art activities, this little Meralco outpost is still available for viewing.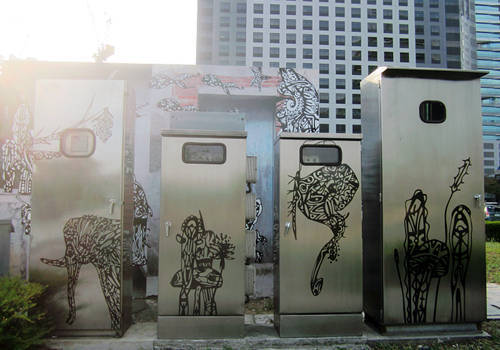 ADVERTISEMENT - CONTINUE READING BELOW
Notice the sunset glare? We're so art.
We were quite fascinated with the detail but unfortunately, we're not skilled enough to take a good photo of the text that runs along the back of this outpost. There was a Meralco sticker that was ruining the shot-we wanted to maintain some suspension of disbelief that this space had been transformed magically (because it had). The text reads "Opening Windows of Imagination for Children Who Find Certain Doors Permanently Shut."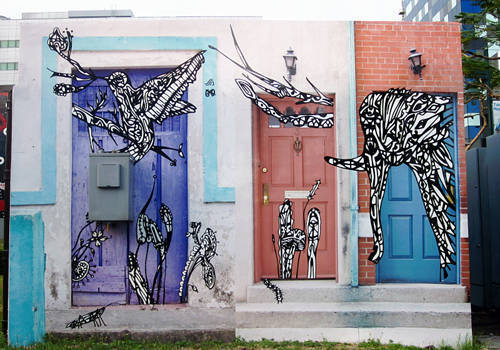 Turning what is so often overlooked into something worth looking at
We're always very happy to see enthusiasm for art being encouraged because after all, we were all kids once. There's that undeniable urge to grab something that can make lines and shapes on the floor and on walls, stretching back to our cave days. Saying that art is a connection to our caveman roots might upset some, but not us. We can all get a little uncouth, there ain't no point in hiding it.
ADVERTISEMENT - CONTINUE READING BELOW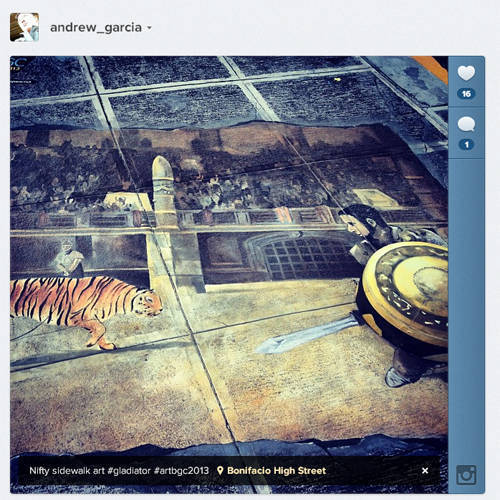 Even the 'civilized' world participated in boorish entertainment. Such was life without Internet.
For all the bad press corporations get for bulldozing land and building these "consumerist" spaces, let's give BGC a slow clap with a nod of approval for building parks, letting people enjoy the outdoors while shopping, and making room for all sorts of art. We're not sure if they're keen on stickerbombers, but we found some while exploring and we like them, too.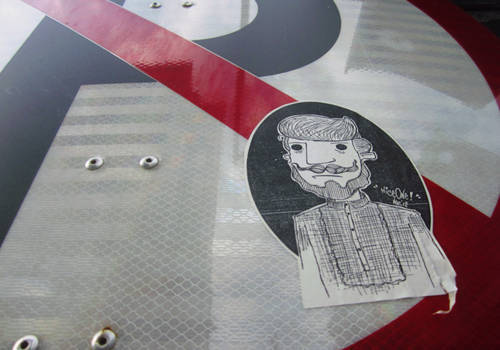 ADVERTISEMENT - CONTINUE READING BELOW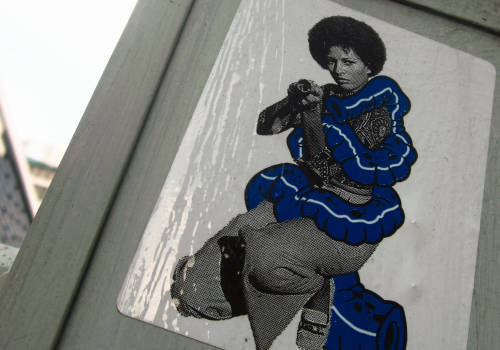 To quote that moustached man in the barong, nice one, BGC!
Psychopomp's Reef photo by Brendan Goco. Instagram photos taken from the ArtBGC2013 hashtag, credits to Reese Fernandez (Rags2Riches photobomb), klmagpayo (chalk art), and Andrew_Garcia (Gladiator on pavement).
Check out more of the #ArtBGC2013 in Twitter, Instagram, and Tumblr. Visit the Arts at BGC Facebook page for more details and more art!
Share this story with your friends!
---
Help us make Spot.ph better!
Take the short survey
Load More Stories