Bloc Party: A Pre-Concert Playlist
Drummer Matt Tong puts together a three-song mixtape for SPOT.ph.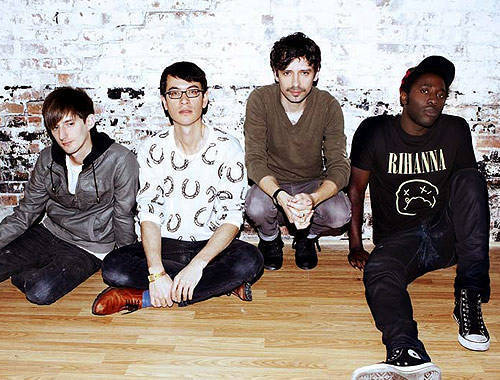 From left: Bloc Party's Russell Lissack (lead guitar), Matt Tong (drums), Gordon Moakes (bass guitar, synths), Kele Okereke (vocals, rhythm guitar)
(SPOT.ph) In 2004, Bloc Party's debut album Silent Alarm tore up rock charts everywhere. Five years and two albums later, they split apart (or as showbiz lingo goes, "took a hiatus"). Now reunited and reinvigorated with a brand-new album, Four, their coming to the Philippines is officially a big deal, not just for the scenesters and indie kids, but everyone, basically, who's got an ear for great rock music.
"I think the break was instrumental in getting us all back into the studio and be decent human beings to each other," drummer Matt Tong says wryly of their break, speaking to assorted music reporters via a long-distance phone call. "A couple of years away from the band made us realize that we valued being in the band and playing music with each other as well."
ADVERTISEMENT - CONTINUE READING BELOW
Back in the studio, the band quickly got back to basics. "We didn't have a lot of equipment to hide behind," he says about their songwriting process for Four. "It was just the four of us together, with no one else and nothing else to prevent us from asking questions from each other." When asked to describe the results, he ticked off the right bullet points we all expect from a raucous comeback album: "More aggressive. Heartfelt. Uninhibited."
"Truth", off Bloc Party's new album, Four
Since their tour is out to promote Four, we can expect a band to jam out to a bevy of their new singles-but we won't rule out a couple of classics as well. We asked Matt to make a mix of three songs that he'd put together for a person who's never listened to Bloc Party, and why he'd put those songs in.
CONTINUE READING BELOW
Recommended Videos
"Pioneers"
"The first one I would put in there would be 'Pioneers', from our first record. Whether we like it or not, [Silent Alarm] is kind of our defining record-it's the one people most refer to whenever I meet them. I think 'Pioneers' sums up all the ideas that went into that record. That song, in many ways, represents that record, and represents what we do  as a band."
"Mercury"
"I'd probably include two extreme ends of our canon. I would put 'Mercury' on there. I think that's a song I'm really proud of. It's one of the more programmed and less indie-rock soundings song that we have. I still think that it sounds interesting. It's a weird song. It's not one of the most requested songs we get to play live, but I'm still proud of that song that we made."
ADVERTISEMENT - CONTINUE READING BELOW
"Coliseum"
"I guess I'd include something from Four, because it represents another side of the band: the live-sounding version. Maybe I'd put 'Coliseum' on it, because I think that it's a side of the band that, if you haven't heard us, you should definitely know about. It's the more aggressive-sounding side of the band."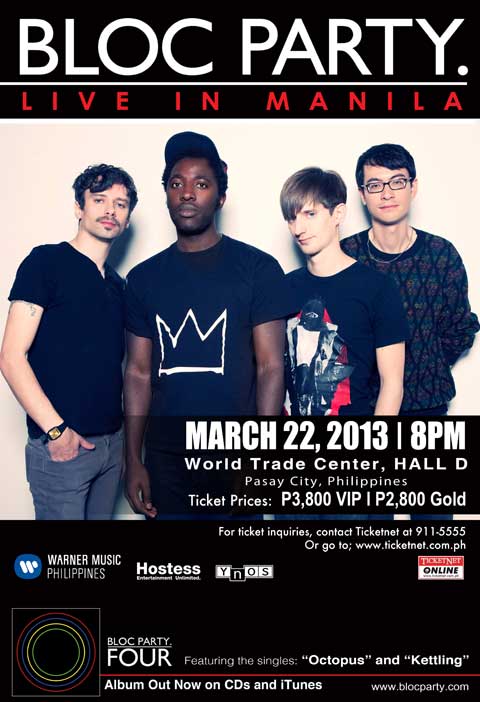 Bloc Party will play live in Manila on March 22, 2013 at the World Trade Center.
---
Help us make Spot.ph better!
Take the short survey
Load More Stories